An archive of UT System Police Officers of the Month
(click the links below to navigate to a particular officer)
2016
December 2016
Hector Martinez
UT Medical Branch - Galveston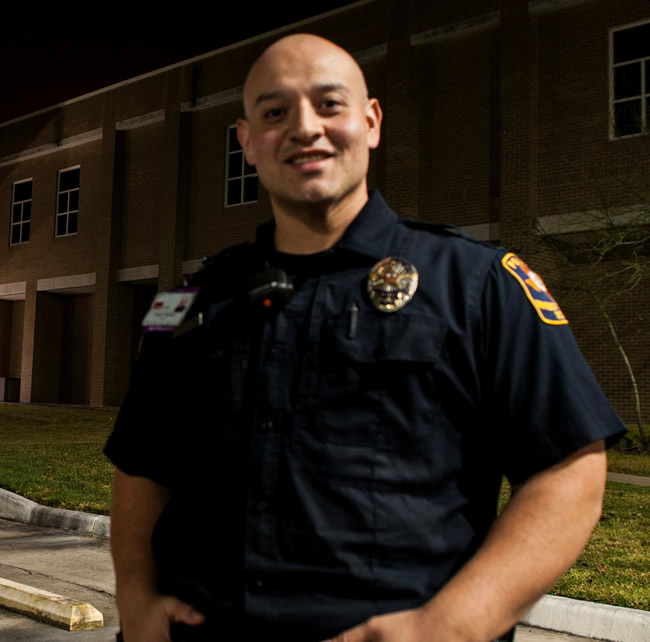 Officer Hector Martinez is the third born of four children to Rosa and Rigoberto Martinez from El Salvador. His parents uprooted their family during the El Salvadoran Civil war, and moved to Houston Texas. Once in Houston his father got a job at Moody Gardens in Galveston so his parents decided that Galveston was better suited for their family to live. Officer Martinez knows Galveston to be home and has attended school there from kindergarten to high school and is a proud graduate of Galveston Ball High School Class of 2000. From a young age Officer Martinez has had a passion for Art, he has taken any and every type of art class known to students and has exceled in all of them. His passion for art, although very high, does not come close to the love and passion he has for his family. He has been married to Cindylu Martinez, a recognized Registered Respiratory therapist with Shriners Burns Hospital for Children, for 9 years. They are blessed with 2 beautiful children Abigail (3) and Aaron (1).
After high school Officer Martinez attended Galveston College. In 2001 he was hired on full time with Shriners Hospital for Children as a Rehabilitation tech where he worked alongside Physical and Occupational therapists to improve the everyday lives of burned children. While at Shriners his artistic talent was quickly discovered and was published in a children's book as an illustrator. In 2004 He graduated from the Galveston College Law Enforcement Academy but continued to work at Shriners. In 2006 he began his career as a Police Officer working as a reserve officer for the Texas City Police Department where he was a patrolman. In 2008 he became a Deputy for the Galveston County Constables Office Pct. 5 working under, what would become one of his mentors, Constable Michael Montez. While employed there he redesigned the precinct's patch and started a Christmas toy drive, "Constables Care Christmas Toy Drive", benefitting the Children of Shriners Hospital in Galveston. Officer Martinez was one of very few Deputies in the county who held a Civil Process Proficiency Certificate. In 2012 he was promoted to Corporal of his precinct. In February 2015 Officer Martinez was hired by Chief Thomas Engells with the University of Texas System Police, Galveston where he has been a night shift patrolman and currently assigned to the Angleton Campus. In October 2015 he attended the University of Texas System Police 12th Lateral Officer Course in Austin.
Officer Martinez was chosen by Chief Engells to design a commemorative Challenge coin honoring the 50th Anniversary of The UT System Police. As with most artistic projects, he exceled at this task and his coin design was chosen to represent this very special time in our department's history. Officer Martinez is very excited to combine his love for Art and policing and maybe one day become the department's first ever forensic artist. In his spare time, Officer Martinez enjoys spending time with his family and spending a little time with some Iron at the gym.
"Hard work will always trump talent, but when talent works hard then the sky is the limit
---
November 2016
Shawn Smith
UT San Antonio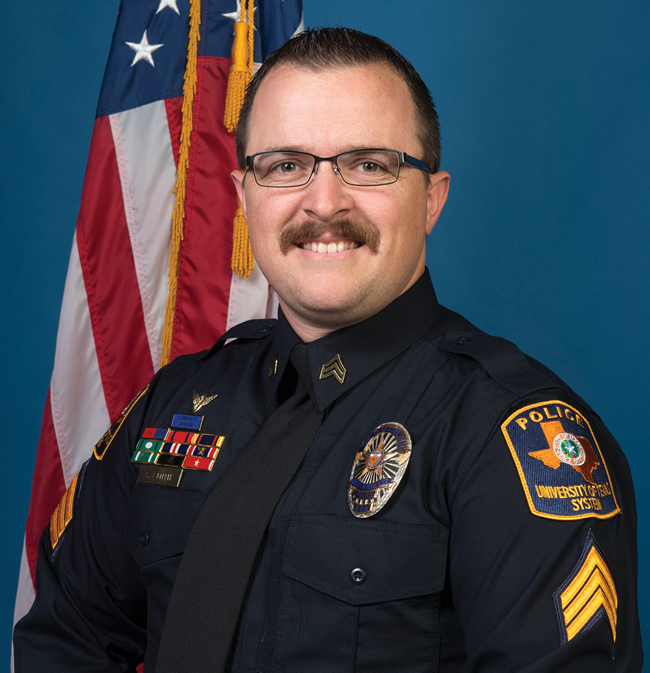 Sergeant Shawn "Smitty" Smith began his law enforcement career in 2009 with UTSAPD, after graduating with the 87th academy class as the Top Gun. Sergeant Smith has spent most of his years in patrol. In 2011, he attended the Basic Police Motorcycle Operator's Course and was assigned as a motor officer for 5 years on the evening shift. While a motor officer, Sergeant Smith was also promoted to Corporal in 2013 and was a field supervisor on the evening shift. In 2015, Sergeant Smith was promoted to his current rank of Sergeant and in 2016 was assigned to the Community Affairs Section to oversee all crime prevention, community outreach, and recruiting for the department, where he currently serves with an outstanding team. Sergeant Smith is certified as a Crash Reconstructionist and is still active in training and competing as a police motor officer.
Sergeant Smith served over 9 years in the US Army Reserves and was primarily in the Infantry. In 2004, he was activated & deployed for 17 months to Kosovo. His tour in Kosovo consisted of patrolling sectors with his squad, conducting vehicle checkpoints, and working border reconnaissance operations. Sergeant Smith was a master shooter with the M249 SAW (Squad Automatic Weapon) and was responsible for training all SAW gunners in his Company while deployed. Sergeant Smith participated in multi-national training operations with the German, Swedish, Irish, & Danish armies respectively while deployed. 
A native of California, Smith was born in Santa Clara, CA and grew up in Hollister, CA. He grew up playing ice hockey as a defenseman and after high school, he was invited to try out for the Eugene Thunder of the Northern Pacific Hockey League. After making the team, he decided to join the military in lieu of a career in professional sports. Sergeant Smith has a bachelor's degree in business administration and also completed his MBA from Colorado Christian University. He and his wife stay busy raising their three children, who are also homeschooled. Sergeant Smith is active in ministry at his church and spends his free time with family, playing ice hockey, and of course riding his motorcycle.
---
October 2016
Michael Redmond
UT MD Anderson PD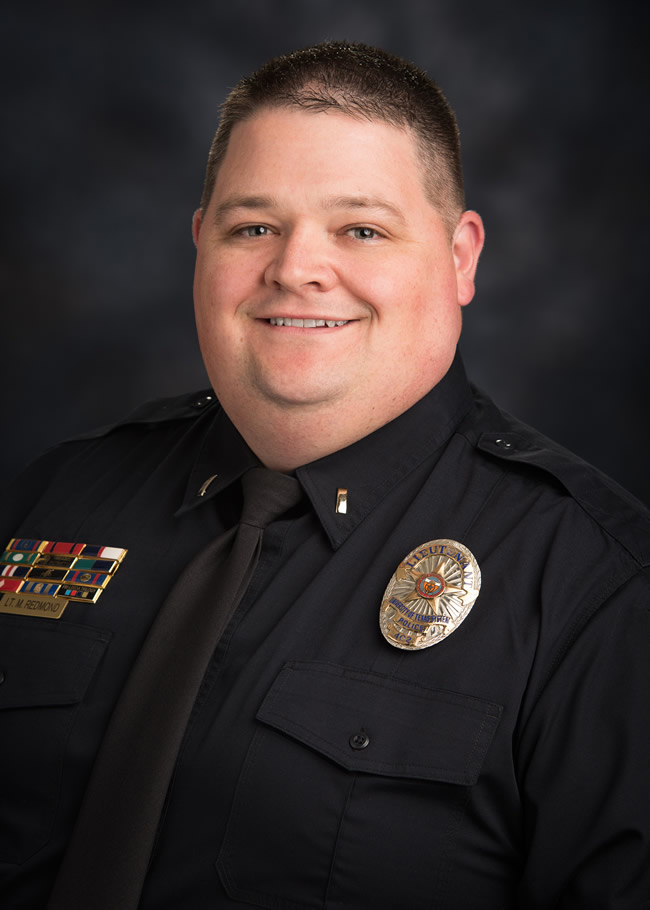 Born and raised outside Boston, Massachusetts, Mike Redmond was the youngest of five kids. With two parents and several other family members as educators, Education was a family focus. After earning his Bachelors of Arts from UMASS Amherst, he graduated from the UT System Police Academy in December, 2001. Just out of Field Training, Mike Redmond welcomed the opportunity to work in the largest medical center in the world and at the number-one cancer center in the nation, dedicatedly spending the majority of his time on the front lines of MD Anderson Cancer Center working with patients, family members and employees, building community rapport and institutional relationships. Mike Redmond was promoted to Sergeant in 2004, earned his Master's in Business Administration (MBA) in 2005 and promoted to Lieutenant in 2010. He served on all shifts of Operations between 2001 and 2011 with several years as the MD Anderson Main Hospital Sergeant, which allowed him to return to his work with the campus community in leadership role and again build important institutional bridges and lasting partnerships. In 2011, Mike was assigned to a Planning and Special Projects role. One of his many accomplishments in the role of Special Projects is the expansion of the UTP-H Community Outreach program. In addition to his many Community Outreach presentations, he is an experienced police instructor in Use of Force, OC Spray, Firearms, ALERRT-Response to Active Shooter, Crisis Intervention (CIT), Threat Management, CPI Nonviolent Crisis Intervention, and Verbal Judo. Mike Redmond has earned a TCOLE Master Peace Officer, TCOLE Basic Instructor, TCOLE Firearms Instructor and the TCOLE Mental Health Officer Certifications as well as the following ODOP awards: Police Commendation Medal (2013), Award of Excellence (2016) and Meritorious Conduct Medal (2015). In command training he has attended LEMIT Leadership Command College Module I & II and has achieved the FBI LEEDA Trilogy Award. Throughout his career he has held duties that oversee strategic planning and execution, staff and budgetary assessments, internal inspection processes, accreditation, large special event facilitation, community outreach, training and patrol management. Mike Redmond's passion is traveling and exploring with his wife and children on "Daddy Adventures" at Zoos, Parks, and where ever the road takes them.
---
September 2016
Arthur Barrera
UT Rio Grande Valley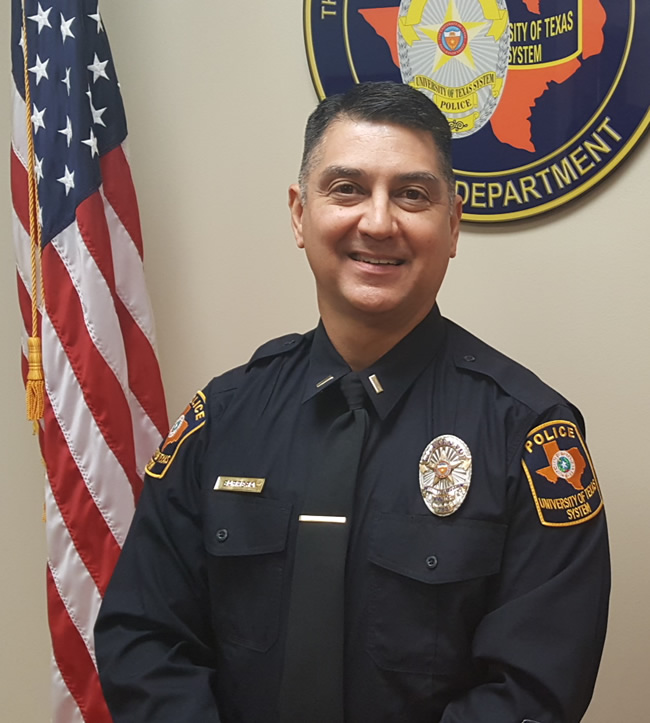 Lieutenant Arthur Barrera began his law enforcement career in October 1984 when he graduated from the Texas Department of Public Safety Academy. After graduation, Barrera was stationed in Zapata as a Texas Highway Patrol Trooper.
In 1987, and after three years of service in Zapata, Trooper Barrera transferred to the McAllen Highway Patrol sub-district office.
After 11 successful years of service with the Highway Patrol, Trooper Barrera promoted to the Motor Vehicle Theft Service earning the rank of Sergeant Investigator.
While performing his duties with the Motor Vehicle Theft Service, Sergeant Barrera was inducted into the "Million Dollar Club" for three straight years for consistently recovering over a million dollars' worth of motor vehicles that included, boats, truck tractors, and heavy equipment. Sergeant Barrera often traveled to Mexico and collaborated with the Mexican Federal Highway Patrol and State Judicial Police to repatriate stolen vehicles back to the United States.
Sergeant Barrera was also assigned duties within the Motor Vehicle Theft Service that included; pari-mutual betting investigations, special crime investigations, and intelligence duties. Sergeant Barrera also created a task force that was comprised of US Border Patrol intelligence agents, DPS Motor Vehicle Theft Sergeants, and Sheriff Office Deputies. This team targeted drug and human stash houses with the nexus of stolen trucks used to facilitate smuggling activities along the border.
Sergeant Barrera was also tasked by the Motor Vehicle Theft Commander to be the team leader in south Texas for the Raid Entry Tactical Team that targeted the "Texas Top Ten" most wanted fugitives in the State of Texas. During this transition Sergeant Barrera became a CQB, shoot-house firearms instructor often training with the Houston PD SWAT team.
After serving with the Motor Vehicle Theft Service for 13 years, Sergeant Barrera was promoted to Sergeant with Texas Rangers in 2008 and was stationed with DEA in McAllen.
In 2009, Ranger Barrera was recognized by the Director of the Federal Bureau of Investigations after he located a 4-year old kidnapped female child from Hidalgo, Texas, at a ranch house in Mercedes, Texas. During the course of the investigation, Ranger Barrera received information on the subject's location, he assembled a small group of officers and successfully rescued the kidnapped child who was found bound and gagged.
The subject was arrested on kidnapping and aggravated sexual assault charges. Ranger Barrera obtained a full confession of the subject and after testifying in court, the subject was given a 240-year prison sentence.
In 2009, Ranger Barrera was promoted to Staff Lieutenant with the Texas Rangers and became the supervisor of the DPS RGV Joint Operations Intelligence Center (JOIC) located at the US Border Patrol Sector Headquarters in Edinburg. Ranger Barrera was assigned to supervise the Laredo, Edinburg and Victoria JOIC operations with over 30 employees that consisted of Texas Military Forces and civilians.
In 2015, Ranger Barrera retired from the Texas Department of Public Safety as a Texas Ranger Staff Lieutenant with 31 years of state service.
In the summer of 2015, Ranger Barrera began a second career and began employment with the University of Texas System Police as a Lieutenant with the UT-RGV Police Department. Lieutenant Barrera is assigned to the Professional Standards Unit.
Lieutenant Barrera is a graduate of the University of Texas-Pan American and is married to Joan, a school teacher. Lieutenant Barrera has two daughters and has a "house divided" — Jennifer, the oldest and a graduate from Texas A&M, College Station, and Jacklyn, a graduate of University of Texas, Austin, who served as president and head cheerleader for the UT Longhorns.
---
August 2016
Alicia Dockens
UT Health Science Center San Antonio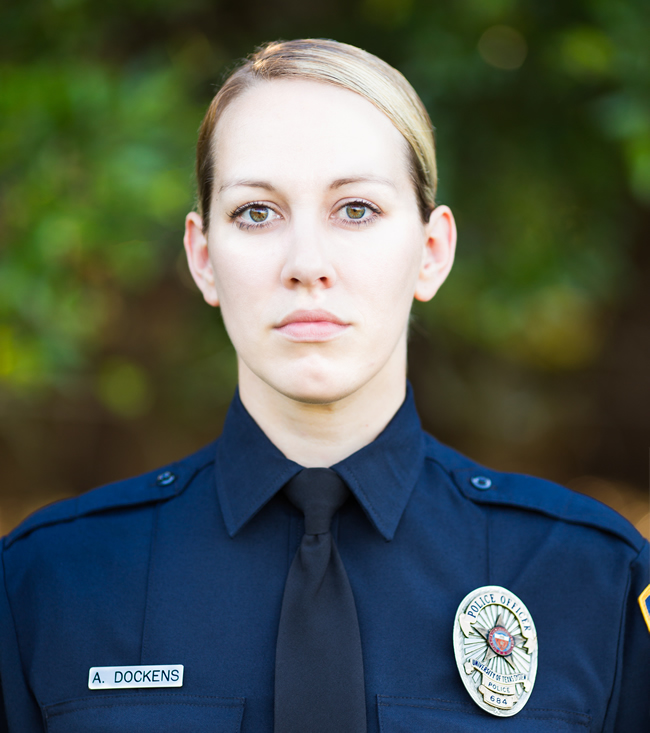 Officer Alicia Dockens began her career with UT System Police as a Telecommunications Operator and Public Safety Officer at UT Health Northeast in 2010 and went on to graduate from the 92nd UT System Police Academy in 2011. Although she misses back home (East Texas), Alicia relocated to the San Antonio area and currently works for the UT Health Science Center at San Antonio Police Department.

With only 3 female firearms instructors throughout UT System, Alicia is more than proud to be a part of this group. Alicia has been a firearms instructor for four years and has assisted with cadet and lateral classes at the UT System Police Academy. She is always more than willing to help out anyone who is seeking to improve their shooting skills. Alicia competed on a shooting team at an IDPA (International Defensive Pistol Association) match in Bracketville, Texas, placing 4th overall. This particular shooting match was a fundraiser for the Border Patrol Police Explorers program. There are plans for Alicia to compete again in the near future. Alicia has also been a RAD (rape aggression defense) instructor for three years and enjoys being a part of such a wonderful program and seeing the students gain confidence in their self and abilities. She believes wholeheartedly in this program and the potential it has to change someone's life.

Alicia is working towards completing a Bachelor of Applied Arts and Science Degree in Criminal Justice Administration through Tarleton State University. After obtaining a Bachelor's Degree, Alicia plans to continue her education by working towards a Master's Degree through Tarleton State University. She plans to use her degree to assist her in promoting through the ranks, not only to preserve the positive leadership that currently exists, but also to be a catalyst for excellence and professionalism. Alicia believes that obtaining a quality education, continued training, and having a solid mentor will set you up for success. She has made many friends along her law enforcement journey who have contributed to her personal and professional growth and considers herself blessed for having those positive influences in her life.

Alicia has been awarded with two Life Saving Awards. She received one Life Saving Award while at UT Health Northeast and the other while at UT Health Science Center at San Antonio.
Alicia has a wonderfully supportive husband and they have a son who keeps them very busy.
---
July 2016
Van Slusser
UT Rio Grande Valley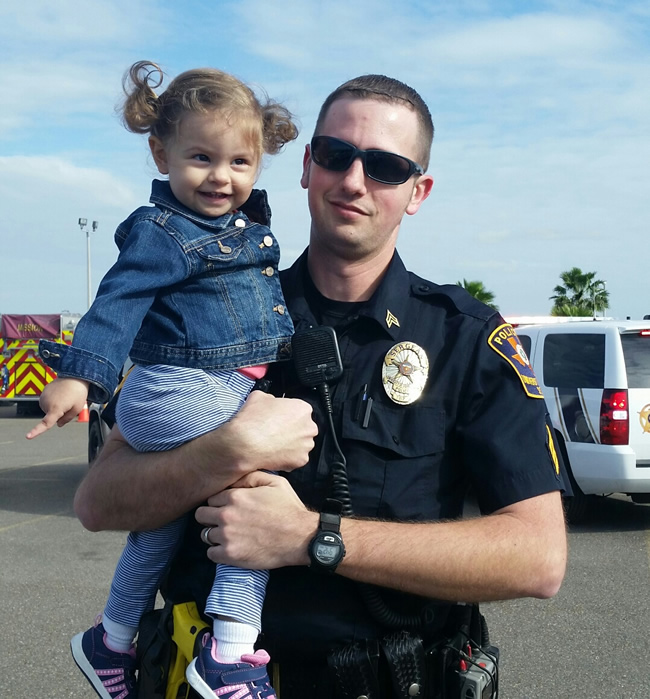 Sergeant Van Slusser holds a Bachelor's Degree in Criminal Justice Administration from Bellevue University, and an Associate's Degree in Criminal Justice Technology from Lanier Technical College. Sergeant Slusser was inducted into the National Technical Honor Society in 2004, and is a recipient of the American Criminal Justice Association's Silver Key Award. Sergeant Slusser is currently pursuing a Masters of Public Administration degree from UT Rio Grande Valley, expected to be completed in August 2016.

Sergeant Slusser began his career with the UT System Police in 2010 after working for 8 years at the U.S. Department of Homeland Security – Transportation Security Administration, where he held several supervisory positions at Ben Epps Airport in Athens, GA and Valley International Airport in Harlingen, TX.

Sergeant Slusser attended the 90th BTS class at the UT System Police Academy in Austin, TX where he graduated as class Valedictorian. After finishing the Academy, Sergeant Slusser worked at UT Brownsville before transferring to UT- Pan American in 2012. Sergeant Slusser is currently the patrol shift supervisor for the C-shift.

Sergeant Slusser's leadership philosophy is "lead by example". Sergeant Slusser had the highest number of both arrests, and traffic stops, for the department for the years of 2013, 2014, and 2015.

Sergeant Slusser's professional interests include traffic enforcement, and he believes very strongly in the value of proactive traffic enforcement and criminal patrol as an effective crime suppression strategy. Sergeant Slusser has completed specialized training in Advanced Commercial Motor Vehicle Criminal Interdiction, and Advanced Roadside Impaired Driving Enforcement. Sergeant Slusser is also currently a state certified Breath Test Operator for the Intoxilyzer 5000 and Intoxilyzer 9000 instruments. In recognition of his efforts to combat drunken driving, Sergeant Slusser received the MADD Commitment Hero Award for 2013 and 2014, and the Enforcement Hero Award for 2014 from the Rio Grande Valley chapter of MADD.

Sergeant Slusser has also coordinated the department's participation in TXDOT's Click it or Ticket and Impaired Driving Mobilization campaigns for the years of 2014-2016. This has resulted in the department being awarded $6,000 in grants.

Sergeant Slusser holds an Advanced proficiency certificate from TCOLE. Sergeant Slusser is a certified Field Training Officer, Instructor, Mental Health Peace Officer, and Sexual Assault Family Violence Investigator.

Sergeant Slusser was awarded Officer of the Year for the UT – Pan American Police Department in 2013. Sergeant Slusser also received the Award of Excellence for the UTPA Police Department in 2013 and 2014.

Outside of work, Sergeant Slusser enjoys spending time with his wife and two children, from whom he gains much strength. Sergeant Slusser is also an active member of the community, serving as a deacon and member of the board for his church, First Christian Church of McAllen.
---
June 2016
Ronnie Johnson
UT Medical Branch Galveston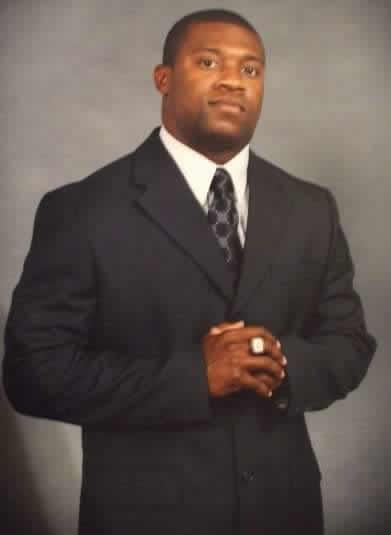 Sergeant Johnson has been with the University of Texas Medical Branch Police Department since June of 2008. He is a graduate from the 85th Basic Peace Officer Cadet Class of The University of Texas System Police Academy. Sgt. Johnson currently serves as the Night Watch Patrol Supervisor and the Assistant Team Leader of the Galveston Branch System Rapid Response Team. Prior to promoting to sergeant he assisted in multiple divisions of the department ranging from Background Investigator to Training Committee member. In 2012 Sgt. Johnson took part in the Agency's partnership program with the Galveston Police Department assigned to their Narcotics Division. Sgt. Johnson holds an Advanced TCOLE Peace Officer License and is a Certified TASER Instructor for the department. 

Prior to coming to the University of Texas Medical Branch Police Department Sergeant Johnson attended La Marque High School where he was a member of the 1997 State Championship football team. After graduating from La Marque High School he attended Sam Houston State University where he majored in criminal justice and minored in sociology. While at Sam Houston State University he was a member of the #4 National Ranked FCS Team that was the 2005 Champions of the Southland Conference.

After graduating from Sam Houston State, Sgt. Johnson began his career in the criminal justice field as a Probation Officer with the Galveston County Adult Probation office. Sgt. Johnson takes pride in being a Police Officer with the University of Texas System Police and is appreciative for all the professional opportunities it has provided. 

"Hard Work Doesn't Guarantee Anything…. But Without It You Don't Stand A Chance"
---
May 2016
Pete Hensgen
UT El Paso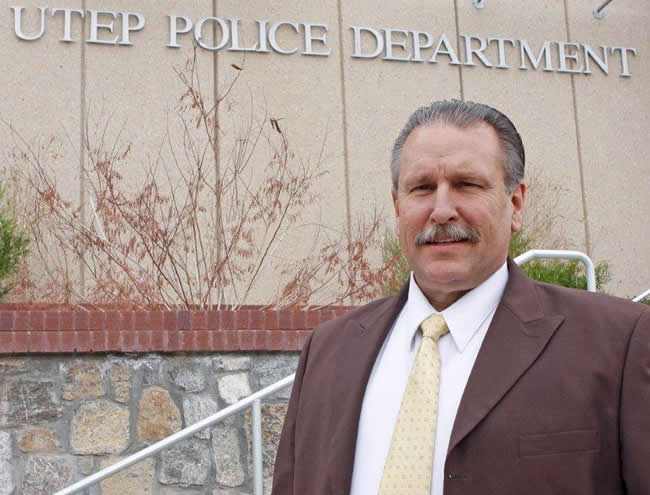 Lieutenant David Peter ("Pete, The Cop" as he is known by many) Hensgen began his law enforcement work at UTEP in 1979 as a guard after graduating from UTEP with a Criminal Justice degree. His career goals were always to be a Police Officer and that became a reality in May 1990 when he graduated valedictorian from the 50th class of the UT System's Police Academy. He not only graduated top of his class with a 93% average, but he was also elected class president. This was the first time a UTEP cadet attained either of these honors. In May 1992 Pete was appointed to be the UTEP Crime Prevention Officer and remained in the position until promoted to the position of Sergeant in 1993. He has been in his current position as Lieutenant since 2006. Around the UTEP campus he is well known for his historical knowledge of the University and one of the founding members of Midnight Breakfast, serving students during finals.
During the 35+ years at UTEP, Pete has gained an immense amount of experience in coordinating security for large shows and events. The Sun Bowl is on the UTEP Campus and is used, not only for college events but for large stadium shows such as U2, Rolling Stones, Ricky Martin, One Direction, just to name a few. In addition, the annual Sun Bowl game is the largest event in El Paso that brings a large number of visitors to the area to attend the annual football game. This has given him an opportunity to work not only with the internal UTEP team, but with city, county and federal law enforcement agencies. UTEP is located right on the Mexico/US border and presents special challenges to many events. In 2012, during the time of concerns with the drug crime in Juarez, a very controversial boxing event was held at the Sun Bowl. Pete became one of the lead contacts for UTEP for "Operation Knockout". He received the University of Texas System Police Commendation Medal for his handling of the Incident Command System and his management of the event as the Incident Commander, from pre-event planning to post operation debriefings. 
Just recently he coordinated a unique event involving Pope Francis' visit to neighboring Juarez. The city of El Paso anticipated that large numbers of visitors would come to the area to attend events in Juarez. Because of Pete's experience working with large events, he was asked to participate in the planning for this event. However, the El Paso Diocese decided to have an event that would include simulcasting Juarez events at the Sun Bowl so his focus changed to coordinating that event.
Through the years, people are surprised when Pete explains what the role of the UTEP campus police truly entails including writing emergency management and business continuity plans. With all of this, in addition to the "routine" has kept Pete loving his work.
---
April 2016
Wayne Coffey
UT Austin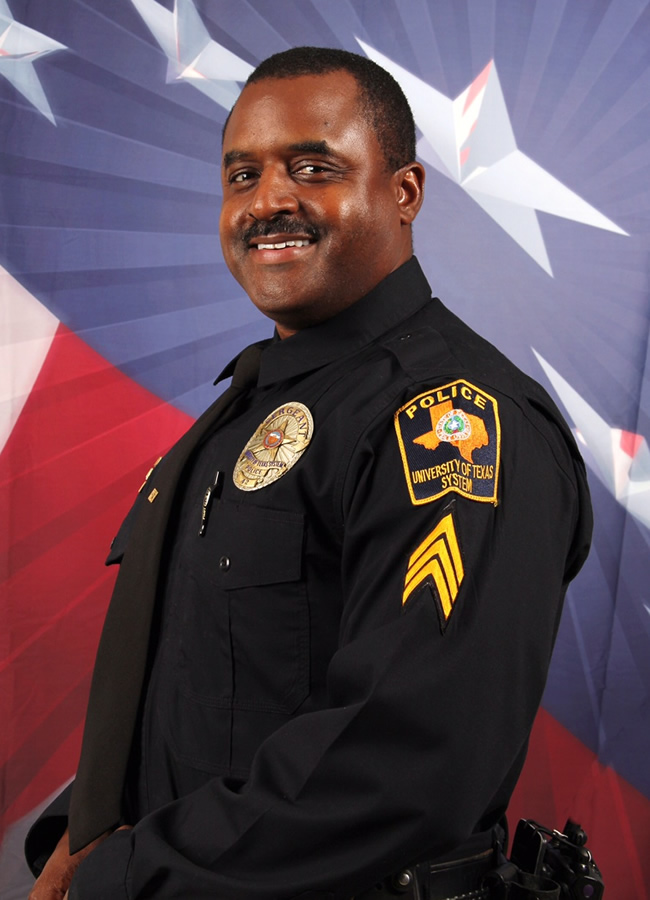 Mentors have played an important role in my life and I recommend every officer establish a mentor relationship at each stage of their career and life. Recently, I met one of my mentors as I decided to apply for a promotion at UTPD. He took me under his wing and gave me some of the best advice I have ever received because it led me to another mentor with more good advice. Through this process alone, I feel that I have learned that you should never give up on your dreams and always strive to be a better person and colleague. You owe that to everyone you come into contact with in life and on the job. My most important mentor is Natalie Coffey, my best friend and partner of 33 years. Together, we have two amazing children. Natalie and I have both been fortunate enough to have our dream jobs and share the parenting responsibilities. Natalie worked on Capitol Hill as a Congressional Chief of Staff and I played professional football in the NFL with the New England Patriots and the Arena Football League with a number of different teams. Little did I know after playing professional football that I would be fortunate enough to land a second dream job here at The University of Texas at Austin.
What I like best about my job is that I have the opportunity to mentor officers early in their careers when retention is particularly important. I give them guidance and opportunities to learn and I provide support when they need or want to share their ideas. I help them implement their ideas, when appropriate, by sharing those ideas with UTPD leadership. My mentorship also includes a personal side. I let the officers get to know me and if they want to share their life experiences with me I am available to listen. I have found that this career requires a lot of trust and dependence on your fellow officer so it is good to have both personal and professional knowledge of your colleagues.
In my spare time I like to play golf and relax on my deck. One of my mentors at UTPD helped me build the deck and I love the deck because it is the perfect man cave with a big screen TV. I recently checked off a Bucket List item when I played golf at Pebble Beach. Other Bucket List items include traveling to Europe once my son Spencer completes his Ph.D.; and golfing at St. Andrews in Scotland. People would be surprised to know that I still enjoy riding skateboards and it is something I loved as a child. I am the youngest of six children and my dad was a firefighter in the Air Force.
The one thing that I want everyone to know about being an officer in The University of Texas System is that it is an excellent opportunity to receive outstanding training, excellent health benefits, and work events where you meet interesting people.
---
March 2016
Bill Zimmerman
UT Arlington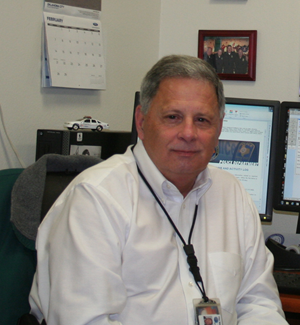 Detective William Zimmermann has been a commissioned Texas Police Officer since 1975, starting his law enforcement career with the City of Forest Hill a suburb of Fort Worth. While at Forest Hill he was recognized as Patrolman of Year in 1976 and obtained the rank of Patrol Officer, Detective and Sergeant.
In 1978, Zimmermann joined the Arlington Police Department where he worked as a Patrol Officer, Field Training Officer, General Assignments Detective, Fraud Detective, Personnel Officer, Auto Theft Task Force Detective (undercover) and a Major Case Detective. While in the Major Case Unit he was awarded the Medal of Merit for being part of a team that investigated, arrested and convicted a suspect for the murders of three teenagers.
While at the Arlington Police, Department, Zimmermann was promoted to the rank of Sergeant in 1988. He started this portion of his career as a Patrol Sergeant and was later assigned as a Juvenile Detective Sergeant in 1990. During his assignment in the Juvenile Unit, he was assigned by the Chief of Police to two temporary assignments in the Internal Affairs Unit.
In 1999 the Arlington Police Department was implementing the Geographical Policing Concept and Zimmermann was assigned to organize and establish the West Police District Geographical Detective Unit.
Between 2001 and 2007, Detective Zimmermann was assigned to the North Police District where he was assigned as an Administrative Sergeant. During this time he was called on numerous times to be the Acting Shift Commander and participated in weekly construction meetings with the Dallas Cowboys during the construction phase of the Dallas Cowboy Stadium. He was also assigned by the Chief of Police to another temporary assignment to the Internal Affairs Unit during this time. Detective Zimmermann was recognized as Officer of the Month in 2004 and 2006.
In 2007, Detective Zimmermann was permanently assigned as an Internal Affairs Sergeant and remained in this position until his retirement in 2013. During this assignment he was awarded the Distinguished Service Award for one of his investigations that received national media exposure.
Detective Zimmermann was able to work several security details during the World Series games at Texas Ranger Ballpark and the Super Bowl at Cowboy Stadium.
Detective Zimmermann continued his law enforcement career in 2013 when he accepted a position as a Detective at the University of Texas at Arlington Police Department. This is the university that he graduated from with a Bachelor of Science degree in Criminal Justice.
---
February 2016
W.J. Braunsdorf
UT Medical Branch - Galveston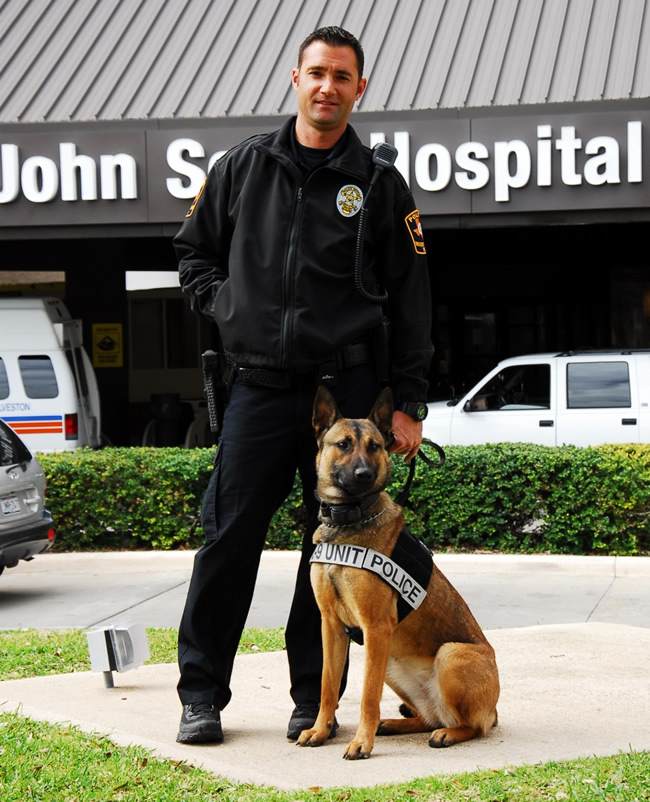 My name is Wesley Braunsdorf. I was born in Texas City, Texas and graduated from Hitchcock High School in 1997. After graduating from high school, I joined the Air Force where I was a member of the 31st Security Forces and spent my time in Aviano, Italy. After my discharge from the military, I attended Alvin Community College where I received my basic Peace Officer license and began working at the Hitchcock Police Department as a Reserve Officer. 
In November 2001, I began my career at the University of Texas Medical Branch as a guard until I was selected to attend the UT Police Academy in 2003. After becoming a Commissioned Officer, I was assigned to work the Patrol Division. While working patrol, I was tasked with bike patrol and Field Training Officer duties. I was then assigned to work in the Criminal Investigation Division where I was part of a three man unit. Later that year, I began a new partnership with the City of Galveston's Police Department working with their Vice and Narcotics Unit. While working vice and narcotics, I was part of several undercover operations, search warrant executions, and still to this day the largest marijuana bust in Galveston County which was estimated to be over 1 million dollars street value.
After my time with the Vice and Narcotics Unit was completed, I returned to CID and was informed our department was starting a canine unit. It had always been a dream of mine to be a canine handler. I applied for the position and was selected as the first UTMB Canine Officer. Upon completion of my training classes and certifications, I immediately began reaching out to other departments in the county to start networking with them. 
Canine Noey and I having been part of several felony high risk warrant executions, suspicious packages, bomb threats, violent offender suspect tracking, and the public relations that go along with it. My dream has become a reality that I get to enjoy every day.
I am truly honored to have been chosen for this award and I am proud to be part of such an excellent team of officers at UTMB PD.
---
January 2016
Kenneth Baptiste
UT Southwestern Medical Center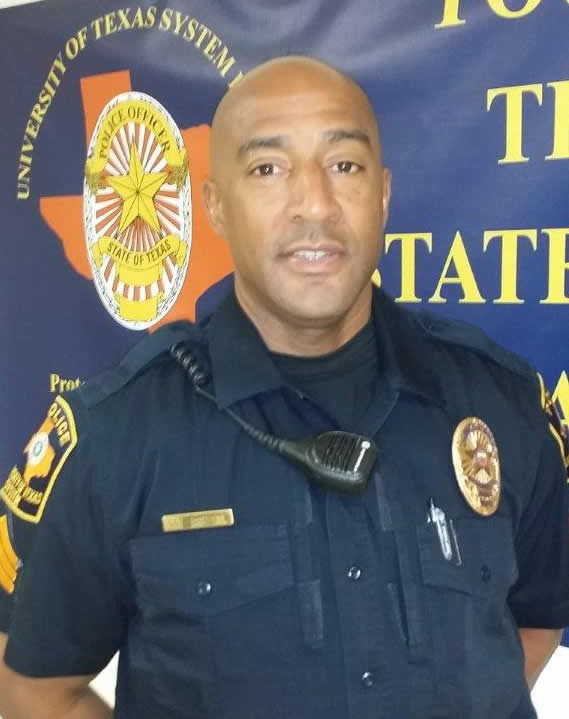 My name is Kenneth Baptiste and I am originally from Houston Texas. I began my law enforcement career with UT Houston Police Department (UTHPD) in March 1992. Initially I was hired as a guard working with a team of knowledgeable and motivated people. I quickly decided that I wanted to become a police officer with UTHPD. In May of 1994, I graduated from the UT System Basic Police Academy. After working for UTHPD for six years, a corporate opportunity relocated my family and me to Nashville Tennessee. The move afforded me with the opportunity to work as a patrol officer for Franklin Police Department, a small suburb of Nashville Tennessee. In August 2001, I relocated back to Texas and began employment with UT Southwestern Police Department (UTSWPD) at Dallas in October 2001.
Currently, I am assigned as the Hospital Liaison Sergeant. As the Hospital Liaison Officer, I am responsible for the development and annual review of the comprehensive University Hospitals (UH) Security Management Plan. Additionally, I am also a critical partner in the development of fundamental principles of planning, managing, staffing, delegation and supervision of the police force at UH. Moreover, I plan and direct operational activities to ensure that UH police related policies are in compliance with The Joint Commission standards of safety and security. I am also responsible for monitoring, evaluating, and analyzing UH's crime patterns and intelligence to develop strategies for effective policing. Furthermore, I research, evaluate and recommend police policies and procedures for implementation in response to UH emergencies and disasters. To ensure effective communication across all levels of the UH, I communicate and confer with UH executives, directors, managers, administrators, and physicians regarding police and security matters as it relates to UH's operations. Additionally, I am the Dignitary Protection Team Leader. In the role as the Dignitary Protection Detail Leader, I am responsible for the planning, managing, coordination and development of protective security operations for events to include integrating internal and external resources as necessary. As a Campus Relations and Security Committee Member and part of the police leadership team, I assist with the development and implementation of a comprehensive plan to ensure the physical safety and security of the University Campus. In addition, I assist with advising the University President of police and security initiatives and recommended changes in campus policies or procedures that could assist in making the campus a safer and more secure environment for all. I also served five years active duty for the USAF as a Law Enforcement Specialist and a Patrol/ Drug Dog Handler. Presently, I am a member of the Texas Air National Guard (TXANG) assigned to the A3 Division as the Logistics Superintendent at TXANG Headquarters, Camp Mabry, Austin, Texas.
I earned my Bachelor of Criminology and Criminal Justice Degree from the University of Texas at Arlington. I also have an Associate in Applied Science Hospitality and Fitness Management Degree from the Community College of the Air Force. Currently, I am pursuing a Master's degree in Leadership and Management in Criminal Justice with an expected graduation date of December 2016.