---
From Inspector Ashley Griffin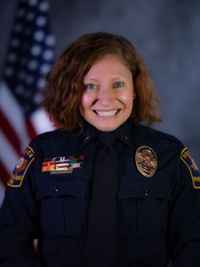 As the training coordinator for UT System Police, I pride myself on working collaboratively with each of my institution police departments to make sure we are not only meeting all TCOLE requirements, but also surpassing those requirements.
Our police academy is 1010 hours, whereas TCOLE sets the minimum to 720 hours.  Over 300 of our officers have attained the Master Peace Officer certification, respectively.  Working at Institutions of Higher Education, we realize the importance of mental health and de-escalation training, which is why we have over 200 officers that are Mental Health Officer certified across our police departments.     
Both our Basic Licensing Police Academy and In-Service training divisions are delivered with professionalism, patience, and recognize the need for adult based learning.  Our instructors are delivering up to date material- often consulting or in partnership with Academic Faculty at our Institutions and presented in an easy to learn format.  We just recently celebrated our 19 BPOC class with a 100% passing rate on the TCOLE exam.   
We strive to foster a learning environment for cadets, officers, telecommunicators, and guest students.  If for any reason you feel like we did not achieve this, please reach out to me directly so that I can look into the matter. 
Thank you,
Inspector Ashley Griffin
(512) 579-5091
agriffin@utsystem.edu
---
Regional Training Coordinators and Contact Information 
UT Arlington
Jonathan King - jking@uta.edu - 817.272.2975
Keith Scullin - keith.scullin@uta.edu - 817.272.9864
 
UT Austin
UT Dallas
UT El Paso 
Lt. Florencio Ramirez
3118 Sun Bowl Dr.
El Paso, TX 79968
Main: 915-747-5611
Office: 915-747-6641
UT Medical Branch Galveston
Lieutenant Rivera 
UTMB Police Department
404 8th Street
Galveston, TX 77555-0101
P 409.772.2691  C 409.740.9887
E jirivera@utmb.edu
Corporal Olga Joseph  
Recruiting & Training Officer 
UTMB Police Department
404 8th street (Bldg-121)
Galveston, TX 77555-0101
O 409.772.0680  O 409.772.1511 (Dispatch) F 409.772.0524 
E olmolis@utmb.edu
 
UT Houston 
UT Permian Basin
UT Rio Grande Valley
Antonio Zarzoza
501 N. Sugar Road
Edinburg TX 78539
(956)665-6532
UT San Antonio
UT San Antonio Health  
William H. Jones
Police Compliance Coordinator 
University of Texas System Police
Health Science Center San Antonio
(210) 567-8919
(210) 567-6234 fax
jonesw4@uthscsa.edu
UT Southwestern 
Lt. Greg Pollock
Training/Support Services
Univ. of Texas Southwestern Police Dept.
6010 Forest Park Rd.
Dallas, TX 75235
214-633-1616 (Office)
580-7750791 (cell)
 
UT Tyler
Sgt. Stuart Alexander
903-877-5169
Stuart.alexander@uthct.edu
UT Tyler Health 
Sgt. Stuart Alexander
903-877-5169
Stuart.alexander@uthct.edu
---
"Hiring and training are the cornerstone to a professional and highly effective police department. If you don't get either of them right, the results can be catastrophic."   
---