Main page content
Blog Category
Officer of the Month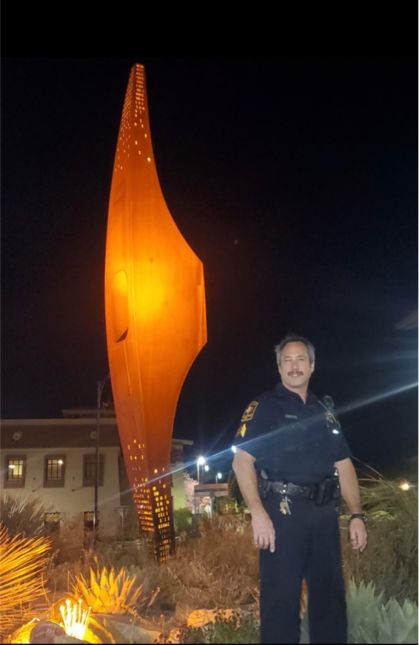 I started my career with the El Paso Police Department in June 1989.  We wrote our reports on typewriters using carbon paper.  Later, we stepped up to electric and multi copy paper. That was an awesome change. Today with the UTSP, I'm on a modern computer staring at a monitor with cheaters on my nose.  There have been so many changes throughout the years.  From carrying a handgun, magazines, and cuffs on my Sam Browne to having no room due to all the equipment. I became a motor officer and loved it so much that I stayed for 13 years and became the first certified motor instructor in this area.  I became an instructor in many other areas, and watched as training, policy, and professionalism would evolve into our modern policing.  This profession has improved in so many ways.  I'm very proud to say that I still serve my community as a police officer. I promoted to sergeant and after 23 years, it was time to retire and move on. 
I joined the UTSP here in El Paso.  It has a small community which embraces this department.  Starting here, I was thinking how things are about to slow down, a welcome change.  I was with my FTO, Justin Reed, when we got called to a subject disturbing at the library.  This turned into a foot pursuit through the campus and passed the freeway.  After a pursuit, struggle, Taser deployment, and a ton of paperwork later….  All of this seemed so familiar. 
I have always tried to step up to assist when needed.  I found the need to simplify the paperwork at the department, I helped by creating a program that would be easier to use.  The state changed the way we did racial profiling paperwork.  I was asked to help, and I assisted there too.  We needed instructors, I assisted as much as I could.  I volunteered to become an ALERRT instructor.  Eventually, I promoted to corporal, and then to sergeant.  In this profession, there is always a way that we can contribute to our department and community.
Now, I'm looking toward the future.  I am very grateful for all the opportunities that I have had.  I'm grateful to the EPPD and UTSP for trusting me and allowing me to serve my community as a police officer.  I'm grateful to my Lord Jesus Christ for protecting me through all the good times, bad times, and some very trying times.  This profession is stressful, and I have nothing but respect for all my brothers and sisters out there making this place better.