Main page content
Blog Category
Officer of the Month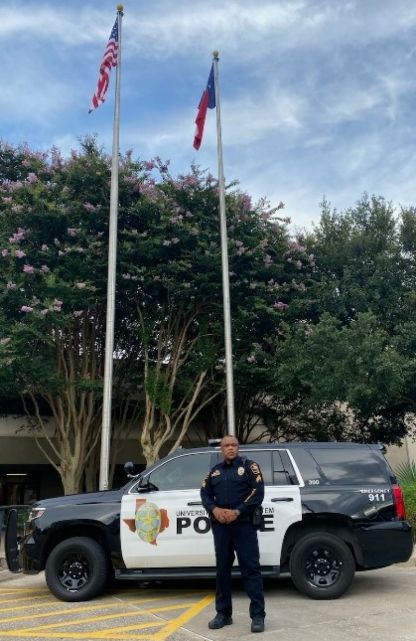 My name is Oscar E. Wilhite.  I was born in Cameron, Texas. I was raised in Oakwood, Texas in my early years until my family relocated to Houston, Texas. As a child, my mother and grandparents raised me to value hard work, respect others and keep Jesus Christ as the center of my life.  During my childhood, a friend asked to borrow my bike.   Soon afterwards, I observed my friend walking down the street with no bike. After finding out the bike was stolen, I spotted a police officer and attempted to get assistance. Unfortunately, the police officer ignored my request for help and drove away. I never located the bike neither did I forget the memory of that moment.  It was then that I decided I would help those in need.  Not knowing what career path to take, I attended the University of Houston and worked at numerous jobs.  I never imagined I would be a police officer.
In the summer of 1988, a worker with my previous employer informed me that "Texas" security was hiring.  I couldn't verify the company but located The University of Texas at Houston Police Department (UTP-H).  I placed an application and was hired as a guard.  After a couple of years, I obtained my Telecommunication License from the DPS Law Enforcement Academy and worked as a Telecommunicator.  Within a year, I was accepted and graduated from the UTP-H 54th Basic Police Training Academy. During my employment at UTP-H, I have held the positions of Field Training Officer, Patrol Sergeant, Field Training Coordinator for Police Officers and Public Safety Officers, Traffic Sergeant, Hostage Negotiator and Criminal Investigation Sergeant.  In 2006, I was selected and completed the 54th Bill Blackwood Law Enforcement Management Institute of Texas (LEMIT)  
The University of Texas at Houston Police Department has allowed me the opportunity to grow, lead, train and empower many police officers and public safety officers. I have also had the opportunity to serve under great leadership and interact with patient, visitors and a great community of faculty members, staff, co-workers who in part are members of the number one Cancer Center in the world.  In 1996, I was a part of a department that became the first Accredited University Police department in Texas and the third in the United States. Working as a police officer has been a privilege and honor to protect and serve those in need.  In 2000 and 2020, I was awarded Life Save Awards which to me are the two most fulfilling moments of my career. As I look upon my career as a law enforcement officer, I honestly believe law enforcement is not just a job, it's a calling.
I am married with three children and one granddaughter who are the joy of my life.  I enjoy spending time with my family, traveling, horse riding, gardening, meeting others and youth activities.  My motto is "Keep it Simple"
Blessed are the peacemakers, for they shall be called the children of GOD. Matthew 5:9