Main page content
Blog Category
Officer of the Month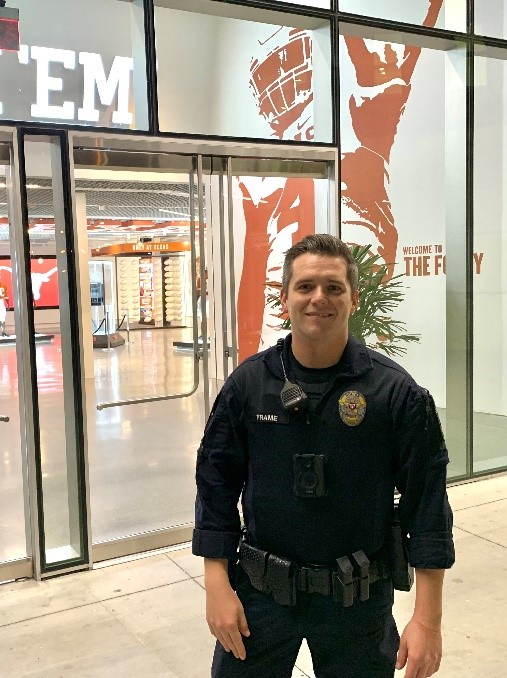 "I started my Law Enforcement career in Northern Virginia where I grew up. I served there for 7.5 years and had a great time. I got married to an Austin native who brought me to Austin on a weekend trip. It didn't take long for her to convince me to move from my hometown to Texas in 2018. I didn't know anything about the area and had no idea what was in store for us. I even thought that Austin was a dry heat and less humid than Virginia. One thing I knew for sure was that I didn't want to be the "new guy" again at UTPD Austin. After moving here, I knew I was in the right place.  
I was an instructor at my previous department and enjoyed teaching when I could, but the opportunities were not frequent. I began training Jiu Jitsu in 2018 and received some DT training certifications. I was fortunate enough to have a chain of command at UT Austin that supported regular training. Recently, we started offering DT/Jiu Jitsu classes at UT Austin. So far, officers are very receptive to Jiu Jitsu which motivates me to keep training and teaching. Some have even participated in classes at local Jiu Jitsu gyms to further their abilities. This has been a fun year of teaching for me, and I look forward to expanding classes in the future.
Despite having 10 years of experience in Law Enforcement, no amount of training would prepare me for the birth of my son this year. My son was born right at the start of the Texas Freeze of 2021. My wife and I will never forget that week. We can't thank UTPD Command and officers for all their help getting us shelter and water after we were discharged.
In my free-time, I enjoy playing drums, drawing caricatures, and going to stand-up comedy shows with my wife."