Main page content
Blog Category
Officer of the Month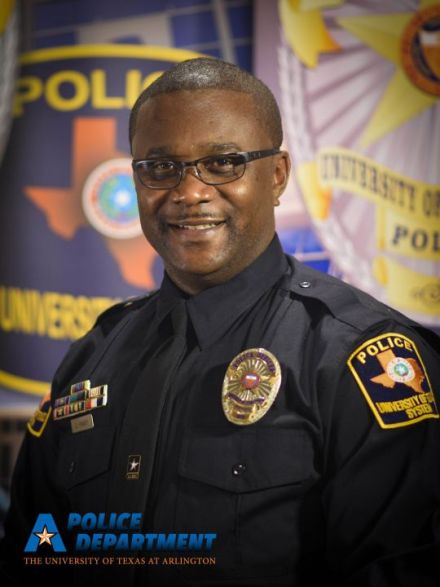 Officer Gregory Finney began working at UT Arlington Police Department as a Commissioned Officer in December 2015. In May 2016, he graduated from the Regional Police Academy (RPA), North Central Council of Governments, and is still serving as a Police Officer for the UT Arlington Police Department in Arlington, Texas. Officer Finney came to UTA following 23 years of selfless service to our nation as a Non-Commissioned Officer in the United States Army, retiring, on April 30, 2015. Gregory has an MBA from Strayer University and is married to his wife Racquisha with three sons (Grevory, Tyrese, and Jonathan).
Gregory was born and raised in South Florida to a Professor of Education (Mother) and a Pastor (Father). Gregory was taught from an early age "It's not your Aptitude, but your Attitude that will determine your Altitude in life." Gregory is a member of the world-famous collegiate marching band "The Marching 100," out of Florida A&M University, a member of the National Honorary Band Fraternity Kappa Kappa Psi, and Masonic Order "Knights Templar." Following a brief stint at Florida A&M University, Gregory enlisted to serve in the United States Army.
Gregory has served in numerous positions throughout his previous Army career, including Team Leader, Squad Leader, Platoon Sergeant, JX6 Intelligence Analysis at the Pentagon (during 9/11), Army Recruiter, Unmanned Aircraft Systems (UAS) Flight Instructor, UAS Dean of Academics, Brigade Level Equal Opportunity Advisor, Army Senior Instructor/ Developer/Writer for the United States Army Intelligence and Security Command and UAS Company First Sergeant. Gregory served his country valiantly, participating in nine different joint service combat deployments to include Bosnia (3), Kosovo, Macedonia, Serbia, Egypt, Iraq, and Afghanistan. Gregory is a former Army Ranger, Airborne Paratrooper and Air Assault member, Army Trained Sniper, and Rappel Master. His awards include the Army's Bronze Star Medal (2), Meritorious Service Medal (2), Army Commendation Medal (5), and Army Achievement Medal (5).
Now in his 6th year of law enforcement, Gregory is honored to work with and be an ambassador for the UT Arlington Police Department. In his six-year tenure with the police department Gregory has earned numerous commendations for his work in policing and work in the community.
Gregory spearheaded the UT Arlington Police Neighborhood Police Program (NPO) and received commendations from both UTAPD Executive Staff and Intermediate Staff on the outstanding work he did organizing a community Meet-and-Greet at the Centennial Court Apartments on April 29, 2021. Gregory spent a great deal of time preparing for this, and it was obvious based on departmental and resident participation. He worked with the Community Engagement Officer to have information on services available and scheduled seminars. He also had the department's Crime Victims Services there to discuss the services they provide.
Gregory was also commended individually and collectively as a team for his outstanding response to the suspect who had assaulted his girlfriend and then assaulted our officers on the scene at Centennial Court Apts—The coordination of the response, the 911 services, and dispatch protocols followed, the deployment of officers to physically ensure the safety of the victim and the resolve of our officers to take the suspect into custody and stop what could have been a much more tragic outcome all combined to ensure the safety of the campus noteworthy. The recovery of multiple loaded firearms from the suspect's vehicle and his criminal history further illustrates the need for law enforcement intervention.
Gregory believes his responsibility as NPO for Centennial Court Apartments is paramount. Gregory has continuously engaged the Centennial Court community and brought awareness to the residents by initiating several programs in conjunction with apartment management. Gregory's Meet and Greet Program, Drug Take-Back Program, Centennial Court Beautification program, Centennial Court Lighting Initiative, Bike Theft Initiative, Resident Survivor Bag Program, and Conversation with a Cop Forums were all commended by his Chain of Command.
For his outstanding work in the community, Gregory was also nominated for the OUTSTANDING MAVERICK AWARD submitted by Assistant Chief Wayne Isbell.
Gregory professional certifications include Master Resiliency Instructor Level 4, US Army Safety Instructor, US Army Sexual Harassment Assault Response Prevention Instructor (SHARP), US Army Cultural Diversity and Ethics Instructor, Fire Team Maneuvers Instructor, Combat Ground Maneuvers Instructor, TCOLE Instructor certification, and Master Peace Officer's License.
In his spare time, Gregory enjoys spending time with his family, traveling, and playing a round of golf.