Main page content
Blog Category
Officer of the Month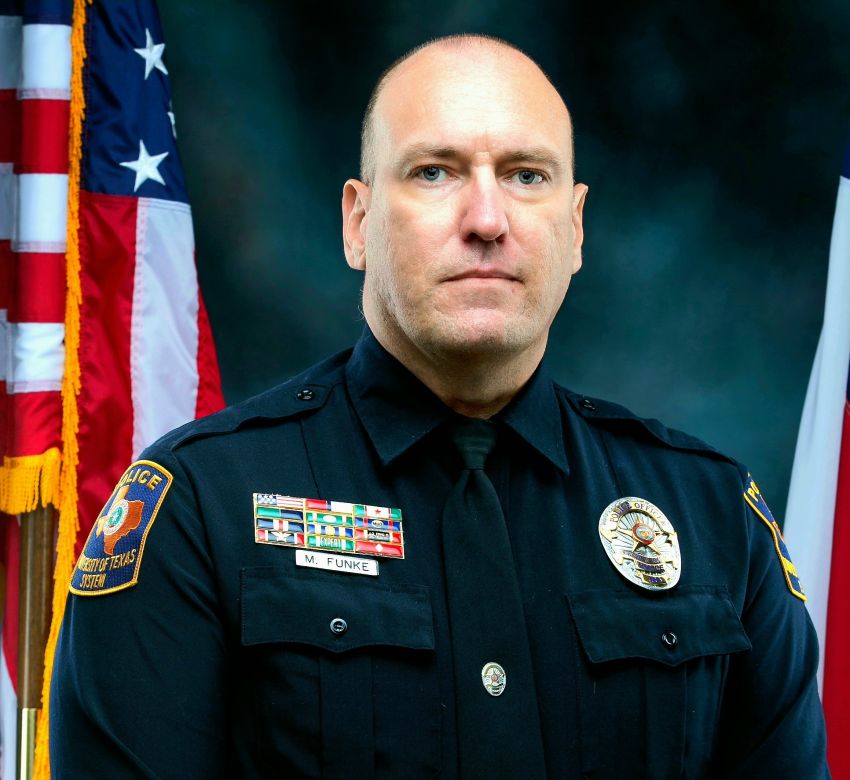 Growing up, all I wanted was to be like my hero, my grandfather. My grandfather, George, a police sergeant and a proud Navy man, never missed an opportunity to teach me valuable life lessons. To this day, I consider him to be my first FTO, and his lessons have served me well.  Upon graduating high school, I followed in my grandfather's footsteps and went to the recruiter. I get seasick, so the Navy wasn't for me. The Marines, however, were offering thirteen beautiful weeks in San Diego with ocean view rooms.
By 2000, I was out of the military and ready to start the next phase of my career as a police officer in Powell, Wyoming. Some of my fondest police officer memories come from my days as a cowboy cop. When you respond to a bar fight, and your only backup is sleeping 20 miles away, you learn a great deal about communication. I wish everyone could start off as a small-town cop; I wouldn't trade it for the world.
In 2011, we moved to San Antonio, Texas, where I was hired at the UT Health San Antonio PD, serving as a public safety officer until acquiring TCOLE certification. Being a police officer for UT Health has allowed me to grow in ways I never thought possible. I am now an instructor in  baton, taser, PPCT, Blue Courage, and FTO. I also had the opportunity to attend the Force Science Analyst class and was later accepted into the Force Science Advanced Specialist class. After many months of studying, I became the second police officer in the State of Texas to ever graduate from the program.
I have been married to my wonderful wife, Tanya, for 22 years. We have an amazing son, Michael Anthony, who turns 21 next month. For years, my family has urged me to get my degree, but I was stubborn, and it took some time to get motivated. I am proud to say I will be graduating from UT Arlington this year with a Bachelor's in Criminology and will continue with a master's program.
At the beginning of 2021, UT Health opened an on-site COVID vaccine clinic. I have had the distinct honor of working with our School of Nursing in bringing this essential service to the community. As we approach 100,000 vaccines administered, I am amazed at what UT Health and the UTPD have achieved and can't wait to see what the future holds.