Main page content
Blog Category
Officer of the Month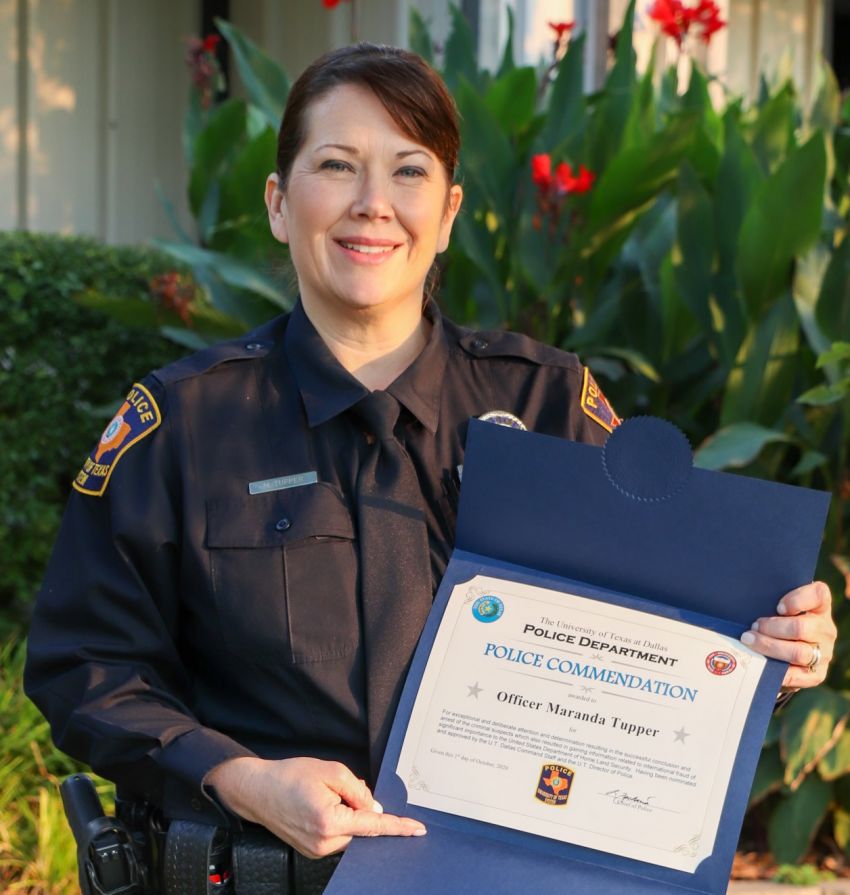 I am Officer Maranda Tupper with The UT Dallas Police Department. I have been with UT System Police for over eight years. I hold a Masters Peace Officer License, a Mental Health Peace Officer's License, a Basic Instructor License, a Certified Crime Prevention Specialist Certificate, and a Sexual Assault/ Family Violence Investigator Certificate. I will graduate from Wayland Baptist University with a Bachelor's Degree in Justice Administration/ Law Enforcement Specialization, February 2021. 
I fell in love with law enforcement at the age of 19, after becoming a dispatcher with the Bridgeport Police Department. In 1997, I enrolled in the 76th Basic Peace Officer's Academy at Tarrant County College Police Academy.  Upon graduation, I began my career as a police officer with the Westworth Village Police Department (1998-2004.) During my tenure there, I was allowed to acquire and exercise the fundamental skills needed to be a diverse officer with the opportunity to promote to Senior Corporal.
I transitioned to the Saginaw Police Department (2004-2010.)  I performed various assignments within the department and embraced the department's motto of "Excellence in Policing." While at Saginaw PD, I served as a Patrol Officer, Crime Prevention Officer, Evidence Custodian, Public Information Officer, School Resource Officer, and Lead for the Crisis Negations Team. The encouragement by supervisors and opportunities to obtain specialized training and actively participate in diverse roles allowed me to gain different aspects of policing and the vital role each one plays.  
In 2010, I relocated to the San Antonio area, and with the support of my husband and family, I began my career in 2012 with the University of Texas at San Antonio Police Department. I was assigned to Patrol and attended the 3rd UT System Police Lateral Academy. In 2014, I was selected to serve in the Community Affairs Section as a Crime Prevention Officer and Crime Victim Liaison. I promoted to Corporal in 2015 and continued to serve in the Community Affairs Section. I thoroughly enjoyed this assignment, as it allowed me to establish working relationships with students, faculty, staff, and the surrounding community. Serving in this position was rewarding in many ways. In May 2019, I was afforded the opportunity to participate in the UT System Office of the Director of Police (ODOP) Advanced Development and Career Excellence (ADVANCE) program. Which had been a goal of mine since learning of the program in 2013.
In July of 2019, I relocated back to the Dallas/ Fort Worth area and was able to transfer to the UT Dallas Police Department. I currently serve in the Patrol Division. I am honored to have received a Police Commendation Award for dedication and diligence involving an investigation in October 2020. Since my arrival, I have enjoyed working with the UT Dallas PD team, learning about the community, and interacting with students. I stay positive that the normalcy we once knew before the pandemic, will return. I am proud to serve as an officer with UT System Police.
Most of all, I could not do any of this without the support of my family.