Main page content
Blog Category
Officer of the Month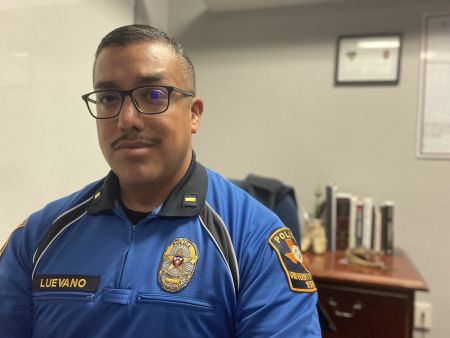 My name is Hector R. Luevano Jr. I have been with UT Austin Police department for 10 years, academy class 92. I am originally from Uvalde TX. Before the attack at Robb Elementary School that occurred on May 24, 2022, I used to have to describe the location and area so people had an idea of where Uvalde is. This unfortunate incident has placed the town on the world map. I used to live by the school and would walk the 4 blocks home after class with my twin sister. The day after the incident, the Uvalde Police Department placed a request statewide for assistance in Uvalde. After speaking with UTPD leadership, I thought of no better way to be there for the community that raised me then to be there to serve them. It was a sobering experience but also helped me in a way process the whole situation. I worked several events where family, friends and neighbors, gathered to just be together and support one another. While there, our team from UT Austin assisted with taking 911 calls for the town as well. Even though most people will now have a certain thought about what Uvalde is or where it is at when you hear the town name, I still like to describe it as "God's Country". Located at the bottom of the Texas Hill Country with crystal clear rivers surrounding it, and really good taco's!
Working for UT System Police Department has provided me with many opportunities. From being on the bike unit, teaching courses for the UT System Academy, as well as working joint operations with Austin Police Department and Texas DPS.
I currently serve UT Austin as Lieutenant on the Criminal Engagement Division. I oversee the department's mental health division UCIT, Crisis Negotiations, Honor Guard team and I am also an IPMBA bike instructor.
It has been a pleasure working for the department and I look forward to many more years.
As I conclude, there is a quote that has helped me throughout my career, it is kind of like a life hack that I try to put into practice daily that was said by President Abraham Lincoln,
"I will prepare and someday my chance will come".