Main page content
Blog Category
Officer of the Month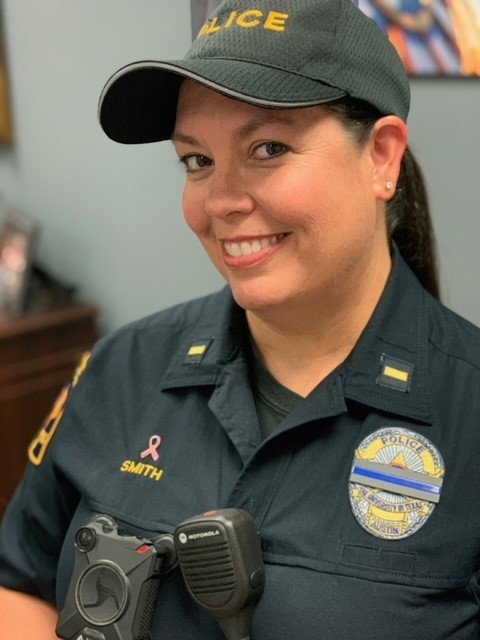 I was raised in Austin and grew up on the UT Campus.  Both of my parents retired from The University of Texas at Austin.  I graduated from Concordia University with a BA in History and a minor in Communications.
I graduated from the University of Texas System Police Academy 62nd BPOC.  While I was on the Patrol Unit, I worked all shifts (night shift for over seven years) and eventually found my way into UTPD's Crime Prevention Unit, as a certified Crime Prevention Specialist.  From 2008-2010, I worked with the FBI on the Joint Terrorism Task Force.  I specialized in Domestic Terrorism and was on the Weapons of Mass Destruction Operations Unit.  I promoted to Sergeant in 2014, and supervised Internal Affairs, Crime Prevention, and CALEA, and then later supervised a dayshift Patrol Unit.  In 2019, I promoted to Lieutenant and have supervised UTPD's Investigations and Mitigation's Division and currently, the Community Engagement Division. 
Growing up, I thought I wanted to be a high school history teacher; however, life sent me down a different path.  At UTPD, I have been able to teach adults.  I was a Field Training Officer for seven years, I taught CPR/AED, Intermediate Child Abuse Investigation/Detection and Missing and Exploited Children for over twenty years.
We have a dual law enforcement household.  My husband works for the City of Austin Police Department.  Our son recently joined the Army National Guard and will attend Basic Training this summer.  He will begin his freshman year at Texas A&M this Fall.  He will be in the Army ROTC Program and the Corps of Cadets – Animal Company.