Main page content
Blog Category
Officer of the Month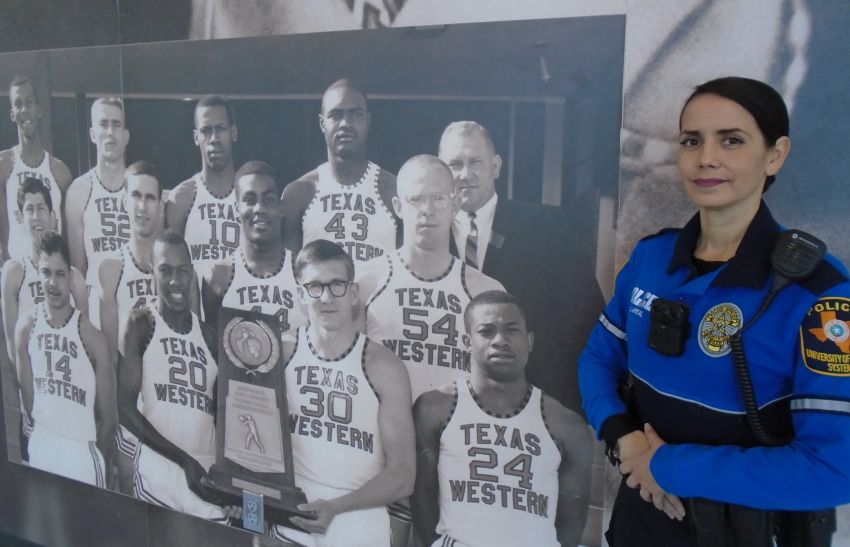 Officer Elizabeth Villarreal-Arbogast is a lifelong resident of El Paso. She attended The University of Texas at El Paso, where she earned dual Bachelor's Degrees in Criminal Justice and Sociology and is currently pursuing a Master's Degree with an anticipated graduation date of December 2021. 
In 2013, Elizabeth was dealt with a "minor setback" but was able to fight through the difficult times and is now an eight-year Cancer Survivor.  With the loving support of her family, Elizabeth accomplished a lifelong dream of becoming a Police Officer and has been a commissioned peace officer with The University of Texas System Police-El Paso (UTEP PD) since 2014.
Elizabeth holds an Advanced Peace Officer Certificate and is a TCOLE instructor.  She is a certified Mental Health Officer, Sexual Assault/Family Violence Investigator, Police Field Training Officer and is the lead instructor/coordinator for the Rape Aggression Defense Program, which provides self-defense education to women for no cost at UTEP.
Additionally, Elizabeth is a Civilian Response to Active Shooter Events (CRASE) Train-the-Trainer and Stop the Bleed instructor. Essential roles for informing, educating, and empowering our campus community to react and deliver lifesaving skills during critical incidents.  Through her course of study, Elizabeth focused on the topics of food insecurity on college campuses.  She is determined to bring additional attention to this need throughout UTEP and El Paso and has been the department's primary contact to support the UTEP Food Pantry with the community and volunteers numerous hours to collect non-perishable food donations.
During the COVID-19 pandemic, UTEP has been involved with hosting two State drive-up site locations for the public and three UTEP walk-up testing sites, and since February, an ongoing vaccination clinic for the community. Elizabeth has been assigned to assist UTEP Faculty and Staff with receiving vaccination shipments and providing service to the community during the clinics.  She has found her involvement with the community during such stressful times to be one of the most rewarding in her career.
Elizabeth enjoys spending time with her family, loves the outdoors, and is an avid bicyclist. She has received numerous accolades for her dedication to include recognition as a "UTEP Hometown Hero" and was invited by the UTEP Student Government Association to present during the Health Awareness for Miners project.   Her numerous achievements stand as an inspiration to everyone; they can overcome any obstacle that life may throw at them and realize their dreams.