Main page content
Blog Category
Officer of the Month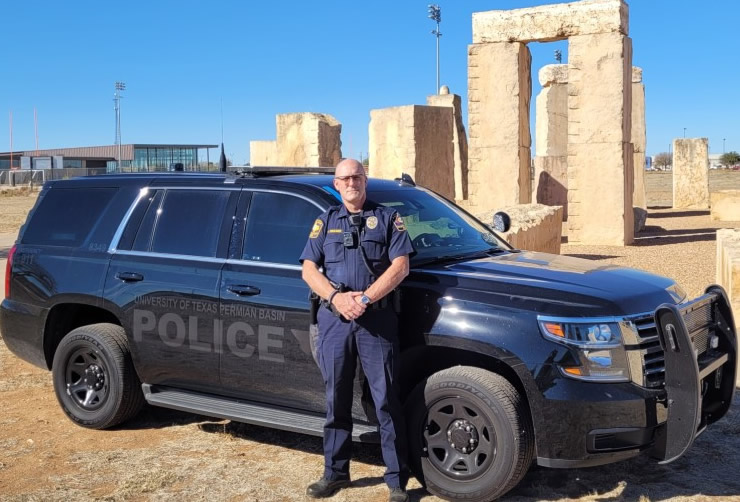 Sergeant Fraser began his career in law enforcement in 1986 joining the United States Air Force's 7th Security Police Squadron based at Carswell Air Force Base in Ft. Worth, Texas. He served for 5 years also participating in Desert Storm.
While in the military, he attended the civilian police academy through Texas A&M University where he graduated with a Texas police commission in 1991. He began working as a reserve police officer in the area until being Honorably Discharged from the Air Force that same year. Sergeant Fraser then moved to his hometown of Brownwood, Texas where he became a full time officer with the City of Brownwood. While working for the city, he was assigned to the patrol division for 4 years before creating the city's first police mountain bike patrol, being certified through (IPMBA) International Police Mountain Bike Association.  He also worked as a school resource officer for Brownwood High and Middle Schools. While with the school district, Sergeant Fraser implemented the first school Crime Stoppers Program for Brownwood High School.
Sergeant Fraser stayed with his hometown police agency for 11 years before pursuing bigger challenges. He applied and was accepted with the Capital Police in Columbia, South Carolina. He moved to the Columbia Police Department in 2002 where he worked patrol in the North Region of the city. He was promoted to Police Corporal in 2006 as a supervisor.  During his time with the Columbia Police Department, Sergeant Fraser continued his passion for mountain bike patrol thus creating the first police bicycle patrol for the City of Columbia. He participated and supervised the unit until 2009.
In 2009, Sergeant Fraser chose to return to his home state of Texas. He applied and was accepted with the City of Odessa Police Department in Odessa, Texas. While with the City of Odessa, Sergeant Fraser again stayed with the patrol division for 5 years. During this time he was trained and very active with the City of Odessa's Hostage Negotiations Unit where he successfully negotiated several incidents to positive outcomes, to include a barricaded subject who had shot and wounded two of his fellow officers. Sergeant Fraser also received the Medal of Honor for that standoff for assisting a wounded officer from the line of fire as the suspect attempting to harm further police officers.
In 2014, Sergeant Fraser joined the City of Odessa's Police Traffic Unit. He completed the Basic, Intermediate, and Advanced Traffic Collision Instruction Coarse. (Fatality Reconstruction). He worked with the traffic unit until he retired from the City of Odessa in 2018.
In November of 2018, Sergeant Fraser applied with the University of Texas Permian Basin as a patrol officer. He was hired and worked for the university until August of 2019 when he was promoted to Patrol Sergeant. He is currently the Sergeant over patrol divisions A, B, C, and D. He is also a field training officer and the Field Training Sergeant.