Main page content
Blog Category
Officer of the Month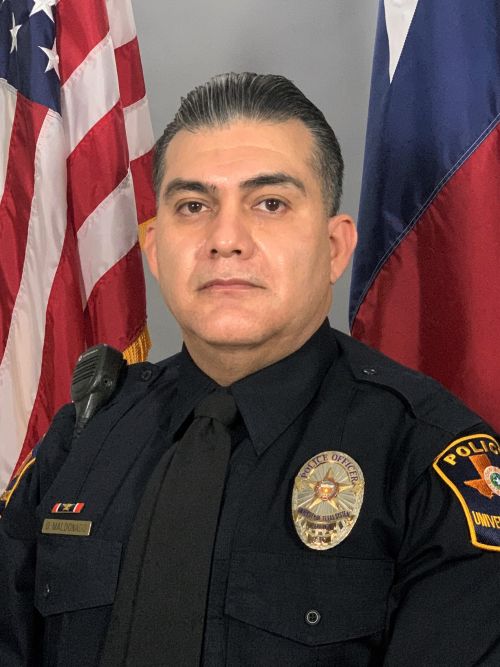 My name is Daniel Maldonado, and I was born in "The Sun City" El Paso, TX. Growing up, I dreamed of being in law enforcement. Life took me in a different route. While I lived in Chicago, IL I attended a culinary school and learned the profession of culinary arts. After returning home, I worked in many establishments and worked my way up from being a line cook to becoming a professional chef. However, I still had a drive to work in law enforcement.
In 2006, I enlisted into the Texas Army National Guard. In 2008, my military unit, 3rd Battalion 133 Field Artillery Regiment, was ordered to deploy and assist in Operation Iraqi Freedom. The experience I received during this deployment was one of the best I had in my lifetime. It taught me the values we live by loyalty, duty, respect, selfless service, honor, integrity, and personal courage. I am currently a Sergeant First Class (E7) and one of several Platoon Sergeants. I have also been deployed several times by the Governor of Texas, Greg Abbott, to help the State of Texas in times of disasters and protecting its borders. I still carry these values which has refined me to the person I am today and helped me become the police officer that I am today.
My law enforcement career began in 2015. The University of Texas in Permian Basin took a chance and hired me as one of their police officers. During my time there, I worked and trained with professional police officers. One of my dreams had become real. The command staff and coworkers there are outstanding and value our work and dedication. After working for a little over two years, I decided to make a change and transfer to UT Southwestern Medical Center in Dallas, TX.
I began working for UT Southwestern Police Department in 2017. I was welcomed and put to work immediately. My coworkers and command staff have been very supportive with both of my police work and military duties, which I am very thankful. The adrenaline and excitement of this career has driven me to work hard and provide my service to the community and my state. I still have many more years to go in my law enforcement career and I look forward to continuing to provide dedication and love to UT Southwestern and the Texas Army National Guard.