Main page content
Blog Category
Officer of the Month
I have been a resident of the Rio Grande Valley for 40 years and I have been in law enforcement for almost 30 years.  I started working for UTRGV Police Department in 2018 as a Police Officer, and was later assigned to the Criminal Investigations Division as a Detective.  In 2020 I was promoted to Sergeant and supervised the patrol division.  In October 2020 I was assigned as Sergeant to the Criminal Investigations Division where I currently lead and train my detectives in all aspects of criminal investigations.  I am an instructor and have taught courses such as Crime Scene Investigations, Report Writing and Court Testimony.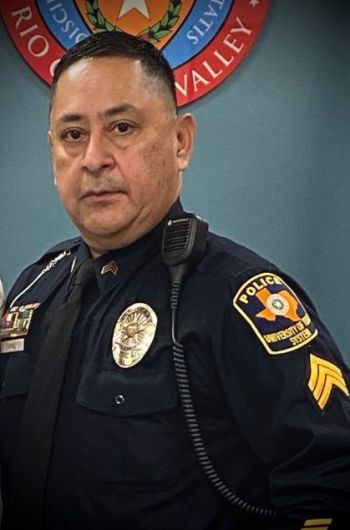 Prior to working with the UTRGV PD, I worked for 24 years with the McAllen Police Department where I held several positions such as Field Training Officer, Warrant Officer, Computer Forensic Examiner and Investigator assigned to the Crimes Against Persons Unit (Major Crimes Unit).  After being retired for a weekend, I went on to work with the Hidalgo County District Attorney's Office as a Criminal Investigator where I continued working all types of investigations.  I assisted prosecutors by reviewing local and state agency cases and prepared complaints and indictments for criminal cases.
I have been married to a wonderful woman, Corina, for 29 years.  We have a daughter, Alexandra who is a graduate from UTPA and St. Mary's University (Master's) and a son, Erick who graduated from St. Edwards University.  I am proud to say that they are my greatest motivation to always perform to the greatest of my abilities.  After putting my education aside to raise our children and help them get a college degree, I took the initiative to go back to college and I will be graduating from the University of Texas Rio Grande Valley in Spring 2022 with a bachelor's degree in Criminal Justice and a minor in History. 
I am proud to say that becoming a police officer has been a blessing and I always wear my uniform and my badge with the greatest pride.  I believe in treating all people I encounter with the utmost respect, regardless of which side of the law they stand.  Becoming an investigator made me realize that conducting criminal investigations is my passion.
I believe being an officer is not measured by how many arrests you make or how many cases you solve in your career, but by what legacy you leave behind.  For that reason, I am a firm believer in sharing my knowledge and experience with the newer generations of fine officers in our police system.