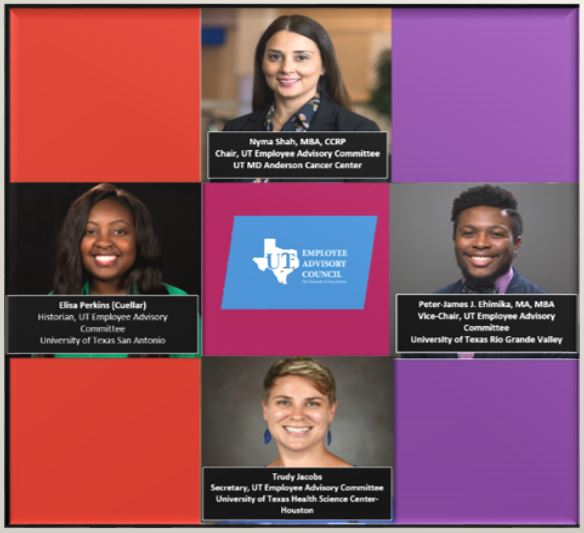 Executive Committee
The Executive Committee membership is composed of the EAC Chair, Vice-Chair, Secretary, and Historian. The Executive Committee sets the agenda for all meetings, recommends changes in the EAC Organization Guidelines or procedures, and provides overall and general guidance and direction for the EAC. Additionally, the Executive Committee serves as an information resource and sounding board for the Chancellor on issues of importance to UT System Employees.
Executive Committee for Fiscal Year 2021:
Nyma Shah (U. T. M. D. Anderson), Chair
ph: 713.563.3886
nashah@mdanderson.org
Peter James Ehimika (U. T. Rio Grande Valley), Vice Chair
ph: 956.665.7427
peterjames.ehimika@utrgv.edu
Trudy Jacobs (U. T. Health Houston), Secretary
ph: 713.500.3463
trudy.jacobs@uth.tmc.edu
Elisa Perkins (Cuellar) (U. T. San Antonio), Historian
ph: 210.458.4675
elisa.perkins@utsa.edu
Ad Hoc Committees
Ad hoc committees may be appointed to assist the EAC with its work. These committees may include institution officers or employees who are not EAC representatives; however, the chair of the ad hoc committee must be a current EAC representative. The organization and constituency of ad hoc committees will be determined by the nature of the task.
FY 2021  Ad Hoc Committees
Campus Safety
Members:
Sally Bouis
Michele Campbell
Naomi Emmett
Larrimie Gordon (Chair)
Rebekah Sepulveda
Jorge Vazquez (Vice Chair)
Corrie Warren
Telecommuting/Future Work
Members:
Tilly Clark (Chair)
Albert Contreras
Philesha Evans
Jennifer Klunk
Brittany Kruse (Vice Chair)
Bonnie Moreno
Mentoring and Coaching
Members:
Richard Acosta (Vice Chair)
Sandra Catlett (Chair)
Ebony Coleman-Glenn
Iris Fierro
Carla Lopez
Kathy Murphy
John Shaffer
Diversity, Equity and Inclusion
Members:
Stephanie Shelby
Ana Thompson
Johnny Reyes (Vice Chair)
Natalina Martinez
Shanese Williams (Chair)
Jean Grove
Colin Dunham