BCBSTX: Coronavirus and What It Means (.pdf)
UT Benefits Updates Related to COVID-19
August 27, 2020 > UT SELECT & UT CONNECT Telemedicine Visits Extended
July 17, 2020 > UT SELECT & UT CONNECT Telemedicine Visits Extended
July 9, 2020 > COVID-19 Risk Assessment Chart from the Texas Medical Association
June 2, 2020 > Updated COVID-19 Details for UT FLEX, Ending Early Prescription Refills
April 24, 2020 > The CARES Act & Your UT FLEX Health Care Reimbursement Account
April 17, 2020 > The Coronavirus Aid, Relief, and Economic Security (CARES) Act
April 8, 2020 > Enhanced Benefits Available for Medical Services Related to COVID-19
April 7, 2020 > Prior Authorization Requirements Waived for Most Transfers to Post-Acute Care Facilities
March 18, 2020 > Telemedicine Services during COVID-19
March 10, 2020 > Key Benefits Details
UT SELECT & UT CONNECT Telemedicine Visits Extended
August 27, 2020
The UT SELECT and UT CONNECT telemedicine benefit is being extended and will remain in place while the federal public health emergency related to COVID-19 remains in effect.
The telemedicine benefit, which includes an office visit copay, does not affect your $0 copay MDLIVE Virtual Visit benefit.
UT SELECT & UT CONNECT Telemedicine Visits Extended
July 17, 2020
UT SELECT & UT CONNECT telemedicine visits are being extended through August 31, 2020 (with office visit copay) due to COVID-19. This benefit will be re-evaluated for potential continuation past August 31, 2020.

Please note, this does not impact your $0 copay MDLIVE Virtual Visit benefit.
COVID-19 Risk Assessment Chart from the Texas Medical Association
July 9, 2020
Know Your Risk During COVID-19
The Texas Medical Association COVID-19 Task Force and Committee on Infectious Diseases have created a chart that ranks activities on their risk level for COVID-19.
The levels are based on input from the physician members of the task force and the committee, who worked from the assumption that – no matter the activity – participants were taking as many safety precautions as they can.
Download and read about the TMA Risk Assessment Chart > (Source: Texas Medical Association)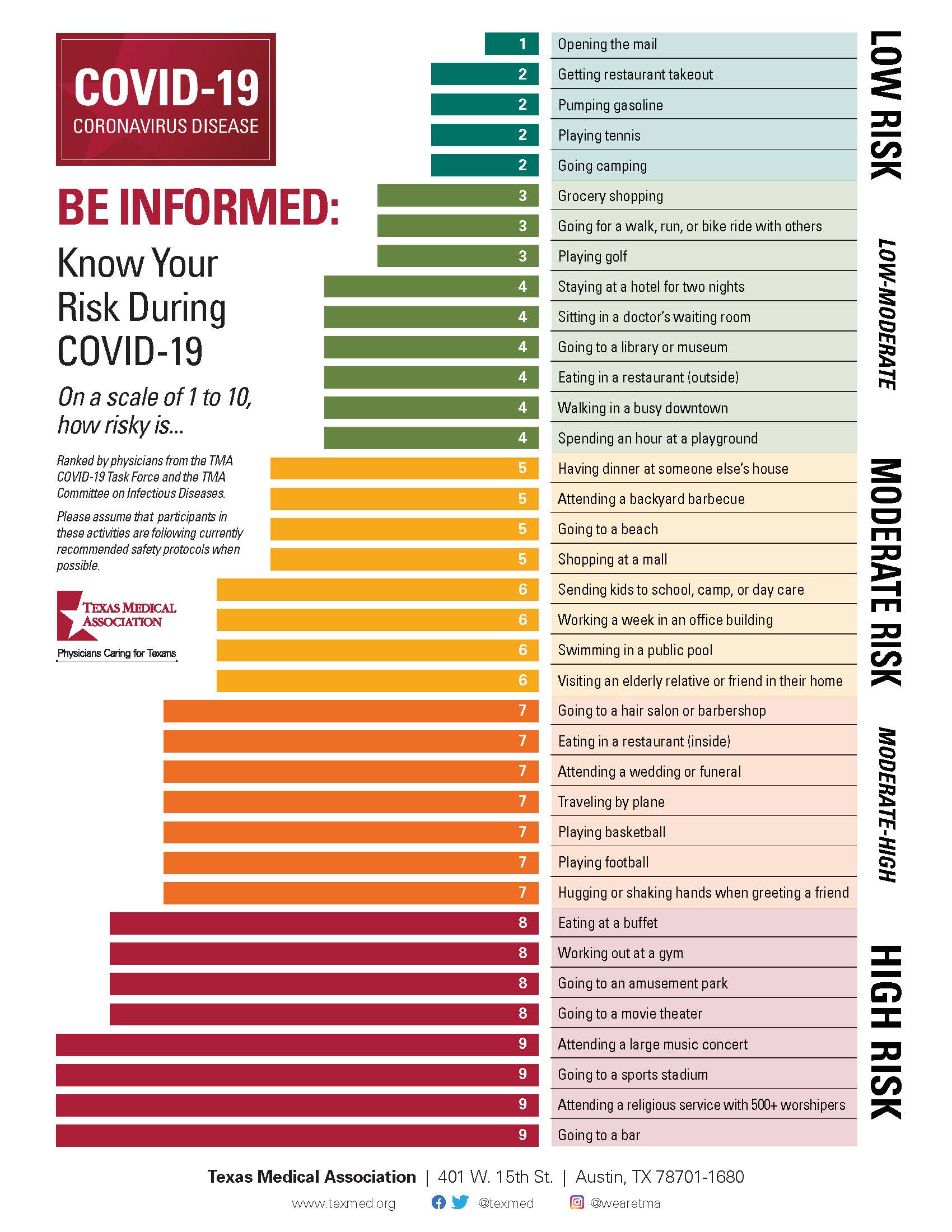 Updated COVID-19 Details for UT FLEX, Ending Early Prescription Refills
June 2, 2020
UT FLEX
The IRS recently released new guidance around COVID-19 (Notice 2020-29) for Section 125 Cafeteria Plans, including the UT Benefits program. In accordance with this guidance, UT FLEX participants will have some additional flexibility with using their UT FLEX Health Care Reimbursement (HCRA) and Dependent Care Reimbursement Accounts (DCRA).
The following changes are effective June 1, 2020:
Extended Deadline to Use 2019-2020 UT FLEX HCRA and DCRA Funds
Expands the time period in which participants may incur new eligible expenses for the 2019-2020 plan year through December 31, 2020.*

Previously, the deadline to use DCRA funds was August 31.
Previously, the deadline to use HCRA funds was November 15.
Effective December 31, 2020, any unclaimed HCRA or DCRA funds from the 2019-2020 plan year will be forfeited.

The claims filing deadline for 2019-2020 HCRA and DCRA claims will be January 15, 2021.
This extension may be a factor when making UT FLEX elections for plan year 2020-2021.

Members with unanticipated remaining balances for 2019-2020 should take that into consideration when making next year's UT FLEX elections during the upcoming Annual Enrollment period (July 15-31, 2020).
Contribution amounts elected for 2020-2021 can be used throughout next plan year, with the regular deadlines for eligible expenses of August 31, 2021 (DCRA) and November 15, 2021 (HCRA).
Midyear Election Changes
Within certain limits, participants may add or drop accounts and increase or decrease contributions for existing accounts.
All changes must be made on a prospective basis. No changes are allowed prior to June 1, 2020
Decreases and drops are limited to amounts not less than amounts already reimbursed
Please contact your institution's Benefits or Human Resources office if you wish to make changes to your current FLEX HCRA or FLEX DCRA account(s).
*In order to closely monitor your account balance(s) in the UT FLEX plan, we strongly recommend you register your account with Maestro Health, the UT FLEX plan administrator, at www.myutflex.com. All remaining balance information and claims history is available at the site, plus your registration allows you to receive text alerts regarding HCRA Debit Card purchases, requests for documentation, etc.
Early Prescription Refills
Effective June 30, 2020, the UT SELECT and UT CONNECT prescription "early refills" accommodation will be turned off. This temporary benefit enabled participants to obtain up to a 90-day supply prior to the regular "time to reorder" timeframe.
The CARES Act & Your UT FLEX Health Care Reimbursement Account
April 24, 2020
The Coronavirus Aid, Relief, and Economic Security (CARES) Act, signed into law on March 27, 2020, broadened certain regulations around the use of Health Flexible Spending Accounts, including the UT FLEX Health Care Reimbursement Account (HCRA). These enhancements allow some additional health care products to be claimed as eligible expenses through your HCRA. Over-the-counter (OTC) items, such as cold medicine, no longer require a prescription to be eligible for reimbursement. Additionally, feminine care products are now also considered to be qualified medical expenses and are eligible for reimbursement.
Once the data systems used by retail merchants have been updated, these items may be purchased using your UT FLEX Debit Card. You may also submit receipts for these items directly to Maestro for reimbursement from available funds in your 2019-2020 HCRA.
These particular changes were made retroactive to include the entire 2020 calendar year. That means receipts for qualified items with dates of service beginning January 1, 2020, are eligible and may be submitted for reimbursement.
The Coronavirus Aid, Relief, and Economic Security (CARES) Act
April 17, 2020
The Coronavirus Aid, Relief, and Economic Security (CARES) Act, a response to the public health crisis and associated economic fallout in the wake of COVID-19, was signed into law on March 27, 2020.
The University of Texas System Office of Employee Benefits (OEB) has incorporated some of the features of the CARES Act into the UTSaver 403(b) Tax Sheltered Annuity (TSA) and the  UTSaver 457(b) Deferred Compensation Plan (DCP) to help our participants get through the COVID-19 crises.
THE CARES ACT DOES NOT APPLY TO THE TEACHER RETIREMENT SYSTEM OF TEXAS OR THE UT OPTIONAL RETIREMENT PROGRAM.
Your Loan and Distribution Options Under the CARES Act (.pdf) >
Enhanced Benefits Available for Medical Services Related to COVID-19
April 8, 2020
With the situation still evolving around COVID-19, The University of Texas System Office of Employee Benefits (OEB) has continued to look for additional ways to assist our members during this period of uncertainty. We are happy to share this news about enhanced medical benefits.
The UT SELECT and UT CONNECT plans will cover in-network medically necessary services at 100% for testing and treatment of COVID-19, including physician services, hospitalization, and emergency services. This means that members receiving medical care for COVID-19 from network providers and facilities should have no out-of-pocket costs. We hope all of you stay safe and healthy, but for our members and families who may need care during this unprecedented time, we hope this enhanced benefit offers some peace of mind.
This significant change in medical coverage is a qualifying mid-year status change event that would allow an eligible individual to add the medical plan. Contact your institution's HR office for questions and/or assistance.
Prior Authorization Requirements Waived for Most Transfers to Post-Acute Care Facilities
April 7, 2020
Blue Cross and Blue Shield of Texas (BCBSTX) is waiving prior authorization requirements for transfers to in-network, medically necessary alternative post-acute facilities until April 30, 2020. As the situation around COVID-19 continues to evolve, BCBSTX will continue to evaluate whether the time period for this waiver needs to be extended.
During this time, providers will not be required to obtain prior authorization to transfer UT SELECT and UT CONNECT members from an inpatient hospital to an in-network medically appropriate, post-acute site of care such as long-term acute care hospitals and skilled nursing facilities. This will help promote availability of acute care capacity for COVID-19 patients during this Public Health Emergency. It also allows members to continue to access medically necessary care. 
PLEASE NOTE: Prior authorization will still be required if the transfer is for a behavioral health facility.
Telemedicine Services during COVID-19
March 18, 2020
The University of Texas Office of Employee Benefits (OEB) continues to look for ways to assist the UT SELECT and UT CONNECT members during this rapidly evolving situation. We have some good news to share.
Working with BCBSTX, the telehealth options available to our members will be temporarily expanding. Previously, telehealth procedures were excluded from benefits, but effective March 9, 2020, these procedure codes will allow benefits for both medical and behavioral health services during the COVID-19 situation. Some important details to note:
BCBSTX is working on updating the Health Advocate resources to ensure accurate information is provided to members inquiring about the availability of telehealth services beyond MDLIVE.
"Office visit" level benefits will apply to telehealth services rendered by any eligible network provider other than MDLIVE (MDLIVE is covered at 100%). Since members might be accessing services for medical conditions beyond COVID-19 based on their providers' ability to render the service, this measure will enable members to access care while maintaining social distancing.  
Telehealth services rendered by an out of network provider will apply out of network benefits.
As with any change of this significance, it might take time for the information to make its way to the individual provider billing offices. Therefore, we ask for your assistance and patience as BCBSTX works to share this information across their provider network.
For UT SELECT member questions regarding services and/or this benefit enhancement, call your Blue Cross and Blue Shield Health Advocate at 866-882-2034.
For UT CONNECT, please contact the CONNECT customer service team at 888-399-8889.
Key Benefits Details
March 10, 2020
The University of Texas Office of Employee Benefits (OEB) is closely monitoring activity around the 2019 Novel Coronavirus (COVID-19). We are committed to assisting those who might be affected and helping our members and institutions stay informed about benefits related to COVID-19.  
The following key details may be helpful for you and your family should you need care related to COVID-19:
Effective immediately, the UT SELECT and UT CONNECT plans will not require prior authorization and will waive member copayments, coinsurance, and deductibles associated with testing for COVID-19 when medically necessary and consistent with Centers for Disease Control (CDC) guidance.
With regard to treatment for COVID-19, UT SELECT and UT CONNECT will cover medically necessary services consistent with the terms of each plan, including physician services, hospitalization, and emergency services.
A primary care physician copayment will apply for medically necessary treatment delivered to a patient who may be quarantined under CDC guidelines in a setting other than inpatient. 
For specific questions about your UT SELECT coverage, members should call your Blue Cross and Blue Shield Health Advocate at 866-882-2034. For UT CONNECT, please contact the CONNECT customer service team at 888-399-8889. 
Virtual doctor visits through MDLIVE continue to be available with no out-of-pocket costs and can be used when appropriate. You can activate your account and set up an appointment online or contact MDLIVE customer service at 888-680-8646 for assistance.
Any person experiencing illness should contact their doctor or MDLIVE.
Should members need to access an early refill of prescription medication, they may do so through their UT SELECT and UT CONNECT prescription benefits. Express Scripts, our pharmacy benefit manager, has lifted the "refill too soon" limitations to accommodate early refills for prescription medications up to a 90-day supply.
All other UT Benefits programs will continue to operate according to the plan specifications outlined here. This includes dental, vision, Short Term Disability, Long Term Disability, and Life Insurance. For disability and life insurance purposes, COVID-19 will be considered just like any other illness.
OEB and our business partners will continue to work together to ensure business continuity. Our primary goal continues to be that you and your family can rely on your UT Benefits to cover the care you need.
Please check with your institution for local information and policies related to COVID-19 that you may need to be aware of.
---