Main page content
By Daniel Oppenheimer
Editor, Texas Health Journal
Sean Tritley was in his sophomore year at The University of Texas at San Antonio, just starting the undergraduate program in biomedical engineering, when he was flagged by his department chair, Dr. Eric Brey.
"He'd noticed I was already doing research, and that I was a veteran," said Tritley, who is now a junior.
Brey had arrived at UTSA only a year before and was looking for students for a new initiative he was launching. In his previous academic job, he'd run an intensive summer research program for undergraduate biomedical engineering students. In San Antonio, "Military City USA," he modified the program to focus on military-related research.
"It seemed like a good opportunity to expose students to a really different type of research than what they'd typically see," said Brey. "I do a lot of research in this area, and there is just so much going on in the region in terms of military biomedical research."
The Biomedical Engineering Research for Active military and Veterans initiative, or BRAVe, is a 10-week summer program that places students in faculty, government or military laboratories, doing original research under the direct supervision of graduate student mentors. It's funded by a grant from the National Science Foundation.
Participating students aren't required to have any military affiliation, or even to be affiliated with UTSA. With his military experience, interest in research, and UTSA bona fides, however, Tritley was an ideal candidate.
"I was a technician in the Air Force, and really enjoyed the job," said Tritley, comes from a military family. "In fact, I planned on making the military a career."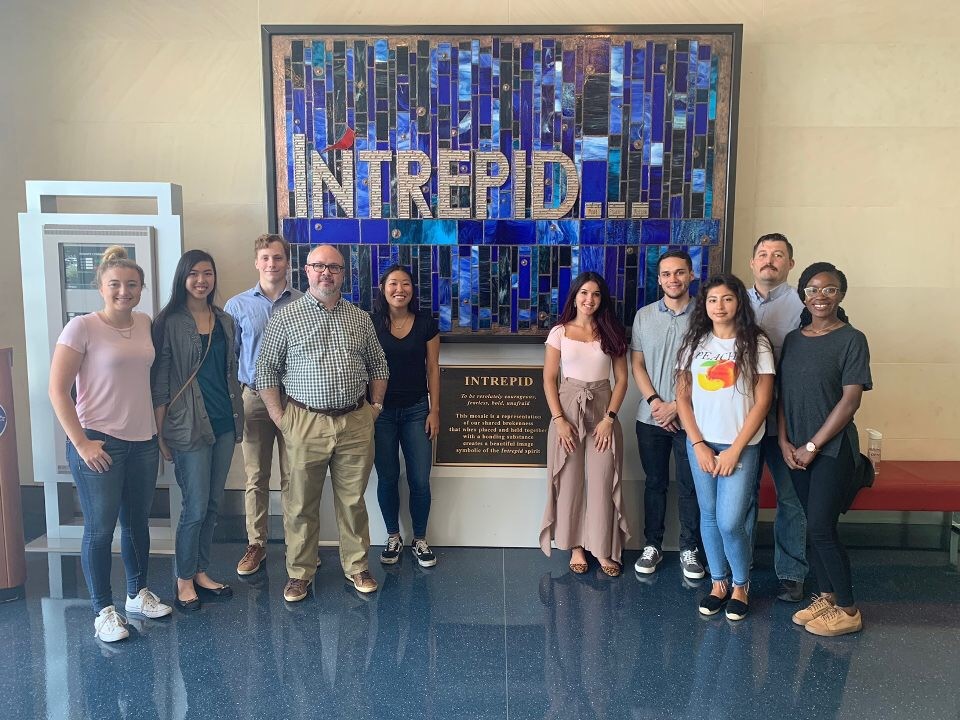 After serving for three years, he was diagnosed with two autoimmune diseases and had to medically retire.  At UTSA, he decided to combine his interest in the mechanics of things with a curiosity about the human body, particularly the brain. 
"I was only skimming the surface in the military," he said.
Through BRAVe, Tritley was assigned to work in the lab of Dr. Amina Qutub, an associate professor of biomedical engineering at UTSA who studies brain health and deterioration from a number of different disciplinary angles. In his ten weeks, Tritley was able to assist with growing brain "organoids," using high resolution imagery to analyze the death of cells, and tracking sleep patterns in older adults with Alzheimer's.
"I really enjoyed it," he said. "We touched on almost everything she was working on, which was a lot. We were finally getting data in the 10th week, and it was awesome, and then it was over. 10 weeks was just too short."
Tritley also appreciated the social aspect of the program. He wasn't staying in the dorms, like many of the students, but he would often hang out at night and on the weekends, when they weren't in the lab, and has kept in touch with many of his fellow students since the program ended.
"I picked some of them up from the airport," he said. "Took them to the River Walk of course. We had a great time."
As part of BRAVe, Dr. Brey took the students on tours of various research facilities in the area. During a tour of the Center for the Intrepid, which is a rehabilitation facility for amputees and burn victims, Tritley so impressed one of the tour guides that he was subsequently hired to work on a project at the Tri-Services Research Lab at Fort Sam Houston.
"The lab is focused on how directed energy weapons, which are in development by various militaries around the world, might affect the brain," said Tritley.
This kind of exposure and connection, said Brey, is exactly what the BRAVe program is designed to facilitate.
"Military-focused research is not necessarily front and center for the average biomedical engineering student," he said, "but it is an incredibly important field, and there is funding for it. Our goal is to get students excited about research, expose them to some of the possibilities in this realm, and of course, if it's possible, facilitate other research opportunities."
Brey also sees the program, and the work, as a unique opportunity for veterans or other students who are interested in the military to serve their country out of uniform.
"We had applicants who felt they had a call to do something but didn't know how and where to do it," said Brey. "As civilians there are ways to make a difference."
For Tritley, the plan is to continue on to a PhD in biomedical engineering.
"I'd guess I'll end up in a research lab somewhere," he said, "but life keeps changing. We'll see."