Main page content
Profile Photo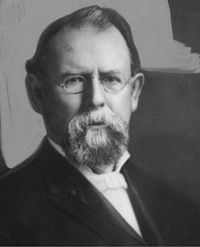 Appointed by
Governors Ross and Hogg
Date of Passing
July 24, 1905
William Lambdin Prather, president and former regent of The University of Texas at Austin, died on July 24, 1905. He was 57.
President Prather was born on May 1, 1848, in Chestnut Grove near Paris, Tennessee. He grew up on a plantation outside Waco, Texas. He earned an LLB degree in law from Washington and Lee University in 1871.
President Prather was admitted to the bar and practiced law in Waco for 28 years. He served as Waco city attorney from 1875 to 1878. From 1895 to 1896 he was president of the state bar association.
In 1887 he was appointed to the UT Board of Regents. He served as vice chairman of the board in 1895 and as chairman in 1899. He was named acting president of the University in 1899 and president in 1900.
The 1906 Cactus was dedicated to President Prather.