Main page content
Profile Photo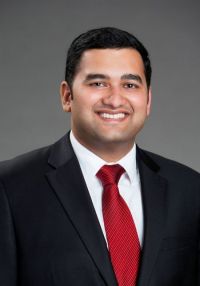 Appointed by
Governor Abbott
VARUN POKKAMTHANAM JOSEPH, McKinney, Texas, was appointed as Student Regent for The University of Texas System by Governor Greg Abbott for a one-year term that began on June 1, 2016.
Regent Joseph is a fourth-year dental student at The University of Texas Health Science Center at San Antonio (UTHSCSA) where he serves as the president of the School of Dentistry's Class of 2017 and is a member of the School's admissions committee. He is also a student member of the American Student Dental Association, the Texas Dental Association, and the Texas Academy of General Dentistry where he is an active member in the Fellowship Track program. Regent Joseph is the first dental student and the first Indian American to serve as a U. T. System Student Regent.
Regent Joseph is a graduate of McKinney North High School and earned a bachelor's degree in biology with minors in chemistry and business administration and a master's degree in biology from Baylor University. As an undergraduate, he was involved in Student Government as well as other student organizations that served his community. His accolades include the Excellence in Student Involvement Award, Outstanding Greek Leader of the Year, and induction into the Who's Who Among Students in American Universities and Colleges. As a master's student, Regent Joseph mentored academically struggling students, presented college readiness seminars, and worked with over 900 students through the GEAR UP Waco program.
Regent Joseph has been involved in several other statewide activities. He served as a member of The University of Texas System Student Advisory Council in 2014-2015 and as Chairman of the Council in 2015-2016. He also served on the Board of Regents' Outstanding Teaching Awards selection committee for two years. On the UTHSCSA campus, Regent Joseph has been involved in numerous activities including community service, the teaching honors program, Delta Sigma Delta dental fraternity, and UTHSCSA Dental Japanese Exchange Program and is published through the Critically Appraised Topics program at UTHSCSA. Regent Joseph also serves on the Board of Directors of the San Antonio District Dental Society. 
last updated August 15, 2016