Main page content
Profile Photo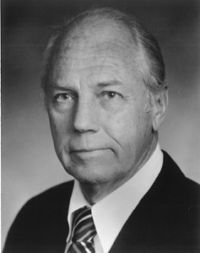 Appointed by
Governor Clements
Date of Passing
December 13, 2013
TOM B. RHODES of Dallas was appointed to a six-year term on The University of Texas System Board of Regents by Governor Bill Clements on January 9, 1981, and was elected Vice-Chairman of the Board on October 9, 1981, when the Board amended its Rules and Regulations to create a second vice-chairmanship. He served as Vice-Chairman until April 15, 1983.

Mr. Rhodes relinquished his position of vice chairman of the Coordinating Board, Texas College and Universty System, to accept appointment to the U.T. Board of Regents.

Mr. Rhodes is chairman of the board, Sedco, Inc. of Dallas. Previously, he held the position of executive vice president and general counsel for Sedco, 1960-1979.

He received his B.A. degree from Stanford in 1939 and his LL.B. from The University of Texas at Austin in 1942. He practiced law from 1946 to 1959.

In 1979, he served as budget director, Office of the Governor of Texas. He is vice president of Dallas Lighthouse for the Blind, and serves on the board of trustees of the Southwest Legal Foundation, Dallas.

He is a member of Phi Beta Kappa; Law School Chancellors, Order of Coif, and Law Review Editorial Board; American, Texas and Dallas Bar Associations; Dallas Country Club and Petroleum Club of Dallas.

He and his wife, Lillian, a 1942 U.T. Austin graduate, live in Dallas. For relaxation, he enjoys reading, tennis, handball, golf and traveling.
last updated April 1983