Main page content
Profile Photo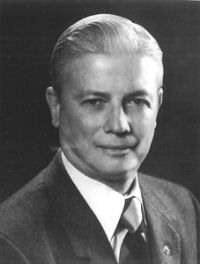 Appointed by
Governor Briscoe
Date of Passing
September 2, 2006
Thos. H. Law of Fort Worth was appointed to the Board of Regents of The University of Texas System by Governor Dolph Briscoe in January, 1975 to serve a six-year term.

He is a member of the law firm of Law, Snakard, Brown & Gambill. Mr. Law, the son of an English professor who taught at U. T. Austin for more than 50 years, has had a life long association with the University. He received a B.A. degree in 1939 and a law degree in 1942, both from U. T. Austin. As a student, he was elected to Phi Beta Kappa and was a track letterman and captain of the Debate Team.

He has served as president of The University of Texas Foundation, Inc., vice president of the U. T. Law School Association and a member of the executive council of the Ex-Students' Association. Since his appointment to the Board of Regents, he has been made an honorary member of Omicron Delta Kappa and of Mortar Board and is a member of the U. T. Austin Development Board.

He is a past president of the Texas Philosophical Society and a Fellow of the American Bar Foundation, Texas Bar Foundation and American College of Probate Counsel.

Mr. Law was president of the State Junior Bar of Texas in 1949-50, when it received an award as the outstanding junior bar in the U.S. He was named Fort Worth's outstanding young man in 1950. He has served on various committees of the State and American Bar Associations and as president of the Fort Worth Area Chamber of Commerce, chairman of the Fort Worth Civil Service Commission, vice chairman of the Tarrant County Planning Commission, president of the Fort Worth Rotary Club and the Fort Worth Exchange Club, president of the Crippled Children's Society of Fort Worth, president of the Metropolitan Dinner Club, parliamentarian and member of the Tarrant County Democratic Executive Committee and member of the boards of directors of Camp Fire Girls, Junior Achievement of Tarrant County, Fort Worth Chapter American Red Cross, Longhorn Club, Fort Worth Ski Club and Panther Boys Club.

Mr. Law is a trustee and ruling elder of the First Presbyterian Church of Fort Worth , chairman of Leadership Fort Worth, and serves on the boards of directors of the North Texas Commission, United Way of Fort Worth and Tarrant County, Longhorn Council Boy Scouts of America , and Fort Worth Symphony Orchestra; on the board of trustees of The Association for Graduate Education and Research of North Texas (Tager) , Fort Worth Country Day School, Citizens Advisory Panel of Federal Correctional Institution, board of governors of Century II Club, and member of various professional associations and societies.
Revised September 22, 1978
Notes
Editorial from the Fort Worth Star-Telegram, September 6, 2006
It's no surprise that Tom Law for many years was the go-to attorney in Fort Worth. He had the ready-made name: Thos. H. Law. In fact, during law school at the University of Texas, he and classmate (and future federal judge) William Wayne Justice contemplated forming a firm called Law & Justice.

Instead, Law spent his career with Law, Snakard & Gambill, one of Fort Worth's most venerable and influential institutions. Quiet and courtly, Law exerted influence across and beyond Tarrant County. He died Saturday at age 88.

Over the years, he could be found representing major companies, being called upon by government entities such as Tarrant County College and even administering a blind trust for then-U.S. House Speaker Jim Wright. But Law didn't confine himself to advising clients or litigating lawsuits. During his presidency of the Fort Worth Chamber of Commerce, Leadership Fort Worth -- a program for nurturing future community leaders -- was born. He served as president of the Rotary Club of Fort Worth and the Fort Worth Exchange Club, among other organizations, helped start the Tarrant County Bar Association and was a deacon and elder at First Presbyterian Church.

Law was named to the University of Texas board of regents, the system's governing body, in 1975 -- just in time for controversy over the selection of UT-Austin's first female president, Lorene Rogers. Law was elected vice chairman of the board in 1979. "Regent" might have been his highest-ranking UT position, but it was only one of many posts through which he served his alma mater. At various times, he was president of the UT System Foundation, vice president of the UT Law School Association and a leader in the Ex-Students' Association.

Of course, he bled burnt orange. His father had taught Shakespeare at "The University" for decades, and Law not only lettered in track and captained the debate team but also lost the student body presidency to future Texas Gov. John Connally.

In 1992, the Texas Exes named Law a Distinguished Alum, along with former Dallas Mayor Annette Strauss and Broadway director and dancer Tommy Tune.

In May, he was still advocating for his community. "It was 60 years ago this month that I left the aircraft carrier on which I was serving in the Pacific," Law wrote to Navy Secretary Donald Winter, joining the campaign to name a new littoral combat ship the USS Fort Worth. "I believe that this designation would be well deserved by the City of Fort Worth and that it would both attest to the collaborative relationship in the past and encourage it in the future," he wrote.

Back in 1975, when then-Gov. Dolph Briscoe chose three new UT regents, one drew fire in the Texas Senate because of past membership in the John Birch Society; another prompted one senator to vote "no" and a second to abstain. But Law won easy approval. "I wish we had three Tom Laws to confirm instead of only one," said Lloyd Doggett, then a state senator and now a member of Congress, according to Star-Telegram archives. That's a sentiment widely shared among those who benefited from his counsel.