Main page content
Profile Photo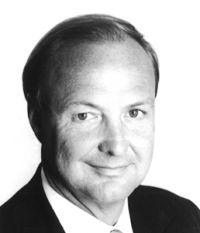 Appointed by
Governor Richards
Thomas O. Hicks is Chairman and Chief Executive Officer of Hicks Holdings LLC, a Dallas-based private investment firm, which owns and manages the Thomas and Cinda Hicks family sports and real estate assets and makes corporate acquisitions. Previously, Mr. Hicks co-founded, and was Chairman 1989 through 2004, of Hicks, Muse, Tate, and Furst, a nationally prominent private equity firm that specialized in leveraged acquisitions. During Mr. Hicks' tenure as Chairman, Hicks, Muse successfully raised over $12 billion of private equity funds, consummated over $50 billion of leveraged acquisitions, and was one of the most active private investment firms in the country. From 1984-1989 Mr. Hicks was Co-Founder nd Co-CEO of Hicks & Haas, a Dallas-based private equity firm. The successful acquisitions of Hicks Muse and Hicks & Haas included AMFM Inc., A&W Brands, Inc., Berg Electronics, Inc., Dr Pepper/Seven Up Companies, International Home Foods, Inc., Life Partners Group, Pinnacle Foods, Sybron International Corporation, and, Yell Group plc, among others.

Hicks Holdings' sports ownership holdings include the Texas Rangers Baseball Club, the Dallas Stars Hockey Club, a 50% interest in the American Airlines Center and most recently, a 50% interest in Liverpool FC, an English Premiership Club which is known as "Britain's Most Successful Football Club." In addition, the firm is a partner with Hillwood Development Company in the Victory Park project in downtown Dallas, and is also the co-developer of Glorypark, a 75 acre urban town center adjacent to Ameriquest Field in Arlington whose neighbor will soon be the new Dallas Cowboys Stadium. Hicks Holdings is also developing Champions Park, a 40 acre office/retail development in Frisco, Texas adjacent to the Dr Pepper Ballpark and Dr Pepper StarsCenter.  Through Hicks Trans American Partners, Hicks Holdings also selectively makes corporate and real estate investments in South America.

Hicks Holdings' majority owned corporate holdings include Gammaloy, a leading oil and gas drilling tool rental and manufacturing company; DirecPath, a new company formed to provide bundled DIRECTV programming, broadband voice, and data services, security and other locally based services to multiple dwelling units (MDU) across the United States; Latrobe Speciality Steel, a leading manufacturer and distributor of specialty steel to the aerospace industry; Ocular LCD, Inc., a leading designer, manufacturer and marketer of high-performance liquid crystal displays, modules and systems; Berkshire Resources, LLC, a gas and oil exploration and development company, and Grupo Pilar, a leading animal and pet food company in Argentina.  In addition, Hicks Holdings, along with Investcorp, is an investor in Greatwide Logistics Services, a leading third party logistics services company based in Dallas.

Thomas O. Hicks is in his ninth season as Chairman of the Board and Owner of the Texas Rangers and serves as the team's representative on the MLB Board of Governors.  During his ownership, the club has captured two American League West Division titles, winning a franchise record 95 games in 1999. Mr. Hicks is on the board of directors of Major League Baseball Advanced Media, the internet-based subsidiary of Major League Baseball.

Purchasing the Dallas Stars in February 1996, Mr. Hicks is the team's Chairman of the Board and the club's representative on the NHL Board of Governors. He also serves on the NHL Executive Committee and the NHL Audit and Finance Committee. The Stars were the 1999 Stanley Cup Champions, were Stanley Cup finalists in 2000, won the NHL's Presidents' Trophy for the best regular season record in both 1997-98 and 1998-99, and have captured seven division titles under Mr. Hicks'ownership.

Mr. Hicks serves on the boards of directors of the Cotton Bowl Athletic Association, Crow Family Holdings, as well as The Center for Strategic and International Studies Board of Trustees, St. Mark's School of Texas Board of Trustees, the University of Southern California Marshall School of Business Dean's Board of Advisors, the University of Texas Southwestern Medical Foundation Board of Trustees, and the University of Texas Chancellor's Council.  A former member of The University of Texas System Board of Regents, Hicks has served as Chairman of the University of Texas Investment Management Company, (UTIMCO) which manages the assets of over $20 billion including The University of Texas Permanent University Fund and Long Term Funds.

Mr. Hicks also annually serves as a Distinguished Guest Lecturer at Stanford University's Graduate School of Business.

Mr. Hicks graduated with an MBA from the University of Southern California in 1970 and a BBA from The University of Texas at Austin in 1968.

With strong ties to the community, he has provided continuing support to numerous local organizations, and has also held various charity board memberships. Mr. Hicks was the 1996 co-chair of the Dallas Jewish Coalition for the Homeless "Vogel Alcove" project, and was honored as the recipient of the 2000 Henry Cohn Humanitarian Award for the Anti-Defamation League. He has also been a past ecipient of the Father of the Year Award.

The father of six children, Mr. Hicks and his wife Cinda reside in Dallas.

last updated in March 2007