Main page content
Profile Photo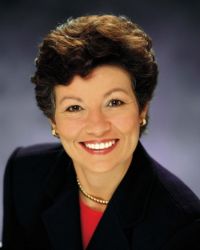 Appointed by
Governor Abbott
SARA MARTINEZ TUCKER, Dallas, Texas, was appointed to a six-year term on The University of Texas System Board of Regents by Governor Greg Abbott in January 2015 and was confirmed by the Texas Senate on March 11, 2015.
On September 18, 2017, she was elected Chairman of the Board of Regents. Chairman Tucker previously served as Chairman of the Academic Affairs Committee and on the Audit, Compliance, and Risk Management Committee; the Finance and Planning Committee; and the Health Affairs Committee. She also served on the Board for Lease of University Lands and the Special Advisory Committee on the Brackenridge Tract.
She was Under Secretary at the U.S. Department of Education, nominated as the nation's top higher education official by President George W. Bush and confirmed by the U.S. Senate. As Under Secretary, she oversaw all policies, programs, and activities related to postsecondary education, vocational and adult education, and federal student aid.
In addition to the successful oversight of over $32 billion in disbursed appropriations and more than 5,500 discretionary awards, Tucker provided expert testimony before Congressional committees and special hearings, led policy discussions within the Administration and with trade associations, and led or represented the United States in international delegations.
Tucker led the development and implementation of two signature programs to increase access to college: a joint initiative with the U.S. Treasury Department to make nearly $70 billion in 2008-09 federal student loans available during the nation's financial crisis, an effort described by the Wall Street Journal as "one bright spot in a season of crises and bailouts," and an innovative new website, college.gov, which helps students and families prepare for college. College.gov received Computerworld's Laureate Medal for exceptional use of technology to better society.
Prior to joining the Department, Tucker worked for nine years as the CEO and president of the Hispanic Scholarship Fund (HSF), where she pursued an aggressive goal to double the rate of Hispanics earning college degrees. In her time at the helm of HSF, Tucker raised $280 million for scholarships, growing annual scholarships from $3 million to over $25 million, and launching community outreach programs to raise college expectations in Latino families and communities.
Prior to joining HSF, Tucker spent 16 years at AT&T. In her last assignment at the company, she served as a regional vice president for AT&T's Global Business Communications Systems. She also served as Vice President for Consumer Operations, leading its 6,500 employees in serving AT&T's 80 million consumers. Under her leadership, this group helped its division earn the Malcolm Baldrige Quality Award.
Born and raised in Laredo, Texas, she earned her bachelor's degree in journalism at The University of Texas at Austin. She worked as a reporter for the San Antonio Express News before returning to U. T. Austin to earn her master's in business administration. Tucker has been named as an Outstanding Young Texas Ex and a Distinguished Alumna at U. T. Austin and has received honorary doctorates from the University of Notre Dame, Boston College, and the University of Maryland University College.
She serves on the Boards of Directors of American Electric Power, Sprint, and Xerox. Tucker also serves on the University of Notre Dame's Board of Trustees.
Tucker and her husband, Greg, a management consultant, live in Dallas.

last updated January 25, 2019