Main page content
Profile Photo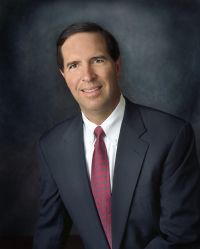 Appointed by
Governor Perry
ROBERT B. ROWLING was appointed to The University of Texas System Board of Regents by Governor Rick Perry in July 2004 to complete the term of Charles Miller, which expired February 1, 2005. Regent Rowling was elected as a Vice Chairman on November 9, 2007. He served as Chairman of the Finance and Planning Committee and as a member of the Academic Affairs Committee and the Health Affairs Committee. During his tenure, Vice Chairman Rowling also chaired the Board of Directors of The University of Texas Investment Management Company (UTIMCO) and the Task Force on U. T. Dallas Lands.

Mr. Rowling is the owner and Chairman of TRT Holdings Inc., a privately owned, diversified holding company located in Irving, Texas. TRT owns the luxury Omni Hotels chain and Tana Exploration Company. TRT also has significant ownership interests in Gold's Gym International, Waldo's Dollar Mart in Mexico, numerous public companies, and various real estate ventures. Mr. Rowling oversees Tana Exploration Company's active oil and gas exploration program in the Gulf of Mexico, and he serves as Chairman of Omni Hotels, which TRT purchased in 1996.

Mr. Rowling is dedicated to the education and development of students at all levels. He currently serves on the national board of trustees for Young Life, the Christian nonprofit organization committed to middle school and high school ministries. He chairs Southern Methodist University's Willis M. Tate Distinguished Lecture Series, one of the country's leading forums for intellectual inquiry. The series, which presents some of the world's most provocative speakers, benefits the students of Southern Methodist Universtiy with nearly $1 million in scholarships annually. Mr. Rowling is a past member of the advisory councils for the Longhorn Foundation and the Red McCombs School of Business at The University of Texas at Austin.

In the corporate arena, Mr. Rowling has served on numerous boards, including Nations Bank of Texas, the J.G. Boswell Company, The University of Texas M. D. Anderson Cancer Center Board of Visitors, and the St. Paul and Zale Lipshy University Hospitals. He is the past Chairman of the Corpus Christi Area Economic Development Corporation.

Honored for his professional success and civic awareness, Mr. Rowling was inducted into the Texas Business Hall of Fame in October 2003 and received the 2003 Distinguished Alumni Award from the Dedman School of Law at Southern Methodist University. A native of Corpus Christi, Mr. Rowling graduated with honors from The University of Texas at Austin in 1976 with a bachelor's degree in business administration. He earned a juris doctor degree with honors in 1979 from Southern Methodist University.
last updated February 6, 2009