Main page content
Profile Photo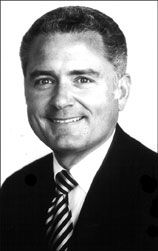 Appointed by
Governor White
MR. ROBERT B. BALDWIN, III was appointed to a six-year term on the U. T. System Board of Regents on March 18, 1983 after the Texas Senate returned the appointment of Hilary B. Doran, Jr., made by Governor William P. Clements, Jr. The Texas Senate confirmed Regent Baldwin on April 7, 1983, and he took the oath of office on April 12, 1983. Regent Baldwin served as Vice-Chairman of the Board until June, 1987.
Mr. Baldwin, president and director of the Capital Beverage Corporation of Austin, is a partner and director of the Baldwin/Strain Interests in West Columbia, Texas. He served as a member of the Board of Regents of the Texas State University System from 1979-1983. He was elected Chairman of that board in May, 1981.
Mr. Baldwin received his BBA degree from The University of Texas at Austin in 1967 and is a life member of the Ex-Students' Association and a member of the U. T. Austin President's Associates. He also attended the Southwestern Graduate School of Banking at Southern Methodist University in Dallas.
He was born in Houston on March 28, 1942, and is a fourth generation Texan. His great grandfather, Judge Jacob C. Baldwin, graduated from the U. T. Austin School of Law and later served in the Texas Senate. He is a member of St. David's Episcopal Church and a veteran of the United States Air Force. He is active in civic and community affairs.
last updated: September 23, 1988