Main page content
Profile Photo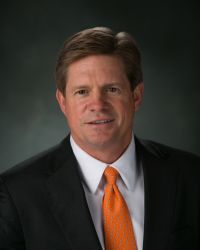 Appointed by
Governor Perry
JEFFERY D. HILDEBRAND, Houston, Texas, was appointed to a six-year term on The University of Texas System Board of Regents by Governor Rick Perry in February 2013 and was confirmed by the Texas Senate on May 24, 2013.
Vice Chairman Hildebrand was elected Vice Chairman by the Board on May 13, 2015, and re-elected as Vice Chairman on November 9, 2017. He is Chairman of the Finance and Planning Committee and serves as a member of the Facilities Planning and Construction Committee and the Health Affairs Committee. He is Chairman of the UTIMCO Board of Directors and Chairman of the University Lands Advisory Board. He previously served as Chairman of the Audit, Compliance, and Risk Management Committee. Vice Chairman Hildebrand served as a member of The University of Texas System Board of Regents' Task Force on Engineering Education for Texas in the 21st Century and The University of Texas at Austin Engineering Advisory Board.
He is founder, chairman, and chief executive officer of Hilcorp Energy Company, an independent oil and gas exploration and production company headquartered in Houston, Texas, with operations throughout the United States. Hilcorp has been recognized multiple times by both regional and national publications as one of the top workplaces in America.
Mr. Hildebrand earned a Master of Science in petroleum engineering in 1985 and a Bachelor of Science in geology in 1981, both from The University of Texas at Austin, where he was also a member of Pi Epsilon Tau, Petroleum Engineering's Honor Society.
He is a member of the All American Wildcatters, the National Petroleum Council, the American Association of Petroleum Geologists, the Society of Petroleum Engineers, the Houston Geological Society, and the Texas Board of Professional Geoscientists. Mr. Hildebrand currently serves on the boards of Central Houston, Inc., the Houston Livestock Show and Rodeo, Houston Police Foundation, and Rice University's Baker Institute for Public Policy. He is the recipient of the 2005 Distinguished Engineering Graduate and the 2013 Petroleum & Geosystems Engineering Distinguished Alumnus Awards, both from The University of Texas at Austin. He also received the Leadership Award from the Houston Chronicle's Top Workplaces in 2010, 2011, and 2012.
last updated July 19, 2018