Main page content
Profile Photo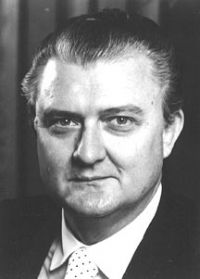 Appointed by
Governor Smith
Date of Passing
February 6, 2007
Notes
JAMES E. BAUERLE, B.S., D.D.S., M.S., F.A.C.D., F.I.C.D.
Curriculum Vitae as of April 1974
EDUCATION
B.S. - The University of Texas College of Pharmacy, 1943
D.D.S. - St. Louis University School of Dentistry, 1946
M.S. - (Oral Surgery) University of Pittsburgh School of Dentistry, 1950
F.A.C.D. - Fellow of American College of Dentists, 1957
F.I.C.D. - Fellow of International College of Dentists, 1958
Regent, University of Texas System - Appointed by Governor Preston Smith, January 1973
Received Alumni Merit Award as Distinguished Alumni of St. Louis University, October 1373
HOME: 112 Cas-Hills, San Antonio, Texas 78213
OFFICES: 1107 Medical Arts Building, San Antonio, Texas 78205; 6609 Blanco Road, Suite 234, San Antonio, Texas 78216
FAMILY HISTORY
BORN: September 24, 1923, Hamilton Pool ( Travis County), Texas
PARENTS: Mr. and Mrs. Ernest Bauerle, Johnson City, Texas
CHILDHOOD: Sandy, Texas ( a community 10 miles northwest of Johnson City, Texas)
HIGH SCHOOLS: Johnson City High School - 2 years
Waco High School - Graduate, 1939
MARRIAGE: Frances I. Tankersley on June 25, 1945 in Austin, Texas
CHILDREN: Frances Dianne Pool (Bauerle) - August 25, 1948
Nancy Lea Bauerle - February 5, 1954
Janet Elizabeth Bauerle, - October 2, 1959
PROFESSIONAL BACKGROUND
1. B.S. - University of Texas School of Pharmacy, June, 1943
2. D.D.S. - St. Louis University School of Dentistry, November 1946
3. Practice of General Dentistry, Johnson City, Texas - 1947 and 1948
4. Oral Surgery and Oral Diagnosis, Brooke Army Hospital (Civilian)
5. M.S. in Oral Surgery, University of Pittsburgh School of Dentistry, June, 1950
6. Oral Surgery, Brooke Army Hospital (Civilian), July-November, 1950
7. Assistant Chief of Oral Surgery, Walter Reed Army Hospital, Washington, D.C.,
December, 1950 - June, 1952
8. Chief, Oral Surgery, Ft. Bliss. El Paso, Texas, June - December, 1952
9. Oral Surgery Practice, December, 1952 to present date, San Antonio
PROFESSIONAL ORGANIZATIONS WITH DATE OF ENTRANCE
Diplomate, American Board of Oral Surgery, 1959
Founder-Fellow, International Association of Oral Surgeons, 1965
Life Fellow, Royal Society of Health, 1966
Life Member, Federation Dentaire Internationale, 1965
Member, American Society of Oral Surgeons, 1957
Member, Southwest Society of Oral Sur9eons, 1957
Life Member, Delta Sigma Delta, 1347
Member, Omicron Kappa Upsilon, 1959
Dental Society Memberships: American Dental Association, 1947
Texas Dental Association, 1947
San Antonio District Dental Society
DENTAL SOCIETY POSITIONS
President, Texas Dental Association, 1967-1968
President, San Antonio District Dental Society, 1959-1960
Vice-President, Southwest Division, Texas Dental Association, 1960-1961
1968 Texas Dental Leaders People-to-People Delegation to Russia, Sweden, Belgium, Poland, Czechoslovakia, and Germany
1969 Texas Dental Leaders People-to-People Delegation to Japan, Formosa, Manila, Bangkok, and Hong Kong
SAN ANTONIO APPOINTMENTS
Chief of Oral Surgery, Santa Rosa Hospital, 1959-Present
Civilian Consultant, U.S. Army, Brooke Army Hospital, San Antonio, Texas
U.S. Air Force, Wilford Hall Hospital - San Antonio, Texas
Member, Bexar County Hospital Board of Managers, 1961-66
Vice Chairman, Bexar County Hospital Board of Managers. 1966-71
Chairman, Health Services Consnittee. San Antonio Chamber of Commerce, 1967-68
Chairman, American Cancer Society Fund Drive, San Antonio, 1972 and 1973
STATE APPOINTMENTS
Member, Texas State Board of Dental Examiners, 1971-73
Member, Executive Committee, Regional Medical Programs of Texas, 1967-73
Member, Governor's Comprehensive Health Planning Advisory Committee, 1968-1971
Member, Board of Regents, The University of Texas System (six-year Term beginning in January 1973)
CHURCH
Member and Deacon of the First Presbyterian Church, San Antonio, Texas
CLUBS AND ORGANIZATIONS
Monday Morning Quarterback Club (President, 1963)
Rotary Club of San Antonio
San Antonio Breakfast Club (Vice President - 1974)
Scottish Rite Mason
Knight Templar
Shriner
Oak Hills Country Club
St. Anthony Club
San Antonio Torch Club
SPECIAL HONORS
Special Texas Ranger, Appointed by Texas Public Safety Commission - 1972
Resolution No. 177, Texas Legislature, March, 1965, recognizing Dr. James E. Bauerle as an outstanding citizen of Texas
Honorary Doctor of Laws Degree, The University of Texas at San Antonio, Signed by Bexar County Legislative Delegation
Special Investigator, Bexar County Criminal District Attorney's Office, Appointed by Ted Butler in 1974
COLLECTIONS
Art (Oils and Watercolors)
Guns (Antique)
Bronze Statuary
HOBBIES
Member, American Buffalo Association (Has raised Buffalo at his Johnson City Ranch since 1962)
Intense student of the Old West
Hunting
Gardening
Gourmet Cooking (Specialty - Wild Game)
RANCHING ACTIVITIES:
Johnson City
Round Mountain
Lake Lyndon B. Johnson
Coryell County
Article from the San Antonio Express-News online. Originally published June 22, 2005
Dentist says age never an obstacle for career
Amanda Reimherr Express-News staff writer

CASTLE HILLS - If the "BEWARE: Attack Secretary" sign on the reception window doesn't offer a clue that James Bauerle's office is not the average dentist's office, then the large picture inside the door of an outlaw cowboy holding a double-barrel shotgun saying "The Doctor Will See You Now" should do the trick.

Bauerle is an oral and maxillofacial surgeon. He runs a thriving practice at three San Antonio locations and said he won't think about retiring until he turns 85.

He's 81.

"A lot of people used to die from dental problems not very long ago. Dental conditions and infections can become deadly serious," Bauerle said. "I like that I help relieve patients from one of the most painful conditions that exists."

His main office in Castle Hills holds awards from every major professional dental association in Texas. He served as the Gold Medal Award-winning president of the Texas Dental Association, president of the San Antonio District Dental Society, a Consumer Research Council of America Top Dentist, 1974 Texas Dentist of the Year, Delegate Host of the Texas Dental Leaders People-to-People Delegation to a dozen countries, and is even an honorary Texas Ranger and Bexar County deputy sheriff.

Bauerle still is a full professor of oral surgery and dentistry at the University of Texas Health Science Center Dental School — the San Antonio school he was instrumental in founding in 1969 with the help of then-Gov. Preston Smith. He received a UTHSC Medallion Award for his role in the project, and James Bauerle Boulevard at the University of Texas at San Antonio's Loop 1604 campus was named in his honor.

Bauerle, who was brought up in the Johnson City area, said his parents instilled a strong work ethic in him at an early age. He graduated from high school at 15 and from the University of Texas at Austin College of Pharmacy at 19. Bauerle entered the Army and was given the option of entering dental or medical school due to a shortage of doctors and dentists during World War II. He studied oral surgery and was commissioned as a captain in the Army Dental Corps.

"I decided that I didn't want to be a surveyor like a regular dentist or orthodontist, but I would take on the heavy construction of oral surgery," he said, pumping his fist.

During a recent busy afternoon in his office, Patricia Boyd Contreras, a longtime pharmacist and friend of Bauerle, praised the oral surgeon when she brought her 9-year-old daughter, Jillian, to have a baby tooth pulled.

"He has been such an inspiration to me. I never forgot how he told me to keep all my books and read them. I have books everywhere because of him," said Contreras, a former patient.

Bauerle's Castle Hills' office can be an overwhelming sensory experience for visitors. The office is filled with Western art and bronzes, artifacts signed by historical figures including Santa Anna, vintage Tiffany lamps and hunting trophies. "People always ask me when I will start advertising my office as a museum and start charging admission," he said with a chuckle. "They call me a curator, but I consider myself just a collector. I see it. I like it. I purchase it."

Each examination room plays jazz or big-band music and features a different theme.

The "travel room" is filled with Asian décor, the "trophy room" holds numerous awards, and his "UT room" is a tribute to his tenure on the University of Texas at Austin Board of Regents from 1973 to 1979, complete with burnt-orange colors and pictures and statues of Bevo, the university's longhorn mascot. His personal office features correspondence from Lady Bird Johnson, President George W. Bush and former patient Bess Truman, wife of President Truman.

Bauerle raised buffalo on his family's Johnson City ranch. He has buffalo paintings, jawbones and a giant stuffed head in a tribute to his favorite livestock.

Vicky Salinas, his longtime dental assistant, has gotten used to the art-packed office. "He can tell you the story behind each piece, and no matter how full a wall looks, he always manages to find one more little spot of white space," she said.

Bauerle said when people ask him why he is such a good oral surgeon, he always answers with one word — experience. "I then tell them that one can't swim the English Channel by just reading a book on swimming. That always gets the point across," he said.