Main page content
Profile Photo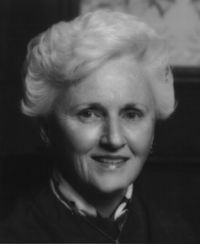 Beryl Buckley Milburn (Mrs. Malcolm)
Appointed by
Governor Clements
Date of Passing
March 26, 2014
BERYL BUCKLEY MILBURN of Austin was appointed to a six-year term on The University of Texas System Board of Regents by Governor Bill Clements on January 9, 1981.

She served from 1979 to 1981 as chairman of the Coordinating Board, Texas College and University System, relinquishing that position upon her appointment to the U. T. System Board of Regents.

She has a Bachelor of Arts degree in Spanish and French from The University of Texas at Austin, and did graduate work in government at U. T. Austin. She is a graduate of Shipley School, Bryn Mawr, Pennsylvania.

In 1973, she was appointed by Governor Dolph Briscoe as vice chairman for the Texas Constitutional Revision Commission. She was named "One of Five Outstanding Women of Austin" in 1974 and is a past member of the Board of Trustees, St. Edward's University; Seton Development Board; Pan American Round Table; Settlement Club; and Board of Catholic Charities, all of Austin.

Mrs. Milburn is a director of the First City National Bank of Austin, serving on the Executive Committee. She is a member of the National Association of Corporate Directors and the National Association of Bank Women. She also serves on the board of directors of the Association of Governing Boards of Universities and Colleges which headquarters in Washington, D.C.

In 1976-77, she was a member of the U.S. Advisory Commission on International Education and Cultural Affairs, and in 1978, she served as regional chairman of the Clements for Governor Campaign. In 1979, was co-chairman of the Texas Inaugural Committee. Her political activities have included the position of Texas director of the President Ford Primary Campaign, 1975-76; state vice chairman of the Republican Party of Texas, 1969-72; president of the Texas Federation of Republican Women, 1967-69, member of the State Republican Executive Committee, 1956-65, and secretary of the Committee for three years.

She is a member of the Junior League of Austin, and enjoys tennis, hunting, fishing, and sailing. She is married to Malcolm L. Milburn and they have three children: Beri, Malcolm, Jr. and Michael.
last updated in April 1983