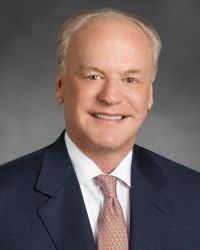 R. STEVEN "STEVE" HICKS, Austin, Texas, was appointed to a term on The University of Texas System Board of Regents by Governor Rick Perry in February 2009. He was reappointed in February 2011, and again in January 2015 by Governor Greg Abbott.
Regent Hicks served as Vice Chairman of the Board from February 8, 2011 until November 9, 2017. He currently serves as Chairman of the Facilities Planning and Construction Committee and serves on the Academic Affairs Committee; the Audit, Compliance, and Risk Management Committee; and the Health Affairs Committee. Regent Hicks also serves on the UTIMCO Board of Directors.
He owns and serves as Executive Chairman of Capstar Partners, LLC, formed in June 2000. Capstar is a private investment firm based in Austin, Texas. Capstar Partners participates in small and middle market buyouts, real estate development, and public investing. Since 2000, Capstar has invested in a broad range of industries including media and broadcasting, healthcare services, e-commerce, financial services and real estate.
In 1996, Mr. Hicks, a veteran of the radio industry, founded and served as Chief Executive Officer of Capstar Broadcasting Corporation. By 1998, Capstar Broadcasting was the nation's largest radio station holding company with 350 radio stations. Also in 1998, Hicks led Capstar Broadcasting to a successful initial public offering on the New York Stock Exchange. In 1999, Capstar Broadcasting merged with Dallas-based Chancellor Media Corporation, another radio industry powerhouse, and in a stock swap valued at $4.1 billion, AMFM Inc. was born. In addition to serving AMFM Inc. as Vice Chairman, Hicks was President of its New Media division, which developed Internet products and technologies for the radio industry.
Prior to Capstar Broadcasting, Hicks co-founded and served as CEO of SFX Broadcasting, Inc., building it into a publicly traded industry leader and one of the five largest radio groups in the country. Hicks left the company in mid-1996 to begin building the Capstar Broadcasting group.
Steve Hicks made radio history by inventing the local marketing agreement (LMA), the forerunner to the radio duopoly, which has dramatically changed the way the broadcasting industry does business by allowing consolidation of radio station operations. This innovation changed FCC regulations and returned many radio stations to profitability, increasing the value of broadcast properties across the nation. Eventually, Hicks' new system of management helped persuade Congress to change ownership rules in the 1996 Telecommunications Act.
In 1997, Mr. Hicks received the award for Radio Executive of the Year and was ranked one of the 10 Most Powerful People in Radio by Radio Ink. In 1996, he was honored as an Ernst & Young Entrepreneur of the Year and was recognized as Broadcaster of the Year by the Texas Association of Broadcasters.
Mr. Hicks serves on numerous charitable and professional boards. A father of three children and fourteen grandchildren, he makes his home in Austin, Texas.
last December 6, 2017