Main page content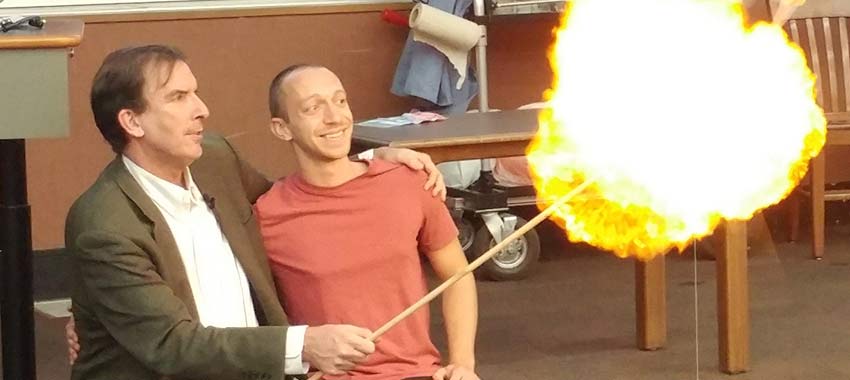 College of Natural Sciences
Reflecting back on my time in college I realize that it was the selfless efforts of my faculty mentors who made it possible for me to discover and realize my life's work. In turn it is now my responsibility to do everything I can to ensure that each and every one of my students is also able to realize their life goals. Advocating for students in this way is an incredible privilege and motivates me to be constantly exploring new ways to do this in the classroom or through experiential learning opportunities that will shape their futures.
David Laude has been a member of the faculty in the College of Natural Sciences at The University of Texas at Austin since 1987. During the first ten years of his tenure at UT Austin, he ran a large research program in mass spectrometry. From 1996 to 2012, he held various administrative positions in the Dean's Office of the College of Natural Sciences and also served as interim dean.
Laude has an established reputation for teaching excellence and curriculum innovation at The University of Texas at Austin and has received many awards for his teaching. He teaches large section general chemistry courses and introductory research methods courses to incoming freshmen.
Laude has been a leader in program reform at the undergraduate level at UT Austin for the past 25 years. In 1996, he chaired the original committee that proposed the teacher preparation program known today as UTeach. In 1999, he created the Texas Interdisciplinary Plan as a way to provide a small college-learning environment for students who were historically least likely to persist and graduate. Laude was also instrumental in the creation of the Freshman Research Initiative that today enrolls 900 UT Austin freshman students in the research programs of science faculty.
From 2012 to 2017, Laude joined the Provost's Office to champion improvements in four-year graduation rates at the University of Texas at Austin. He employed predictive analytics based on the historical likelihood of college completion to direct new students into appropriate freshman year success and incentive-based scholarship programs that coupled a sense of belonging with targeted academic support. Among these programs was the University Leadership Network that was featured in a New York Times magazine article on the challenges facing economically disadvantaged students.
The 4-year graduation rate initiative significantly improved four-year graduation rates at UT Austin. Overall rates increased from 52% to 66% during Laude's time in the Provost's Office and are now near 70%. The greatest improvements were for Pell-grant eligible and first generation students who saw their four-year graduation rates improve from about 40% to more than 60%.