Chancellor receives national recognition for his contributions to higher education
Chancellor Francisco Cigarroa, M.D., received the Chair's Award – one of the highest honors by the Congressional Hispanic Caucus Institute (CHCI) – during the largest gathering of Latino leaders in the country on Wednesday night in Washington D.C.
The Chancellor was honored with the prestigious award for his accomplishments, leadership and outstanding service to the Latino community. Other honorees Wednesday night included actress Salma Hayek and educator Dr. Juan Andrade Jr., who were presented with Medallion of Excellence Awards.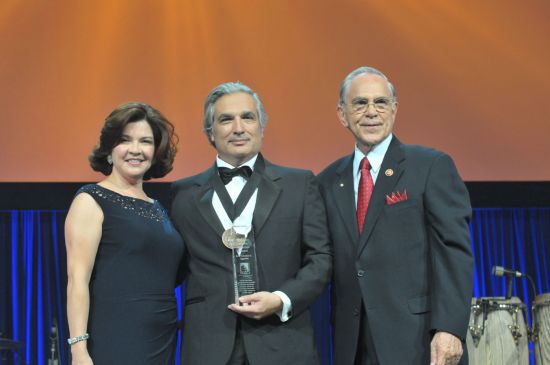 "I am so pleased to recognize and celebrate Dr. Cigarroa as a positive role model for all Americans. His personal path and many professional successes prove that the American Dream is achievable through higher education, hard work and most importantly by giving back to our community," CHCI Chair Rep. Rubén Hinojosa said in a statement released by the organization.
The Chair's Award highlights the many rich contributions made by Latinos who have not only succeeded in their individual careers, but who also serve as positive role models and empower Latino youth to believe that anything is achievable through higher education, hard work and pursuit of the American Dream.
"I am incredibly honored to receive this award from such a prestigious group that works to promote access and opportunity," said Chancellor Cigarroa. "CHCI's mission is incredibly important and perfectly aligned with what we at The University of Texas System are working toward. As both a physician and educator, I truly believe that education saves lives. We are working to save and improve lives by creating pathways to higher education."
The award was presented during the CHCI's 36th Annual Awards Gala and was one of several events held by CHCI to commemorate Hispanic Heritage Month. UT Pan American President Robert Nelsen's efforts to improve education for Hispanic students also were praised by U.S. Secretary of Education Arne Duncan during his speech to attendees of the CHCI Public Policy Conference.
About The University of Texas System
Educating students, providing care for patients, conducting groundbreaking research and serving the needs of Texans and the nation for more than 130 years, The University of Texas System is one of the largest public university systems in the United States, with nine academic universities, six health institutions and a fall 2013 enrollment of more than 213,000. The UT System confers more than one-third of the state's undergraduate degrees, educates two-thirds of the state's health care professionals annually and accounts for almost 70 percent of all research funds awarded to public universities in Texas. The UT System has an annual operating budget of $14.6 billion (FY 2014) including $3 billion in sponsored programs funded by federal, state, local and private sources. With more than 87,000 employees, the UT System is one of the largest employers in the state.