Yudof Named University of California President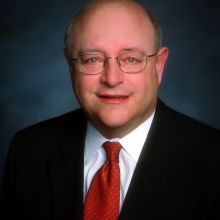 AUSTIN – The University of California Board of Regents today (March 27) appointed Mark G. Yudof, chancellor of The University of Texas System, as president of the University of California system. The appointment will be effective this summer, with the exact date to be determined.
"Chancellor Yudof is the gold standard in higher education administration, and it's no surprise that the UC System sought out his leadership," said H. Scott Caven, Jr., chairman of the UT System Board of Regents. "He will be missed and we are grateful for his service to the UT System and to higher education in Texas."
Caven said the board would make finding a successor to Yudof a top priority, but added that he was confident the System would continue to operate efficiently and deliver academic excellence with its outstanding leadership team in place.
The Board will conduct a national search for a replacement, with details on the process to be announced at a later date.
While chancellor, Yudof instituted an accountability system that is recognized as a national model; raised the national standing of the UT System and all its institutions; and created a system administration that has added value to virtually every corner of its operation, Caven said.
"The team he has assembled here is one of the very best in the country, and he is leaving a UT System that is immeasurably stronger and better because of his service. No one is irreplaceable, but finding someone of his caliber is not going to be easy. We hate to lose him, but we congratulate the UC System and wish Mark and Judy all the best," Caven added.
"It's easy to see how attractive Chancellor Yudof is to the University of California and to higher education institutions in general," said Regents' Vice Chairman James R. Huffines. "Mark has a passion for accountability, transparency and excellence – and he made those hallmarks of his administration here. He has done a great job for us and working with him has been an absolute pleasure."
The UT System Board of Regents appointed Yudof chancellor in August 2002, making him the chief administrative officer of one of the nation's largest higher education systems. The UT System has more than 194,000 students and 81,000 employees spread over nine academic and six health institutions, and an annual operating budget of $10.7 billion. The system confers more than one-third of Texas' undergraduate degrees and educates nearly three-fourths of the state's healthcare professionals annually.
Prior to his appointment as UT System chancellor, Yudof served as president of the University of Minnesota from 1997 to 2002. Previously, Yudof, a constitutional law scholar, was a faculty member and administrator at UT Austin for 26 years, serving as dean of the School of Law from 1984 to 1994 and as the university's executive vice president and provost from 1994 to 1997.

The University of California news release concerning the announcement may be viewed online here: http://www.universityofcalifornia.edu/newpresident2008/pressrelease.html