Main page content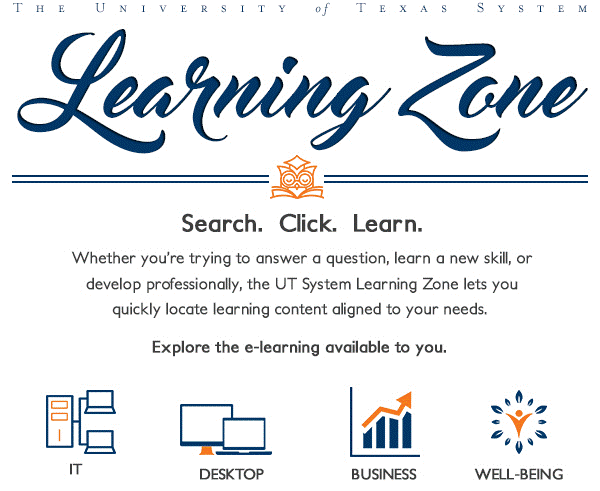 Beginning Monday, January 9th, the UT System Learning Zone will have a new look and feel. Powered by Skillsoft, the Learning Zone provides high-quality, innovative, cloud-based learning and performance support resources. The new and improved Learning Zone features a fresh, contemporary design, with the same great access to your eLearning courses, books, videos and more.
A few of the enhanced features include:
Personalized home page with a customized profile view, featuring content recommendations for you.
Redesigned search and browse with easy access to new releases, clearer display of the library and options to learn in your preferred style.
Improved ability to filter by preferred language.
UT System's Learning Zone is a wonderful and easy way to help you grow your professional skills. It is available 24x7, to fulfill development plans and collaborate with colleagues. Click here for a guide to help you learn about important features and functionality in the new Learning Zone interface.
Login today at: https://utsystem.skillport.com