Main page content

According to the U.S. Census Bureau's 2016 American Community Survey, 15% of Texans live in rural areas of the state. Compared to urban areas, rural Texans have lower levels of education, higher levels of unemployment, and higher poverty rates. These factors, along with high rates of uninsurance, a long-standing shortage of healthcare providers in rural areas, and distance and travel issues often result in limited access to healthcare. In fact, some Texans have to travel more than 100 miles to reach the nearest hospital.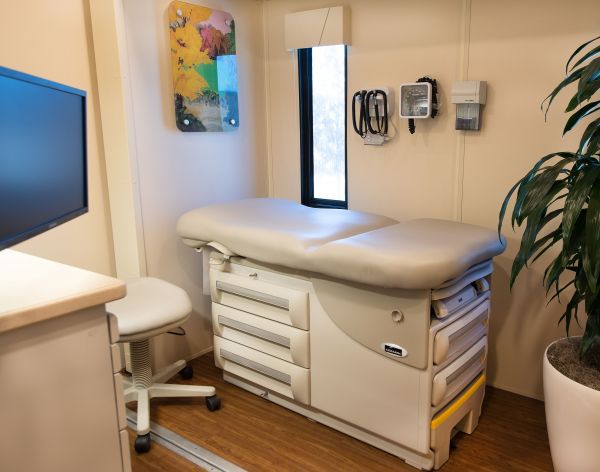 That's why the Moncrief Cancer Institute at UT Southwestern sends their Mobile Cancer Survivor Clinic to nine rural counties in north Texas - to meet people right where they are. This custom-designed, fully equipped 18-wheeler delivers specialized cancer expertise to residents of Tarrant, Ellis, Erath, Hood, Johnson, Navarro, Parker, Somervell and Wise counties who otherwise wouldn't have access to these important services. The traveling clinic offers breast, cervical, and colon cancer screening; fitness and nutrition consultations; genetic counseling and risk assessment; help with emotional and financial challenges; and clinical care with a physician assistant and oncology certified nurse. If a patient needs an additional level of care, the mobile clinic is also equipped with telemedicine technology allowing secure video conferencing with UT Southwestern physicians in other locations.
The Mobile Cancer Survivor Clinic hit the road in 2015, thanks to funding from the Texas Medicaid 1115 Waiver Program (DSRIP – Delivery System Reform Incentive Payment). Since March 2015, the mobile clinic program has provided more than 4400 services to patients in rural areas of our state. The Moncrief Cancer Institute partners with local area churches, community health centers, elected county leadership, local hospitals, and physicians to bring the clinic to the areas that need it most. In this video, Michael Stewart, CEO of Navarro Regional Hospital in Corsicana, visits the mobile clinic and relates its impact in his community.
"One of the most important things that we've learned is that trust is extremely important in the underserved and the uninsured communities. We make sure that we meet the patients on their terms."
The clinic is known in rural communities for providing free or low-cost services, employing staff and providers who are fluent in both English and Spanish, and treating patients regardless of their immigration status. Dr. Keith Argenbright, Director of the Moncrief Cancer Institute and Professor and Chief of Community Health Sciences at UT Southwestern Medical Center, recognizes that, "One of the most important things that we've learned is that trust is extremely important in the underserved and the uninsured communities. We make sure that we meet the patients on their terms. Therefore, it's a lot better for us to go into the community in a mobile clinic rather than asking them to come to us."
Vicki Huckabee, a 59-year-old resident of Glen Rose, TX, expressed her gratitude for the mammogram she received on board the mobile clinic, saying, "Thank you, Moncrief Cancer Institute. I have no insurance and haven't had a mammogram in a couple of years. Breast cancer runs in my family. I was very impressed with the staff and technician. Thank you!"
The goal is for the Mobile Cancer Survivor Clinic to attack cancer from three angles. First, by offering HPV vaccination (pending grant funding), it aims to prevent cancers from occurring in the first place. Second, its on-board advanced 3-D mammography services can detect breast cancer early, and therefore dramatically improve prognoses.  Finally, it offers what Dr. Argenbright describes as "tertiary prevention," which is focused on cancer survivorship, or "helping people get back to where they were prior to their diagnosis and treatment."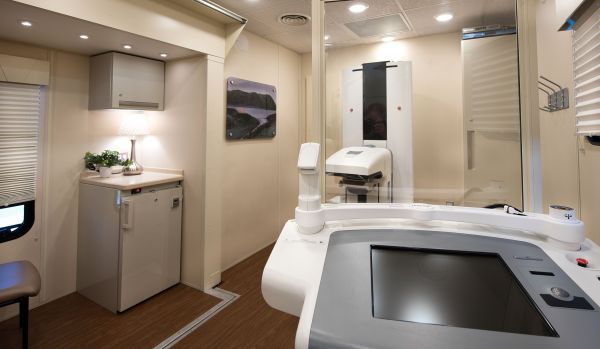 Since 2009, the Moncrief Cancer Institute has found over 1,700 cancers in a vulnerable population that otherwise wouldn't have had access to care. In fact, their data show that the clinic finds earlier stage cancers at a rate that is about 10% greater than the averages established by the Texas Cancer Registry. When cancer is found, Moncrief's patient navigators ensure that no one falls through the cracks, resulting in a loss to follow-up of less than 5% among a vulnerable, often migratory population.
Dr. Argenbright and the Moncrief Cancer Institute have big plans for the Mobile Cancer Survivor Clinic. They aim to secure additional units to serve an even wider area of geographically isolated populations and to help other institutions establish similarly successful mobile units.
In a state with 64 counties without a hospital and 24 counties without primary care physicians, the Moncrief Cancer Institute's Mobile Cancer Survivor Clinic provides a critical service to address the social determinants of health that affect the wellbeing of so many of our fellow Texans.