Main page content


Countdown to Move
UT System offices will begin moving into the new building in August. Information will be provided later this month detailing how and what to pack, but it's not too soon to start preparing.
Now through July 31
Go through your files and folders and get rid of the documents you no longer need: old magazines/periodicals, meeting handouts, records that have met their retention requirement, calendars older than two years, copies of digital files, working documents or drafts, etc.
Scan all the documents you can and then shred or recycle the hard copies.
Participate in the paper purge on July 13.
Order business cards and department letterhead with the new address.
Attend the Open House on July 31 (10 a.m. to 2 p.m.) to get a firsthand look inside the new building.
Two Weeks Before You Move
Notify contacts that you are moving and add your new mailing/street address to your email signature.
Begin taking home all personal items, including artwork, plants, awards and decorations.
You will receive moving bins at least a week before you move. When you do, begin packing work documents and office supplies and equipment. Remember, take home personal items—they should not be packed or moved.
Label the bins with your new office/workstation number (available from your department move coordinator) and last name.
No need to pack department kitchen. Supplies will be stocked in the new building and will be there upon arrival.
Make plans to take vacation or work remotely the day of the move—you won't be allowed into your current office or the new building during that time.
For more information or assistance with the move, contact your department's move coordinator as the liaison to the Facilities Management team.
---

Explore Your New Workspace
You've read information about the many amenities the new building will offer and now you have a chance to see for yourself! Come by the Workspace Fair on Friday, June 9, between 9 a.m. and 11 a.m. in ASH 208 to preview some of the equipment and features while enjoying breakfast treats and coffee. You'll have a chance to try the sit/stand desk that will be in all workstations and offices, sit in one of the desk chairs, order your new phone or headset if you haven't already done so, try out the "print anywhere" copiers, make coffee with one of the new single brew makers, take a closer look at the new Wellness Center equipment and see floorplans and images of the spaces.
---
It's a Wrap!
Now it's easier than ever to see which Idea Central suggestions have been implemented. The site was revamped to include a "Completed" tab, with ideas organized by category and linked to the original post. So far, more than 30 ideas of all types and sizes have been approved and integrated into organizational practices, procedures and/or policies. Be sure to submit your idea for ways to make UT better or more efficient!
Form Fitting
In response to a suggestion from Janea Ingram, all forms are now conveniently accessible from one SharePoint site. Janea pointed out that it was time-consuming to have to search multiple sites to try to find the form needed, and the Forms Library on UT4U included mostly completed forms. Thanks to work by Jeff Scroggin, a new page conveniently offers all the forms in one central location, including the gym waiver for the new building, telecommuting, equipment, travel, and new employee information. The Sharepoint workflow is being used to approve and manage the signed gym waivers with the goal of automating other forms to help move to a paperless environment.
---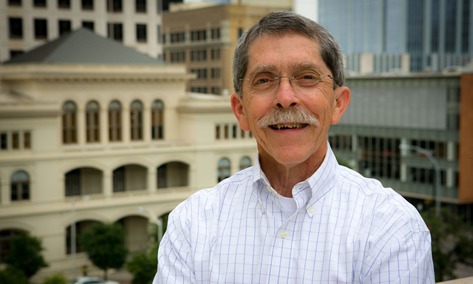 It's Sine Die for Steve Collins and the Legislature
The 85th Texas Legislature adjourned sine die on May 29, meaning the regular session ended with no appointed date to resume. The same was true for Steve Collins, associate vice chancellor and special counsel in the Office of Government Relations (OGR) whose distinguished career culminated just days after the session ended. (While the legislature now will be back in special session later this summer, Steve currently has no plans to return.)
Steve, known as "The Wizard" among his friends and colleagues throughout the UT System, was no stranger to the world of Texas politics when Chancellor Mark Yudof and others recruited him to join the UT System in February 2004. He had spent almost 30 years at the Texas Legislature, where he worked for the Texas Legislative Council as legal division director and then executive director and chief legislative counsel. He had also served as general counsel and parliamentarian for the Texas House of Representatives.
Officially, Steve was assigned to OGR, but his appointment always has been split with the Office of General Counsel (OGC). He has applied what he calls his experience as "both a lawyer and bureaucrat" to help facilitate a closer relationship that has made both offices more effective.
The legislature meets for 140 days every two years (Steve calls that "a likely constitutional typo by framers who intended them to meet for two days every 140 years"). Over the years, Steve notes there has been a trend of increased partisanship and decreased trust within the legislature that makes the work more difficult. During the sessions, the OGR team often works nights and weekends monitoring and addressing legislation that could impact the UT System. Between sessions, OGR stays busy assisting with legislative committees that conduct studies, investigations and hearings.
"The OGR team has accomplished a lot during my 14 years here, such as significant deregulation of higher education and the creation of UT Rio Grande Valley," says Steve. "My work has always been in support of our terrific OGR professionals—Barry McBee, Roger Starkey, Brian Jammer, Laura Hartmann and Tomas Guajardo and their predecessors--who with great effectiveness advance the interests of the system and institutions (in truth, all of higher education) before the legislature and state agencies--and that doesn't even mention our great Office of Federal Relations in D.C."
Among the first generation in his family to graduate college, Steve earnestly believes in the value of education and therefore the value of what the UT System does. "We may be lawyers and bureaucrats, accountants and administrative assistants, benefits managers and wellness coordinators, but what we do here matters. It REALLY matters," says Steve. "I'm proud to have been a part of it."
Other than spending more time with Beth, his wife of 45 years, and his six grandchildren, Steve is not sure what comes next for him. One thing is sure, though. Steve Collins will be missed at UT System.
---

Programs Collaborate to Support Collaboration
Most of you have been introduced to our new phone system, Skype for Business (S4B). More than a typical phone system, S4B is an essential tool for collaboration, especially when integrated with our email system. A few examples are listed below:
Meeting options – Participating in a meeting remotely is even easier through S4B. Schedule a S4B meeting through Outlook and the invitation will automatically include a link that allows participants to join the meeting through audio (using your phone/headset, a desktop/laptop computer, tablet or smart phone) or by video (using a laptop, tablet, smart phone or any other computing device that has a video camera).
Sharing content – Using S4B, even those who dial in on a phone to participate through audio can view the video or shared content via a computer. The system supports meetings with up to 250 participants. During the meeting, everyone can see the list of attendees, who is speaking and video showing up to five other participants. The meeting organizer and designated presenters can directly share content, whether it's an entire desktop, a PowerPoint presentation, or individual Word documents or Excel spreadsheets.
Presence – You've seen the red, yellow or green bullet that appears with a person's name in an email address—those will also appear in your S4B contacts list. Red indicates the person is not available, yellow that the person was recently available and green that the person is sitting at his/her desk waiting for your call.
As I mentioned in my last column, software is now often changing without notice. As the vendor adds functionality to S4B, we'll do our best to let you know but also encourage you to use the software's help option to maximize your use. – Clair Goldsmith
---

Go Online for Wellness Center Updates and Blood Drive Scheduler
Did you miss the Wellness Center Update lunch in May? If so, good news—the list of equipment and FAQs has been posted on UT4U. You can also learn more about the plans for the new Wellness Center by attending the Workspace Fair on June 9.
Our next on-site blood drive is scheduled for June 14. You are eligible to donate then even if you donated at our April blood drive. Please use the online scheduler to make your appointment. – Kendra Bolton