Main page content

October 2018

Chancellor Outlines Budget Priorities during State Hearing
The Texas Legislature doesn't convene until January, but the state's budget process already has begun. The first step was to have all state-funded organizations submit detailed Legislative Appropriations Requests (LARs), followed by Legislative Budget Board (LBB) hearings on those requests.
On September 24, Chancellor J.B. Milliken and UT presidents testified as part of the LAR hearings, highlighting the impact the UT System and institutions have on Texas and Texans.
"I am absolutely convinced that most Americans and most Texans recognize that as a society we need more higher education, not less," Chancellor Milliken told the LBB members.
He noted the value of a UT education, the UT System's partnerships with the U.S. Census Bureau and the Army Futures Command, health care advancements and expanded service, life-changing research innovations, and the System's commitment to be good stewards of the public funds.
"One important opportunity is to appear before you and have a chance to discuss a few of the great things being done at our institutions – with the commitment that even more could be done, with additional investment from the state," Chancellor Milliken stated.
He outlined UT's legislative priorities, stating that the top request was to provide formula funding to cover enrollment growth and inflation. Chancellor Milliken also explained the need for non-formula support funding, tuition revenue bonds to fund capital projects, research-based formula funding, and allocations for the Governor's University Research Initiative and the Texas Research Incentive Program.
The LARs will be used to draft the state's general appropriations bill, which becomes the basis for the final budget that will be approved by the Legislature for the next two years.
---

Cultivating a Culture of (Cyber) Security
October is National Cyber Security Month so it's fitting to consider the importance of a strong security culture. Some experts predict that by 2020 there will be 200 billion connected things: cars, planes, homes, cities and even animals are connected. One of the challenges of living in a connected world is protecting private information. Identity theft and data breaches seem to be a daily occurrence, often affecting millions of people.  But cyber security does not involve just businesses and government organizations—personal computers, tablets and cell phones also contain information that hackers and other criminals want, such as contacts' email addresses, phone numbers, names and birthdates.
In a connected world, we each have a responsibility to protect ourselves and the people we interact with. That starts with understanding the three main principles behind cyber security:
Confidentiality – protecting sensitive and private information, such as health records, student data, unpublished research, social security numbers and credit card information.
Integrity – preventing information from being altered. When malware hits an organization's computer systems, it can scramble network folders, documents, financial records and staff permissions.
Availability - ensuring those who rely on information are able to access it, whether on their personal computers or through the internet.
To protect yourself and the UT System from hackers, viruses and malware, follow these three cyber security best practices:
Never open an email if it looks like spam - If you receive an email that you are not expecting, do not click on the links, regardless of who appears to be the sender. Clicking on links could cause your phone or computer to be infected with malware. If you are not certain about an email, consider calling the person who sent it to you or forward it to abuse@utsystem.edu.
Ignore unexpected warnings from sources you do not trust - Known as scareware, fake security software warnings may be sent through email or may pop up in a new browser window while surfing the web. They may claim to have found a problem but are often designed to infect your computer.
Never give out personal information to strangers who call on the phone - In a tactic known as social hacking, people can impersonate someone from a legitimate company trying to get information about your username and password. If the person seems legitimate, offer to call them back and then check with the company they claim to represent.
Visit the Office of Information website at www.utsystem.edu/infosecurity. If you have questions or concerns contact the Help Desk at help@utsystem.edu.
---

Archer Center Directly Supports Students from all UT Institutions
While all System Administration staff support UT students at least indirectly, Archer Center staff are among the few who get to work with students daily. The small team supports the Archer Fellows—students selected to live, learn and intern for a semester in Washington, D.C.
"Archer Fellows work in full-time policy-related internships in Washington, D.C., while taking academic courses and interacting with policy practitioners and experts," explained Katie Romano, executive director of the Archer Center. "They also learn from each other—the residential community on Capitol Hill provides the Archer Fellows a continual forum and support group as they navigate the complexities of their responsibilities and the nature of the internship organizations that now count them as members."
The Archer Center was the brainchild of Congressman Bill Archer. Soon after going to Washington, D.C. to represent Houston, Texas, in the U.S. House of Representatives, Congressman Archer instituted an internship program for high school students from his district to learn and work in the nation's capital. As he prepared for retirement more than 30 years later, he looked for ways to build on that program. The result was the Archer Center, a partnership Congressman Archer developed with UT Austin—his alma mater—and the UT System Office of Federal Relations.
From the first class of 10 UT Austin undergraduate students in Spring 2001, the Archer Center has grown to serve both graduate and undergraduate students from every UT institution, with more than 40 students participating each semester. More than 1,200 Archer Center alumni have used their fellowship semester as a springboard to impactful careers or to pursue graduate training at some of the best institutions in the world. Many maintain connections through the Archer Fellow Alumni Association.
"I continue to be amazed at the exceptional students we have hosted over the past 18 years," said Vice Chancellor for Federal Relations Bill Shute. "Teaching the graduate students reinforces this point each class. Growing the Archer Center so we can provide this opportunity to more students from across the System remains a top priority for the Office of Federal Relations."
"Public service education and leadership development are at the heart of Congressman Archer's dream for the Archer Center," added Katie. "We bring highly motivated and accomplished undergraduate, graduate and medical students from across the UT System to Washington, D.C. to learn about policy, advocacy, public service and leadership."
The Bill Archer Fellowship Program is offered each fall and spring to 48 undergraduate students from the eight UT academic institutions; the Graduate Program in Public Policy is offered during the summer to up to 45 masters, doctoral, law and medical students from all 14 UT institutions.
"The Archer Center is a self-supporting entity and the only academic program that serves students from every campus in the UT System," Katie noted.  "UT Dallas serves as the academic home for the Archer Center, but the Center itself is organized as a unit within the Office of Federal Relations."
In addition to Katie Romano and Vice Chancellor Shute, the Archer Center team includes Academic Director Michelle Chin; Assistant Director of Recruitment and Admissions Christine Anderson; Assistant Director of Student Life Cassie Saenz; and Program Coordinator Keenan Courtland. Only Katie and Christine office in Austin, the rest of the team is based in Washington.
"We work closely with Dr. Wanda Mercer in Academic Affairs on many issues critical to our operations and collaborate with or receive assistance from nearly every department within the UT System," Katie explained. "The work our UT System Administration colleagues do behind the scenes in Austin, D.C., Midland and Arlington helps to support the Archer Center's operations and our Fellows either directly or indirectly."
In 2014, the Friends of the Archer Center Trust was established to provide funds for initiatives not included in the Center's operating budget. So far, the Trust has raised more than $167,000. The Trustees—currently there are 95—review and approve initiatives developed by staff, students and alumni. This year, funded initiatives include travel from Texas to D.C. for the Archer Fellows, stipends for first-generation college students, food pantry supplies at the Archer Center, mental health and wellness services, enhanced educational and cultural experiences in Washington, a Career Closet to provide Fellows with professional attire, computers for the Archer Center student lab and scholarships for alumni pursuing graduate degrees and public service fellowships.
"One of our primary challenges is ensuring that this transformative opportunity is available to all students, regardless of their economic status," said Katie. "We have kept the cost of the program as low as possible, in part because our budget is subsidized by several endowments and fundraising efforts. Some Archer Fellows also receive financial support from their campus or program, but this funding is variable. For this reason, the Archer Center team works continuously to raise additional scholarship funds for students who cannot otherwise afford to participate in this program."
In coming years, the Archer Center team hopes to establish a similar state legislative internship program at the Texas Capitol; create an internship program to connect Archer Fellows and other UT students with federal opportunities in Texas; develop a new program for medical and graduate health policy students as well as a post-doctoral program; and find a permanent home in Washington to replace the current rental space.
"Our namesake views the Archer Center and its programs as a mechanism to create a network of civically engaged leaders throughout Texas and the world that share a common desire to make a difference," Katie noted. "Our incredible Fellows and alumni are living proof of this powerful legacy of leadership."
---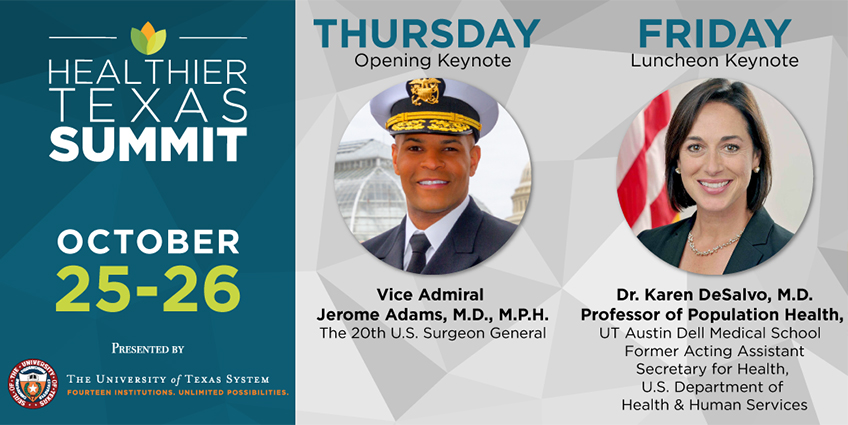 Helping Make Texas Healthier
Improving public health requires partnerships to address multiple factors, including disease prevention, health equity, social determinants and health care costs. That's the focus of this year's Healthier Texas Summit, a collaboration between the UT System and It's Time Texas, a nonprofit organization dedicated to improving health and wellness in Texas.
The Second Annual Healthier Texas Summit is scheduled for October 25 and 26 at the AT&T Executive Education and Conference Center in Austin. U.S. Surgeon General Jerome Adams and Dr. Karen DeSalvo, professor of internal medicine at UT Austin Dell Medical School and a former assistant secretary for health at the U.S. Department of Health and Human Services, will present keynote addresses. More than 35 sessions—many offered by UT faculty—will cover all aspects of community and population health.
System Administration staff with supervisor approval are invited to register for the discounted fee of $100. When registering, select the general admission option, complete the required information, add the code "UTSYSSUMMIT" and select "redeem" to get the discount.
For more information, contact Daniel Oppenheimer in Population Health at doppenheimer@utsystem.edu or 512.852.3269.
---

SECC "Everyday Heroes" Support Local Nonprofits
The 25th Anniversary State Employee Charitable Campaign (SECC) kicked off October 3 with a pancake breakfast that showcased the flipping and serving skills of Chancellor J.B. Milliken and his daughter, Anna; Special Assistant to the Chancellor Barry McBee; Vice Chancellor for External Relations Randa Safady; Vice Chancellor for Health Affairs David Lakey; and Director of Police Mike Heidingsfield. The "Everyday Heroes" campaign is a convenient and voluntary way to support charitable organizations through payroll deductions.
The Staff Council has scheduled an ice cream social for October 17 (2-3 p.m.) to provide another opportunity for employees to learn about the SECC. The campaign concludes with the annual Halloween Spooktacular on October 31 (12-2 p.m.), complete with pumpkin carving contest and auction, baking contest and auction, a lip sync battle contest and a costume contest. Go to the Staff Council website for all the Spooktacular contest rules.
Additional information is available on the SECC pledge website or from your Staff Council representative. Go to the SECC Online Giving Portal if you would like to submit a pledge online.