Main page content

---

Saying Thanks and Farewell
On May 31, Bill McRaven stepped down as Chancellor after three-and-a-half years leading the UT System. He came to UT after a 37-year career in the U.S. Navy, bringing with him lessons learned through his military service: the importance of working together as a team, communicating and collaborating regularly with one another; to be disciplined but bold in using the organization's size and strength to achieve a greater good; and to develop plans, align resources and assign people to get the job done. He provided inspiration and vision. Most of all, Chancellor McRaven modeled and expected a servant-leadership focused on the team rather than the leader.
A video honoring Chancellor McRaven's service that was created for the UT System Chancellor's Council and shown at the group's annual meeting in April is now posted online for all to view.
From Chancellor McRaven's blogs and statements are excerpted these words to live and work by:
Education has the power to change lives and change the world. It diminishes bigotry, hatred, ignorance and poverty and it perpetuates hope, fairness, open-mindedness and prosperity. It advances society and expands our horizons.
Our public universities exist to give everybody – regardless of nationality, race, gender, orientation or anything else – a hand up in this world. Because everyone willing to work hard is worthy of help, opportunity and most of all, dignity.
At the end of the day, none of us are as smart as all of us – and, none of are as strong as all of us.
It takes a multitude of smart, talented, dedicated men and women – willing and able to play a variety of roles, most of which bring little fanfare or acclaim – to make a great institution work.
We need to do whatever it takes to make our universities and health institutions the kinds of places the very best people flock to – places where they can do their best work and where they know that work will make a difference.
More than any other profession I know, educators are always in the right place at the right time.  For a teacher, a coach, a counselor, or an administrator, the opportunities to make a positive impact on someone's life abound!
There is a laundry list of big challenges out there that the UT System can meet in the years to come, to the benefit of Texas, the nation and the world. But the only way we're going to meet those challenges is if we work together. Collaboration starts with trust, and trust starts with understanding.
Great character is bold and unafraid. My hope for our UT institutions is that we will be known as fearless purveyors of good character, pushing the limits of comfortable discourse, exploration, and conventional wisdom.
We dare to take on the toughest, most complex challenges – challenges we know are too tough for any one institution to tackle alone. We dare because we know that when we bring all our unique talents and perspectives to bear, we are infinitely more powerful and impactful.
---
Welcome Interim Chancellor Faulkner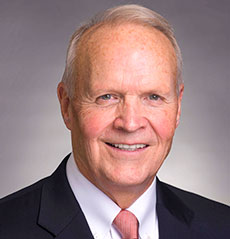 The UT System Board of Regents unanimously approved Dr. Larry R. Faulkner as the interim chancellor during a special called meeting on May 18.  His role begins on June 1.
While not a candidate for the permanent Chancellor role, Dr. Faulkner has agreed to lead the UT System until Chancellor William McRaven's successor has been selected and assumes office.
Dr. Faulkner served as president of The University of Texas at Austin from 1998 to 2006, and was named President Emeritus by the Regents upon his retirement.  He served as president of Houston Endowment, one of the nation's largest private foundations, from 2006 until 2012.  Prior to his UT leadership post, Dr. Faulkner had a long and distinguished career on the chemistry faculty at the University of Illinois at Urbana-Champaign, where he also served as provost and vice chancellor of academic affairs and dean of the College of Liberal Arts and Sciences. In earlier years, he served on the chemistry faculties at Harvard University and The University of Texas at Austin.
"We are exceptionally honored to have Dr. Faulkner continue his public service at the UT System while we are deeply engaged in the selection of a new permanent chancellor," said Regents' Chairman Sara Martinez Tucker. "He is widely known and respected for his steady hand in higher education leadership and administration, rich knowledge of the UT System and its institutions, and breadth of relationships throughout Texas and the nation.
"Dr. Faulkner can step in seamlessly to continue to provide a high level of strategic leadership and support to all UT presidents and UT System Administration employees, and my colleagues on the Board and I look forward to working with him," she added.    
---

Congratulations to Outstanding System Employee Award Winners
The first recipients of the Regents' Outstanding Employee Award (ROEA) were recognized during a luncheon on May 14.  Thirty employees were selected from among hundreds of nominees from all 14 institutions and System Administration. Winners received a $10,000 award and a Challenge Coin presented by Chancellor McRaven.
The award was launched by the UT System Board of Regents to honor staff members who make a significant impact to their respective institutions and the UT System. The UT System Employee Advisory Council (EAC) oversaw the nomination and selection process.
Hank Wilke, a senior construction inspector in the Office of Facilities Planning and Construction, was selected as the recipient representing System Administration. Hank has been with OFPC for almost 13 years, now splitting his time between projects on the UT Dallas and UT Arlington campuses. Over the years, he has provided construction inspection services for capital improvement projects totaling more than one billion dollars on multiple UT System campuses. The nomination letters from his colleagues cited Hank's "superior performance and outstanding customer service," noted that "UT Dallas is HIS campus; these are HIS buildings that serve HIS students," and said he "exemplifies the character and servant leadership the award is intended to reward."
The committees that reviewed the award nominations had a difficult decision to make. In addition to Hank, eight other outstanding System Administration employees were nominated for the award:
Richard Brantley, Senior VP of Operations, University Lands
Debra Buckingham, Senior Application Developer Analyst, OTIS
Cathy Delgado, Senior Research and Policy Analyst, Strategic Initiatives
Stephanie Gil, Manager of HR Business Partners, Office of Human Resources
Willam Huang, Director, Shared Business Operations
Marc Parrish, Manager of Information Systems, Office of Employee Benefits
Sherri Prince Training Coordinator, Facilities Management
Suzanne Revisore, Assistant to the Executive Officer, Academic Affairs
Congratulations to all!
---

Performance Appraisal Process Begins
It's time to complete the annual performance appraisals. Appraisals are required for all UT System employees scheduled to work at least 20 hours a week for four and a half months of the year or more.
The process provides an opportunity for employees and managers to discuss goals, align expectations and provide feedback. As a result, all staff should have a better understanding of how their work contributes to the organization's overall success.  Managers and employees are asked to review work performance for the June 1, 2017 through May 31, 2018 timeframe. The performance appraisals are due by June 29.
PerformancePro continues to be the online performance management tool that will be used to complete the appraisals. Recorded training along with short Performance Pro "how-to" videos are available on Office of Human Resources' SharePoint site. HR Business Partners can provide assistance as needed. For more information, please contact the Office of Human Resources at 512.499.4587.
---

Department Helps Inventions Become Marketable Innovations
Transforming inventions from the laboratory into innovations in the marketplace requires a different set of skills than most researchers have. Fortunately, UT researchers and scientists have the help of the Office of Innovation and Strategic Investment, a team of six whose own diverse talents have helped them harness business expertise and technology to provide the talent, mentors, capital and planning needed to convert a good idea into a great product, process or service.
The Office of Innovation and Strategic Investment partners with the talented people at all institutions to ensure that UT institution discoveries, inventors and entrepreneurs are positioned for global impact. Julie Goonewardene became the UT System chief innovation officer in 2014. She has reconfigured the office based on her experience creating and leading venture-backed startup companies.
"Our goal is to use the size and scale of the UT System to help innovators connect with industry partners, investors and entrepreneurs so they get their invention into the marketplace more quickly and successfully," she states. "We work in collaboration with the UT institutions and help them with projects that can best be done at the System level."
The office typically works with technology transfer, innovation and entrepreneurship centers and career services groups at UT institutions, which provide suggestions and questions that are incorporated into the programs and services offered. Initiatives are often supported by custom software the team identifies or develops.
"We use software to help scale initiatives in cost-effective ways," explains Matt Sorenson, senior investment analyst. "We recognize budget constraints and want to serve institutions in addressing their specific needs."
For example, customized software allows a new Mentor Network to be implemented system-wide. The program connects budding entrepreneurs and researchers at institutions with a team of volunteer advisors that change as their business needs change. In addition to face-to-face meetings, virtual mentoring is offered to expand the availability of experts to regional campuses.
"Providing a team-based approach rather than one-on-one mentoring provides more value and is a unique way of involving businesses with the institutions," says Matt. "The software system automatically tracks the mentors' prep and meeting time, which allows us to put a value on their volunteer hours and track the return-on-investment. After each mentoring session, all involved are surveyed, providing an immediate and automatic evaluation of the time and value involved."
Other initiatives include the UT Horizon Fund, which provides financial investments that are focused on generating financial and societal returns, and the UT Connects Talent, which connects employers with talent across multiple institutions and multiple careers centers within institutions, providing the convenience of a single point of access for hiring managers as well as additional opportunities for graduates.
"There is a healthy and varied economy in Texas and each city and market is different," notes Ryan McKeeman, innovation program manager. "That multiplicity creates challenges in determining common denominators the talent matching program can address. Tying innovation into how we use our talent involves creating new models to meet the needs and expectations of society in the future."
Currently UT Connects Talent is in use at six academic campuses and the mentoring program, which launched in January 2017, is in use at eight institutions. The goal is to expand both programs to all 14 institutions customized to meet the needs of the individual institutions. Another goal is to increase the financial returns for the Horizon Fund.
"Approximately two-thirds of UT research is in the life sciences, which has a longer development time," Julie says. "We have diversified the portfolio to include more technology innovations, which have a faster rate of return. We are currently co-invested with Intel Capital and Microsoft Ventures in two different technology companies."
One life science product that has made it to the marketplace with the help of the Office of Innovation and Strategic Investment is the VersaWrap® Tendon Protector. A recent video helped generate publicity for this technology that speeds and improves healing after tendon repair surgery. The technology was originally invented 10 years ago by a team of researchers at UT Austin and launched in the marketplace by Alafair Biosciences, a biotech startup, with support from the Horizon Fund.
"For a product to go from the lab to a patient in 10 years is actually remarkably fast," Julie states. "And it is a great act of service to enable people to regain full use their hands."
A Community Impact Report showcases additional important work and discoveries of UT innovators and entrepreneurs. In the future, the team hopes to work more with other System Administration departments to address challenges by coordinating collaborations between businesses and the UT institutions. 
"We have an 'outside-in' service delivery model that may be different from other departments," notes Ryan. "We understand that industry and the private sector have needs that could be met by UT institutions, and we help institutions and industry meet where they are."
---

Let's Meet! Scheduling Meetings with Skype for Business
In addition to offering chat, voice and video conference communications available on any device with internet access, Skype for Business offers the ability to hold meetings with up to 250 people anywhere in the world.
Unlike conference calls, Skype for Business meetings can include video so participants can see one another, share materials and see a computer screen if shared by the organizer. And setting up a Skype for Business meeting in Outlook is easy once you know the steps involved:
1.     Open Outlook and go to your calendar.
2.     On the Home tab, in the Skype Meeting section, select New Skype Meeting or click the icon. The Skype for Business meeting request will automatically include call-in information (phone number and conference ID).
3.     Set up the meeting as you typically would an in-person meeting:
In the To box, type the email address of each person you're inviting, separated by semicolons.
In the Subject box, type a name for the meeting.
Select a start time and end time (to look for a time that works for everyone, select Scheduling Assistant in the Show section on the Meeting tab.
4.     If desired, you can type an agenda. Just be careful not to change any of the Skype for Business meeting call-in information. 
5.     It's best to change the meeting options to fit your meeting requirements rather than using the default options. That's especially true if you're scheduling a large event or inviting people outside the UT System. In the meeting request, on the Skype Meeting section on the Meeting tab, select Meeting Options, and then select the appropriate options.
6.     If desired, you can preload your meeting attachments. That way, everything is ready to go when participants join the meeting. See Preload attachments for a Skype for Business meeting.
7.     Double-check your information and then hit Send—your meeting invitation is on its way.
Tutorials for Skype for Business meeting creators, presenters and participants is available online from Microsoft.
---

Summer Camp for Emerging Leaders
Summer camp isn't just for kids. System Administration staff can attend a summer leadership camp presented by the Leadership Development and Organizational Effectiveness Offices. Six two-hour sessions will cover topics such as leadership styles, ethics, effecting change, budget and policy, and creative and critical thinking. The sessions will be held in the UTS Building on July 17, 23 and 31 and August 7, 14 and 28 (graduation).
The camp is intended for emerging leaders—high performers with even higher potential, who are informal influencers, have strong people skills, are open to learning, have a positive attitude and want to strengthen their leadership skills. The camp is limited to the first 30 applicants who demonstrate they have their supervisor's approval and can commit to attending all six sessions. All applications must be submitted by June 30.
For more information or to apply, contact Paige Buechley, director of process improvement and change, at pbuechley@utsystem.edu or ext. 4756.
---

Moving from INT to HOP
The University of Texas System operates under a variety of rules, regulations, policies and procedures. While some affect all system institutions and employees (UTS policies), others are unique to System Administration or the institutions. Currently, institutions follow a Handbook of Operating Procedures (HOP) while System Administration has Internal (INT) policies. Soon, what are now INTs will become HOPs to make the policy library more consistent and easier to reference.
"During the 2015 organizational assessment led by the Office of Organizational Effectiveness, they heard from institutions that were having a problem with the INT system, even though it didn't apply to them," explained Jason King, UT System's interim executive director of system-wide compliance. "They would go to the policy library website and wade through the list, not understanding they didn't need to be concerned with the INT policies. They questioned why System Administration was the outlier—why we didn't have HOPs."
For System Administration staff, frustration often resulted from the way INTs are organized. Instead of being grouped by subject, they are listed chronologically as adopted, meaning that INTs dealing with similar topics typically are not found next to one another. While long-time staff have become familiar with the INT numbers they reference most, new employees often spend a lot of time trying to find what they need.
Jason led a team that has addressed both issues. INT policies are being converted to HOPs and organized by subject matter rather than chronologically. A cross-reference will be provided so that those who are familiar with the INT system can quickly find the new corresponding HOP number.
With the help of the Office of External Relations web team, the policy library web site is being restructured to first ask users whether they need a UTS policy, or a System Administration HOP. They will then be able to find the policy they need by topic or search for it using key words.
Making all the changes required renaming and relinking each policy, a time-consuming process.  But the new and improved policy library should be ready for use in June.
"We will now have a set of policies with structures that make sense so new employees can spend time furthering the mission of the UT System rather than hunting for rules," Jason stated. "Institutions also will no longer waste time looking for information they don't need."
---

Get Fit Financially
The focus in June is on financial wellness. Three presentations have been scheduled to provide advice from some of our financial partners:
June 5 - Get Real, presented by Lincoln Financial Group. Learn to manage priorities, identify additional sources of income and maximize current savings. The focus is on investors retiring in the next five years.
June 11 - Tomorrow in Focus: Saving for Your Ideal Retirement, presented by TIAA. Learn about general retirement saving and planning, the benefit of time for saving and important features of investments. The focus is general retirement planning.
June 14 - Envision Your Financial Future, presented by Lincoln Financial Group. Learn to establish retirement goals and continually boost savings. The focus is on investors who are at the midpoint of their careers.
All presentations will be held in Rm 2.206B, from noon to 1 p.m. Please bring your lunch to enjoy while you listen and learn. Visit the Wellness calendar to sign up for these presentations or to schedule a 1:1 consultations with a financial advisor. 
After a break the week of June 4, group classes resume June 11 to help you continue working on physical and mental wellness. Yoga classes will be held Tuesdays and Thursdays beginning at 5:15 p.m. and Fridays at noon; strength and interval classes will be held Thursdays at noon; and meditation classes will be held Mondays, Wednesdays and Fridays beginning at 2:30 p.m.