Logo Files for Download
Employees and staff from all UT System institutions can download the UT System logo files from our Branding Sharepoint page. A SNAC login and password are required to access the page.
---

The official identity of the UT System is the UT System Lockup, which consists of the UT System seal, logotype and tagline. Lockups exist in both vertical and horizontal layouts and in a variety of color combinations in order to assist in layouts, print requirements and sizing limitations. Please use the form at the bottom of the page to request the official seal.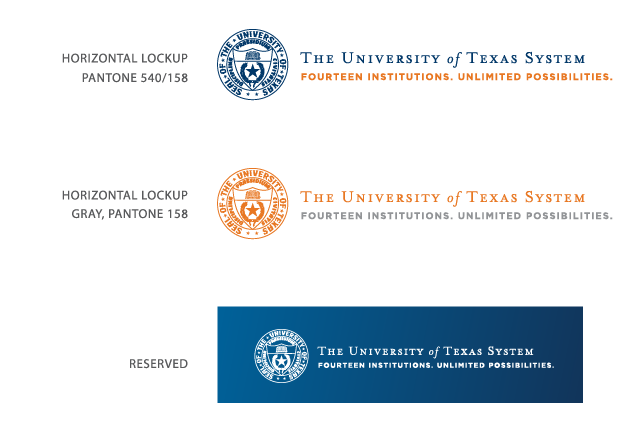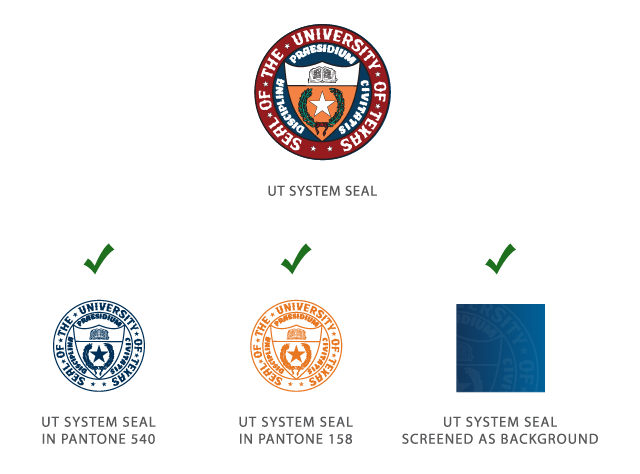 Special Considerations

Occasionally, a design will exhibit enough presence of the official Seal that including a subsequent instance of the seal is chaotic and duplicative. In these instances, use of the official Logotype and Tagline on their own— as a modified Lockup—is allowed.
Clearspace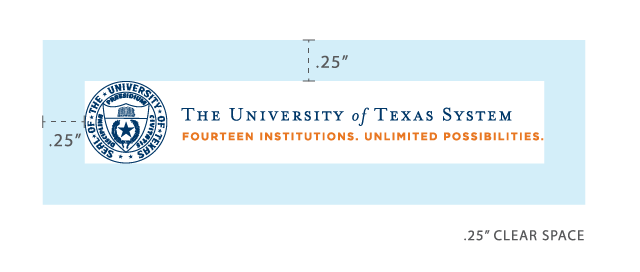 When displaying the Seal, Lockup or Logotype, leave .25"of clear space around the entire object, free from other endorsing marks, stark design elements or the publication's content.
Inappropriate Usage
To maintain the integrity of the UT System Logotypes & Lockups, do not:
add drop shadow
add filter effects such as "glowing" or "beveled"
distort in any way
alter color(s)
use tiling or mosaic
distort the size or shape of the seal
use any color combinations other than those specified under Logotypes & Lockups
attempt to recreate the seal/logotypes with other elements