Main page content
By Daniel Oppenheimer
Editor, Texas Health Journal
In 2016, when Ryan Jackson enrolled as an undergraduate in kinesiology and exercise science at The University of Texas at El Paso (UTEP), it was the most recent transition in a life that has, far more than he ever anticipated, been one of major transitions.
The first big shift came in 1995, when he graduated from high school in Brooklyn, NY, and enlisted in the US Army, joining the airborne infantry. Six years later, on September 11, 2001, what had been a fairly conventional peacetime military career radically changed course.
"That one hour on September 11 changed everything," said Jackson.
By 2006, when he was badly injured by a roadside bomb, Jackson was on his second combat tour in Iraq and his fourth combat tour overall. He had also earned a Bachelor of Business Administration (BBA) degree from Syracuse University, completing most of his courses online. After his injury, Jackson recovered at Walter Reed National Military Medical Center in Bethesda, Maryland. 
"I had multiple concussions, traumatic brain injury, both legs shattered, burns, everything you can think of," said Jackson, who is now finishing up a B.S. in kinesiology at UTEP. "I had to learn to walk again."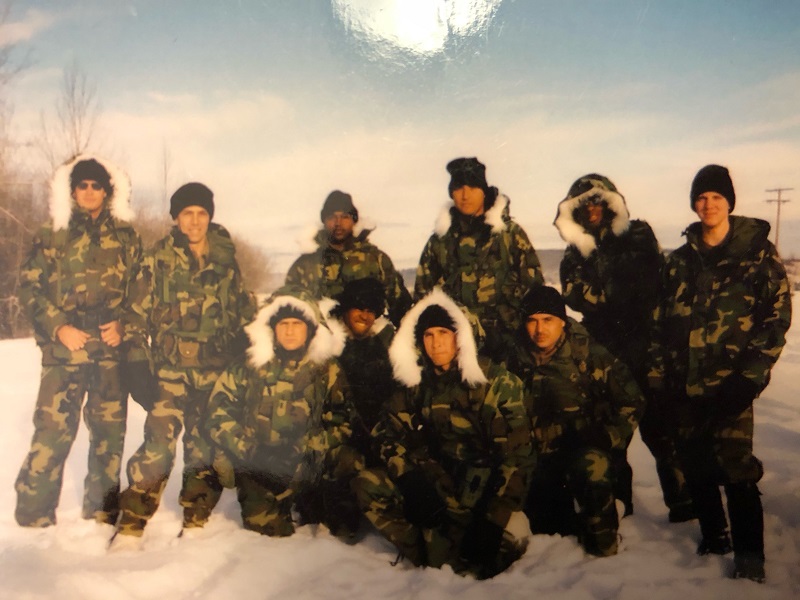 When he was physically fit to return to duty, Jackson went into military intelligence, serving two more tours in Afghanistan before transitioning, in the last few years of his service, into a position as a military advisor in the Army Inspector General's office. In that role he made sure that various US military bases and installations around the world were sufficiently provisioned. 
"At one point I flew 262,000 miles in 18 months," said Jackson.  "I was in Jordan, Afghanistan, Italy, Germany, Pakistan, all the NATO bases. I was consulting on how things worked in the field, on what stuff needed to be pulled out of service, what needed to be upgraded, that sort of thing."
Toward the end of his tenure in the military, Jackson considered going back to school for an MBA, but he remembered how uninspired he'd been by his undergraduate degree in business. So he started over.
"I wanted to do something I could be more passionate about," he said, "so I enrolled as a double major in kinesiology and biology."
He finished his first two semesters while still in the Army, and then retired fully in January of 2017, after almost 22 years in the military.
In May of 2020, after he finishes undergrad, Jackson will transition into UTEP's master's degree program in kinesiology, and then eventually apply to doctoral programs in physical therapy. The long-term goal is to practice orthopedic physical therapy, ideally in an athletics department at a high school or college.
"Some of my interest, though not all of it, comes from my personal experience with physical therapy," he said. "I have a lot of gratitude and compassion for the people who helped me get better. Other than some scars and burns I'm able to run and exercise and fully function. That probably wouldn't have been possible if not for my physical therapist."
At UTEP, Jackson has also dedicated himself to working with his fellow veterans on the transition from military life to academia as well as the subsequent transition out of the university into the professional world. Since 2017, he has worked at the Military Student Success Center, assisting students with their VA and Hazelwood education benefits. He helps conduct new student and transfer student orientations, collects data on military students to make sure they're making full use of the benefits they've earned, and raises awareness of the range of local, state and federal resources that are available to military affiliated students.
Often, he says, the help is more informal and communal, and it goes in both directions. He relies on his fellow vets, as they rely on him, to feel at home on campus.
"We're a small population on campus," he said. "And we're different. The average vet is 28-years-old, and that's just the average. Many of us are in our 30s and 40s. Many of us have spouses and kids. I have a seven-year-old. We've had a very different life experience than most of the students and the faculty."
For Jackson, part of the challenge is managing his own life in the context of a new environment, and part of it is navigating the preconceptions that others may have about military veterans.
He is thoughtful about establishing a steady routine and being conscious of environments or encounters that might trigger his post-traumatic stress disorder. He is also careful to recognize the ways in which strengths he developed in the military can sometimes be misperceived by others.
"We can come off as having more of an alpha mentality, in terms of voicing our perspective," said Jackson. "If we've served in the military for a while, and progressed up the ranks, we are accustomed to leading other people, sometimes hundreds of other people. Then we come to college and may be in class with professors who are younger than us. There can be misunderstandings. There's a period of adjustment."
Ultimately, said Jackson, his job is to help his fellow veterans draw on their military experience, and the benefits they've earned, to make the most of their time on campus and then move on to a successful civilian life. It's what he wants for himself too.
"The primary mission and goal," he said, "is to academically be excellent, get the degree and move on."