Main page content
By Lauren El-Assad, LCSW
Center for Health Interprofessional Practice and Education, UT Austin
 
A 78-year old whose family is trying to determine whether she can live independently after presenting in a hospital with a broken hip and signs of cognitive impairment.  
A pediatric patient who is developmentally-delayed presents in an ER with breathing issues due to severe asthma. 
A man who suddenly starts slurring his words, reports feeling numbness in his arm, and has blurred vision during a work meeting.
These situations require a team of health care experts to leverage their respective strengths and perspectives to provide optimal patient care. Unfortunately, this does not happen as often as it should.
In 2017, in recognition of the need to make it happen much more often and more effectively, The University of Texas at Austin brought together its four health professions schools and colleges to launch the Center for Health Interprofessional Practice and Education (IPE). The Center, which is dedicated to improving the lives of patients and practitioners by improving team-based care, draws on faculty and resources from the College of Pharmacy, the School of Nursing, the Steve Hicks School of Social Work, and Dell Medical School.
"The mission aligns with UT Austin's core purpose of transforming lives for the benefit of society," said Lynn Crismon, Pharm.D., Dean of the College of Pharmacy.
The guiding framework for the center's programming and resources comes from the Core Competencies for Interprofessional Collaborative Practice, a nationally-recognized model developed by the Interprofessional Education Collaborative. The center's work also aligns with the Quadruple Aim, which encompasses the Institute for Healthcare Improvement Triple Aim, an approach to optimizing health system performance by improving the patient experience of care, improving the health of populations, and reducing the per capita cost of health care, as well as improving the well-being of practitioners and staff.
The larger goal is to train health professions students, faculty, and practitioners to be collaborative health care leaders so that they can improve patient-centered care and population-oriented health.
"Working in teams sounds great to everyone in principle," said Veronica Young, PharmD, MPH, who is the inaugural director of the Center for Health IPE and one of the members of the founding steering committee.  "In practice, IPE can only flourish in the context of a larger culture of interprofessional collaboration in an optimal clinical learning environment. People have been building that culture at UT Austin for a long time. The Center is dedicated to supporting, expanding and amplifying their efforts."
In the last two years this work has occurred on multiple fronts, under the direction of Young and her steering committee colleagues Barbara Jones, PhD, MSW, Steve Hicks School of Social Work; John Luk, MD, Dell Medical School; and Gayle Timmerman, PhD, RN, School of Nursing
The Center has hosted a mixer to bring stakeholders from campus and the community together in small and large group discussions to get to know each other, better understand each other's disciplinary strengths and limitations, and think through what cross-training health professionals should look like in practice.
In May it launched its inaugural Interprofessional Health Showcase, which was held at Dell Medical School's Health Discovery Building. Over 400 students, faculty, staff, and community members attended to see and engage with more than 65 health-related abstracts from students in nursing, medicine, fine arts, pharmacy, education, athletic training, audiology, business, social work, public health, and engineering.
Faculty teams also led workshops which engaged with one of five health-related topics through an interprofessional lens. The workshops looked at the language of addiction, stroke care, disordered eating in athletes, a complex pediatric case, and a simulation on geriatric care. Faculty champions from athletic training, audiology, medicine, nursing, nutrition, pharmacy, speech language pathology, and social work collaborated to develop these innovative training.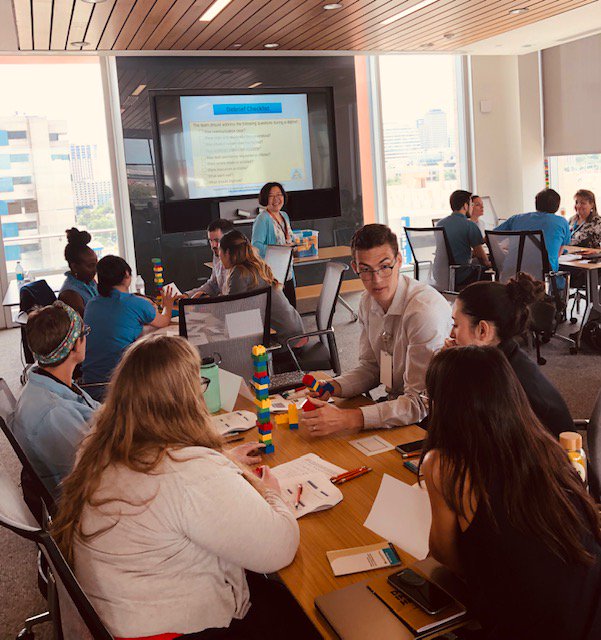 The Center for Health IPE has also led efforts to develop and implement a range of courses and trainings in interprofessional collaborative practice. For the past three academic years, cohorts of medicine, social work, nursing, and pharmacy students have met six times per semester for two semesters on Friday afternoons as part of the Foundations of Interprofessional Collaborative Practice (FICP) course. The course consists of interprofessional team of facilitators guiding students' through active learning experiences, small group discussions, and patient simulations. The university received the American Association of Colleges of Nursing's 2018 Innovation in Professional Nursing Education Award for this course sequence.
Another innovative interprofessional curricular opportunity is offered online. Medicine, graduate-level nursing, and pharmacy students convene over a two-week period in the fall and spring semesters to address topics related to quality improvement and patient safety. Concurrently, they complete related coursework and earn the Institute for Healthcare Improvement Basic Certificate at the end of the experience.
Over the summer the Center provided a TeamSTEPPS® training for residents in the Dell Medical School's Distinction Program and graduate nursing students. TeamSTEPPS® is a national, evidence-based framework aimed at optimizing patient outcomes by improving communication and teamwork skills among health care professionals.
On a statewide level, UT Austin is one of five founding members of the Texas IPE Consortium, which was formally established in May 2019. The consortium fosters cross-institutional collaboration to expand learning opportunities and reinforce IPE as a critical aspect of health professions education. The Texas consortium model to accelerate the growth of IPE received honorable mention from the National Center for Interprofessional Practice and Education.
Initiatives in the pipeline include training medical residents and graduate students in health programs in the IPEC core competencies and TeamSTEPPS®; piloting a peer consulting training model with Dell Medical School, the McCombs School of Business, and the College of Pharmacy; and providing IPE trainings for faculty and practitioners.
"At each step of this process, we have found an incredible eagerness among our students, staff and faculty to work together to improve the health of individuals and the community through interprofessional collaborations," said Young.  "It's truly inspiring."
About the Center for Health IPE
The Center for Health IPE is housed out of the UT School of Nursing at 1710 Red River Street in Austin, Texas. Veronica Young, Director, may be reached at youngv@austin.utexas.edu and 512.475.9755. Lauren El-Assad, Program Manager, may be reached at lauren.el- assad@austin.utexas.edu and 512.471.9606. Learn more at https://healthipe.utexas.edu.