Main page content
By Daniel Oppenheimer
Editor, Texas Health Journal
Britton Woolsey's first assignment after US Coast Guard basic training was in Key West, Florida, where he and fellow guardsmen worked the coastal waters in a 110-foot patrol boat. They were looking for everything from drug smugglers to sailors in distress to Cuban refugees trying to get to Florida on makeshifts rafts. It was intense work.
"We were looking for suspicious activity, and often we found it," said Woolsey, who is now earning his Master's degree in exercise science at The University of Texas at Arlington. "Sometimes it would be drugs, sometimes people trying to smuggle other people. You never knew what to expect."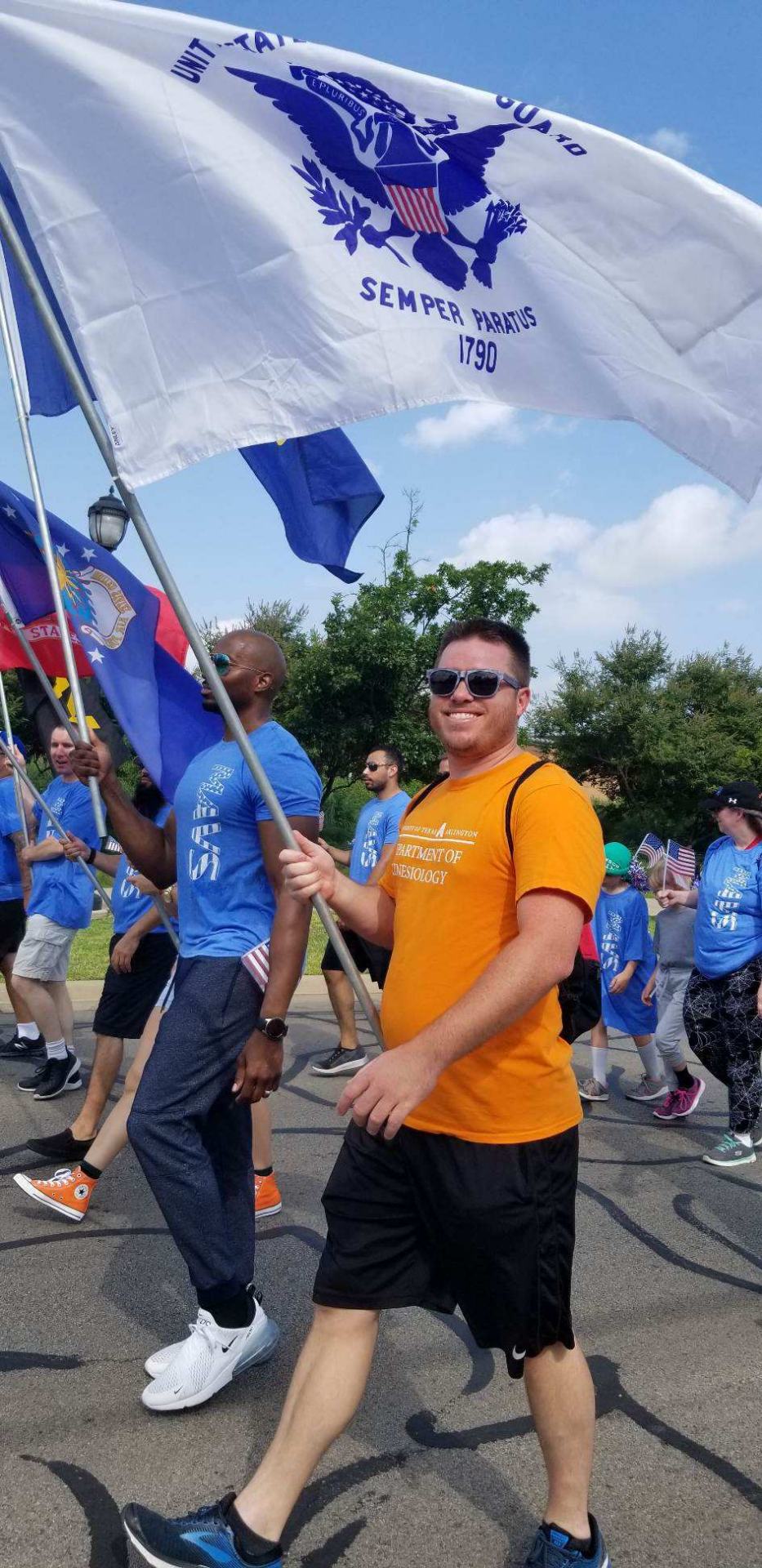 In some cases, Woolsey said, smugglers would outrace the patrol boat in "go-fast" boats that could hit 80 mph. In those cases, his boat might call in assistance from other, faster Coast Guard vessels, or from helicopters that had the capacity, if necessary, to shoot on the smugglers' boats.
During his stint in Key West, Woolsey also had the opportunity to ride along on a helicopter rescue mission. He loved it.
"During that first assignment after basic training, you're there to learn and see all the different jobs you might be able to do," he said. "Once I saw what they were doing on helicopters, I wanted to be involved with it. I put my name on the list for avionics training."
Woolsey was trained as an Avionics Electrical Technician (AET), and then stationed in Oregon, where he worked primarily with and on Dolphin search-and-rescue helicopters.  
"Anything with a wire going to it was my responsibility," he said.
Unlike in the larger armed services, which typically have technicians on the ground and separate mechanics in action, Coast Guardsmen often do double duty. On the ground Woolsey fixed and maintained aircraft. In the air he was flight mechanic, responsible for operating or deploying tools like hoists and buoys as well as for fixing anything that needed it while a mission was underway.
While in Oregon, Woolsey began taking community college classes, and he also got deeply involved in officiating youth sports, which was something he'd done as a teenager growing up in Canyon Lake, Texas.
In 2014, after four years in Oregon and six total years in the Coast Guard, he retired and moved back to Texas. That fall he enrolled at UTA. After two semesters studying engineering, he switched to kinesiology and exercise science.
"I wanted something more active," he said. "Growing up I'd been very involved playing and then officiating sports. By the time I left Oregon I was officiating five different sports."
The initial transition from military to academic life, said Woolsey, was difficult. He was used to living and working within a small, close-knit group of guardsmen who all shared a common purpose. Then suddenly he was on his own on a big campus, without defined goals or a crew of people to support him and hold him accountable.
"Every day in the Coast Guard I got up knowing what I was going to do," he said. "We had missions for the day or the week. I had my longer-term career goals. Everything was laid out before me. I also had that camaraderie. You got up and went to work knowing you're working for the guys around you. Then I transition to college life and they say, 'Here is this book. You need to know everything in it for the final, which is three months away.' That was hard."
Woolsey suffered depression. He drank too much. He gained weight. He struggled to relate to many of his fellow students, who were younger and often weren't coming from the same kind of place. Things started to change when he got involved with the UTA chapter of Veterans of America. He realized that his difficulties were actually fairly typical for veterans transitioning to college life, and he met other students who were going through many of the same things.
As he adjusted, he was able to bring to bear many of the leadership and project management skills he'd developed in the military. While working toward a B.S. in exercise science, he became a leader not just with the Veterans of America group, but with the student kinesiology organization and the Health Innovations Constituency Council in the College of Nursing.
"In the coast guard you have to be a jack of all trades," he said. "You're a fixer of aircraft in the morning, and in the afternoon you're flying a rescue mission. You have to be proficient not just in your job but in the jobs of the people all around you. When I transitioned I was able to use those same skills."
He graduated in the spring of this year, and then entered the Master's program in exercise science. In addition to his courses, he is now a research assistant in the Movement and Physical Activity Epidemiology Laboratory, which studies ways to improve the health and well-being of children and adolescents. For Woolsey, it's the best of a few worlds. He gets to work with kids. He gets to learn more about interventions that could improve health on a broad scale. And he gets to connect with colleagues who share his interests. 
"I still work and connect with other veterans, but at the core of my relationships now are other students who are in the same degree field," he said. "You know that movie Billy Madison, where Adam Sandler goes back to school as a 30 year old, starting in kindergarten. I used to feel a bit like that. I don't anymore. We are all trying to get through this together, regardless of age and background."