Main page content
By Daniel Oppenheimer
---
In May 2020, Lynn Crismon, PharmD will step down as Dean of The University of Texas at Austin College of Pharmacy after two terms. We spoke to Crismon about the lessons he's learned over the 12 years of his deanship; about the past, present, and future of pharmacy; and about his advice for the next dean.
"I'll be here to help, if asked," said Crismon, who will stay with the College as a faculty member, "but mostly I want to stay out of the next dean's hair."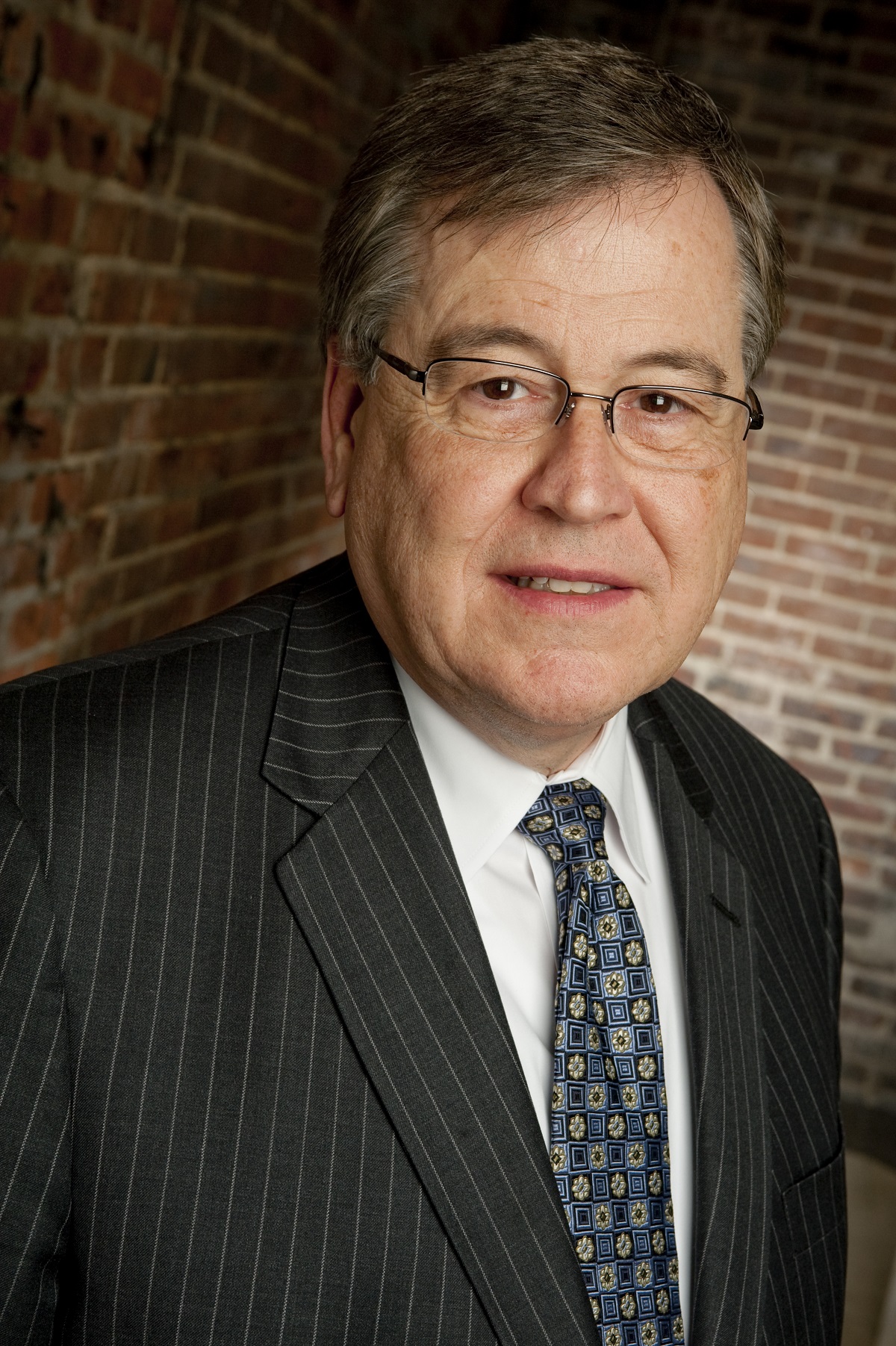 Dr. Crismon is James T. Doluisio Regents Chair and Behrens Centennial Professor in the College of Pharmacy, and Professor of Psychiatry at UT Austin Dell Medical School.  His research, scholarship, and practice have focused on the development and evaluation of strategies to improve the pharmacotherapy and health outcomes of adults and children with severe mental disorders. Since 2004, he has co-chaired the development and revisions of the Psychotropic Medication Utilization Parameters for Children and Youth in Foster Care,  the 6th edition will be released in 2019. Prior to becoming dean in 2007, Dr. Crismon developed a nationally recognized training program in psychiatric pharmacotherapy and mental health outcomes research. 
Why are you stepping down now?
I started as dean with the plan of serving two six-year terms, which is what I am doing. The second term will end in May. I think it is a mistake to serve as dean for too long, both for the College and for me as an individual. The College is in an excellent place right now. We are performing well in terms of our faculty, research, budget, and graduate and professional education programs. I would much rather step down when I can leave my successor in a position where he or she can look ahead to the next phase of our evolution rather than leave the College in a situation in which the next dean is absorbed putting out fires.
So where did this journey begin? Did you always know you wanted to be an academic?
Not at all. After my undergraduate degree in pharmacy, I had no thoughts of going into academia at all. I went to work as a pharmacist officer in the USPHS Indian Health Service, which was a phenomenal place to practice pharmacy, one of the most innovative places in the country in terms of interprofessional collaboration to provide patient care.
When I returned to school for my PharmD and specialty residency, my plans were to go to back to the Indian Health Service, or to go into private practice with a hospital or clinic system. It was not until the last year of the program, largely because of my mentor, Dr. Larry Ereshefsky, that I began thinking seriously about academia. I also had the opportunity as a graduate student to do some teaching and clinical supervision, and I discovered I liked it. Particularly small group teaching and clinical supervision, where you can tell when somebody gets it.
What don't people understand about pharmacy as a profession?
For the typical American, the face of pharmacy is what the consumer sees behind the counter at Walgreens or HEB. That is important work, and I do not want to minimize that. In fact, we need to expand the services provided in community pharmacies, because this is the most accessible place for people to obtain care. However, corporate chain pharmacies account for only about 39 percent of Texas pharmacists. People do not tend to think of pharmacists taking care of patients in hospitals or clinics, which is where many pharmacists practice. Even when they are in the room with a patient in the hospital as part the clinical care team, patients may not know that they are pharmacists. It is just a bunch of people in white coats. However, managing medication for patients in team-based contexts, particularly when dealing with serious acute illness or chronic disease, is immensely important.
Chronic diseases account for approximately 75% of health care expenditures, 81% of all hospitalizations, 91% of all outpatient prescriptions dispensed, and 99% of Medicare costs. The vast majority of those diseases are managed with medications. We are dealing not just with issues of proper prescription and dosages, but also adherence, and the ways in which these are all inter-related. It is estimated that at best, only about 60 percent of the patients are taking their meds at least 80 percent of the time. In addition to poor adherence, patients are often not taking the best drug, the best dosage, or the best combination of drugs and dosages.
It's scary to think that we can be on the wrong drug, or the wrong dosage, that easily.
It is scary, but it is not surprising. There has been such an explosion in biomedical knowledge, the numbers of medications that are on the market, and the technology to use them. If one looks at everything that a physician has to know about health, disease, and diagnosis, and then add on top of that all of the medications that are available, and the complexity of how medications act and interact, there is no way a physician or any one person can know everything they need to know. That is why there is a huge need for professionals who focus on comprehensive medication management. The pharmacist is that professional, and it is critical that comprehensive medication management occur as part of team-based care.
We need everyone working together, which is one of the reasons why as a College, and more broadly as a profession, we are so passionate about interprofessional education. If we get physicians, nurses, pharmacists, social workers, and others into that collaborative space during their education, they will come to expect that teamwork when they graduate as professionals.
Why hasn't that always been the norm?
A lot of reasons. Pharmacy has evolved immensely over the past 50 years as a clinical profession. Another important factor is the fee-for-service model of paying for health care. In that model, a healthcare organization or an individual pharmacist may not be able to bill for a pharmacist providing clinical patient care service such as comprehensive medication management. More and more, we know that outcomes improve when medication is properly managed, but the fee-for-service model does not reward providers for better outcomes. We have been paying for more services, but not always for better health.
That is why a shift to value-based care is so important, so that we are rewarding providers for doing what leads to the best health outcomes for their patients. What you see in areas of the country that have moved toward that model is that integrating pharmacists into the comprehensive medication management process is a much higher priority. We also need to focus on keeping people healthy, preventing or delaying the onset of chronic diseases, and preventive services have not always been properly incentivized. That is changing, but it takes time.
In addition to that shift to value-based care, what are some other ways in which the field has shifted in the time you've been Dean? Or since you were a student yourself?
There is more and more emphasis on interprofessional education. Some of that is in response to these big policy and structural shifts, which encourage collaboration and team-based care, but it is also a reflection of the maturity of our discipline. Pharmacists cannot do their jobs properly if they are not in conversation with physicians and nurses and social workers and other professionals and have access to patients' clinical care data. Without this, it is challenging to understand the full context in which patients are taking (or not taking) medication, not to mention their response to that medication.
What else? There has been a real explosion in pharmacy residency programs. There is a much greater opportunity today for our graduates to complete residencies, and this advanced training has had a huge impact on changing practice. Healthcare administrators are placing more emphasis on having pharmacists collaborating in high-risk areas such as critical care medicine, oncology, organ transplant, neonatology, emergency medicine, and antibiotic stewardship. Pharmacy has become more specialized. For example, pharmacists can complete specialized residencies in oncology, pediatrics, neonatology, transplant, ambulatory care, psychiatry (my area), and other disciplines.
You mentioned research. What's distinct about the research that academic pharmacists tend to do, as opposed to what's being done in, say, chemistry or biology departments, or at medical schools?
One sees significant overlap in the types of research performed in different academic disciplines. For example, one sees pharmacologists as faculty in both medical schools and pharmacy schools. However, a person from a specific discipline will look at the research problem from the perspective of that profession. For example, when I was conducting mental health outcomes research in collaboration with psychiatrists, clinical psychologists, and other professionals, each of us looked at the research problem from the perspective of our education and training, and this interdisciplinary collaboration added richness to the research process.
There are also specialized research areas, like pharmacoeconomics and pharmaceutics, in which the researchers tend to have pharmacy as a background. Pharmacoeconomics is a distinct sub-field of health economics that focuses on the evaluation of both the clinical and cost outcomes associated with the use of medications in a given disease state, and this research is typically performed in real world settings or with using real world data. It may also address the humanistic aspects of the medication use process. Pharmaceutics focuses on studying the formulation and manufacturing of medications, as well as on drug delivery mechanisms—on innovative ways to deliver meds to the site of action. For example, we have faculty and students who study areas such as how to increase the oral absorption of poorly soluble drugs, how to effectively deliver drugs to the lungs as inhalants, how to modify a medication so that it more specifically targets a tumor cell, how to more effectively deliver drugs to the brain, or how can you change a vaccine in order to obtain a more robust antibody response. 
It sounds like you came on as Dean during a period of growth and maturation in the discipline. Is that right?
Yes and no. Yes, I became a dean during a time of rapid change, which increases the opportunity for innovation. However, not long after I started as Dean, the country was hit by the financial crash and the resulting recession. It took significant time and effort to figure out how to grow and build programs in a resource-scarce environment. For example, how do we avoid cutting faculty members? How do we offer the courses and experiences our students want and need? How do we effectively compete for grant dollars with less of those funds available? Although we experienced cuts in some areas and some plans had to be shelved, we managed to improve our productivity, faculty improved grant funding, and we advanced the quality of our education, research, and service programs. This required us to be both strategic and nimble so that we could take advantage of opportunities to serve our students and faculty and staff. However, post-recession, we have increased the number of our faculty – both tenure track research focused faculty as well as clinical faculty who are so critical to the professional and clinical development of our student pharmacists. We are in a good place now, but I will not pretend that the recession did not provide us with challenges.
From the College of Pharmacy perspective, what has been the impact of the new medical school in Austin?
It has been positive on multiple fronts. The day after proposition 1 passed, I delivered a proposal to the provost recommending that the medical school be built on a philosophy of interprofessional education and interdisciplinary research. The medical school leadership is genuinely committed to interprofessional education, and Clay Johnston was absolutely the right person to be the inaugural dean of the medical school. We have already seen growth in interprofessional education and interdisciplinary research since the medical school was launched. Provost McInnis provided seed funds for the establishment of a UT Center for Health Interprofessional Practice and Education, and our teams have developed innovative and robust interprofessional education programs.
We are very involved with the Livestrong Cancer Institute. Several College of Pharmacy faculty collaborate with the Institute, including Dr. Carla Van Den Berg, Co-Director of the Developmental Therapeutics Lab, Dr John DiGiovanni, Associate Director for Basic Research, and Dr. Karen Vasquez, Program Leader for Molecular Oncology, among other faculty. We also recently jointly hired an oncology pharmacy specialist, Dr. Laura Cannon, who will be providing patient care services in the CaLM clinic as well as helping with the start of a phase I clinical research program.
We also have collaborations with Dell Med in other areas.  We hired a jointly funded psychiatric pharmacist, Dr. Samantha Vogel, who is working in the integrated patient care units to improve outcomes in pain management, and she is also working with the integration of mental health in primary care. We have clinical pharmacy faculty who round with the Internal Medicine teams at Dell Seton Medical Center at UT, and work with Dell Med physicians and others in the clinics at CommUnity Care. We have a variety of faculty conducting collaborative research with Dell Med faculty as well as with faculty in multiple other departments on campus.
One of the areas of biggest impact, over the long term, will be in clinical and translational research, including clinical trials. It is challenging for pharmacist researchers to conduct clinical trials without having academic physicians with whom to collaborate. We often collaborate with academic physicians at other academic health science centers to conduct clinical research. We started our Pharmacotherapy Division at UT Health San Antonio in the early 1970s so that we could have academic health science center collaborators for advanced clinical pharmacy education and training and for collaboration in clinical research. That continues to be a valuable partnership, and we are proud of our faculty's active collaboration in UTHSA's NIH funded CTSA and the interinstitutional PhD program in translational science. However, it is essential that we have those opportunities in Austin as well.
In so many ways, the arrival of Dell Medical School has been a plus, and we will continue to grow these collaborations, and develop new ones, over time. 
What's next for you?
I am not retiring, just stepping down as Dean. I will have more time to focus on other areas of interest. Since 2004, I have worked with the state foster care system on their prescribing parameters for psychotropic medications prescribed for children and adolescents residing in foster care. We recently released the sixth version of the parameters, and the Texas Department of State Health Services has expanded the use of the parameters to inform care for all youth who are covered by Medicaid or CHIP in Texas. I am passionate about children's mental health, and I would like to continue to work in this area.
I have been serving on a national working group through the National Academies of Science, Engineering, and Medicine that is producing an evidence-based consensus document on taking a systems approach to improving clinician wellbeing, addressing issues such as burnout. I am interested in looking at wellbeing among health professions students and trainees, among whom the burnout rate is high. We must decrease the prevalence of burnout and improve the wellbeing of clinicians both for the sake of the patient as well as the clinician.
Any advice for the next Dean?
The UT College has a mandate to prepare the next generation of leaders in pharmacy, and to prepare them to be leaders in health care more broadly. I hope and expect that the next Dean will understand that mandate and seize the opportunity. As a college of pharmacy at a tier one research university, it is also critical that we continue to be a leader in discovering and disseminating new knowledge in the basic and translational biomedical and pharmaceutical sciences.  In fact, I believe that we have a societal obligation to do so.
I'll be here to help, if asked, but mostly I want to stay out of the next dean's hair.