Main page content
By Michael Logan
Associate Director, UTSA Veteran and Military Affairs
For 15 years, San Antonio native Eloy Rodriguez worked in civil engineering for the US Air Force. After he left the service and enrolled at The University of Texas at San Antonio (UTSA), he started  working his way toward a computer science degree. The UTSA office of Veteran and Military Affairs spoke to him about his transition to college, life on campus as a veteran, and his hopes and plans for the future.
When did you join the military, and why?
2/12/1999. It was complicated, but the short answer is that I grew up a bit and recognized that I needed to shift my focus from myself to contributing to society and building a legacy.
How long did you serve, and where?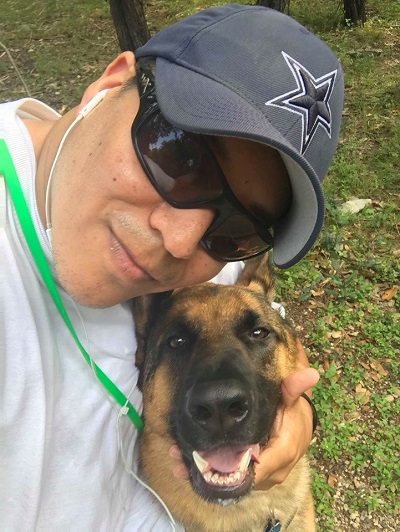 For 15 years I worked as a Civil Engineering Lineman in the Air Force. I served all over the US and Germany.
Why did you decide to transition to civilian life and go to college?
I had grown as much I could personally and professionally in the Air Force and knew I needed to grow in a different direction, so I left the Air Force and began my journey to become the first person in my immediate family to earn a Bachelor's degree.
What have been the most difficult aspects of the transition?
The biggest challenge has been adjusting from the structure of the military to the relatively unstructured environment of the "real world."  The transition was even more complicated by some service-related issues that made socializing difficult, which meant it took a lot longer for me to feel a part of the campus culture.
What is it like, in general, being a veteran on campus? 
It is a challenge, but I don't think it's specifically because of my military service. I think it has more to do with the difference in maturity levels. Most traditional-aged college students are still forming their identities and have shifting goals, and I have to remind myself of that when I get frustrated with my peers at times.  For that reason, I always feel like an outsider to a degree. The folks in the UTSA Center for Military Affiliated Students, however, have really helped me by providing plenty of guidance on "cultural competency."
What are the strengths that you bring to academic life from serving in the military? 
In the military, the culture is guided by a singular focus on accomplishing the mission, whatever that may be at the time. The transition from military to student is full of challenges, which can quickly become distracting and overwhelming, but I feel like my ability to filter out the "noise" and focus on accomplishing the mission has really helped me maintain a focus on my goals as a student. 
What are your long-term goals? What are you planning to do after graduating?
This might seem silly, but my long-term goals are to not face the same socioeconomic challenges my parents did. I didn't grow up with very much, but I know my family sacrificed to get me where I am today. Back then, I had no idea how hard my parents worked to make sure we were taken care of. My mom could make a banquet out of almost nothing. Sometimes I think my austere childhood almost gave me an advantage integrating into military life. I fully intend to live up to my parents' sacrifices. Ideally, I would like to do well enough to be able to give back not only to my family, but to other veterans undergoing their own challenging transitions from the military. In this way, my personal goals are a higher priority than my professional goals. As far as career, I just want to be happy and able to maintain a good work-life balance.
What's the story of this picture with the band Korn?
I was a part of the organization Rock To Recovery, which was founded by Wes Geer, the former touring guitar player for the band Korn.