Body
Julie Goonewardene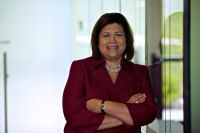 Ms. Goonewardene is the associate vice chancellor for innovation and strategic investment for the University of Texas System.  In this role she serves as the strategic leader and advisor for the UT System and UT institutions in all areas related to commercialization, growth and expansion of innovation and entrepreneurship including the UT Horizon Fund.  She is also responsible for the development of sustainable academic-industry partnerships.  She serves on the Board of Trustees for the American Medical Association as its public member.  She is the third person to ever hold this position.  Additionally she is a member of the board for the Personalized Medicine Coalition.  Ms. Goonewardene was recently name to the National Advisory Council on Innovation and Entrepreneurship (NACIE).  The Council advises the Secretary of Commerce on issues related to accelerating innovation, expanding entrepreneurship and developing a globally competitive workforce.
Prior to her role in Texas she held leadership positions with the University of Kansas and Purdue University. One of her primary focus areas was company formation and capital acquisition for start-up companies. While at Purdue she designed and managed Purdue's first venture fund
In addition to being recognized as an expert in bringing groups together across the health care spectrum to develop solutions to medical issues, Ms. Goonewardene is an experienced entrepreneur. She co-founded and served as president of a venture-backed software company, which she sold in 2004. Previously, she was president of an information technology consulting firm and co-founder of an IT professional services firm that went public three years after its inception.
Ms. Goonewardene is a frequent speaker both nationally and internationally on entrepreneurship and an author on innovation. She is a member of the Economic Club of Chicago and the Chicago Finance Exchange.
Ms. Goonewardene holds a Bachelor of Science with honors in general management and a Masters of Science in health communication both from Purdue University. 
Contact Julie Goonewardene:
Email: jgoonewardene@utsystem.edu 
210 West 7th
Austin, Texas 78701
Phone: (512) 499-4355
Fax: (512) 499-4523