Body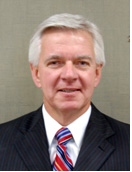 Michael O'Donnell, Associate Vice Chancellor for Facilities Planning and Construction (OFPC) at the University of Texas System graduated from Drexel University with a Bachelor of Science degree in Civil Engineering. He earned his Master of Science degree in Geological Engineering from the University of Wisconsin–Madison and holds an MBA from the University of Denver. In 1977, he joined ARCO in Los Angeles and worked over 20 years in a variety of domestic and international staff and project assignments. He later served as Vice President of Health, Safety and Environmental Management for TRW. Prior to joining The University of Texas System, Mike held the position of Assistant Vice Chancellor at the University of California where he was responsible for the planning, design and construction of a two billion dollar capital improvement program at UCLA.
As Associate Vice Chancellor, O'Donnell oversees all capital construction projects at the System's nine academic and six health institutions. OFPC develops and implements the UT System's Capital Improvement Program as well as maintains a variety of system–wide facility related databases. OFPC is also responsible for managing or providing oversight for all major capital projects for the 15 institutions. The capital budget for 2010 – 2015 is currently $8.6 billion.
Mike and his wife Susan relocated to Austin in August 2006. Together, they have six children.