May 23, 2016
Welcome to this edition of  HR & Benefit News. Always feel free to send us your comments and questions.
---

IMPORTANT          
UT Flex and Life / AD&D
The UT System Office of Employee Benefits (OEB) is pleased to announce the RFP processes have been completed for administration of the UT Flex program and for the fully-insured Voluntary Group Term Life (VGTL) and Accidental Death & Dismemberment (AD&D) plans. The public announcement for vendor selections was featured in the May 4, A Matter of Health Newsletter. The new contracts will take effect at the start of the new plan year on September 1, 2016. 
The contract for the UT Flex program was awarded to Maestro Health. Maestro's responses to the RFP questions, along with their onsite demonstration showcased their commitment to customer service, flexibility, and technology-meets-service business model.  We ask for your patience over the next few months as we work closely with the existing and new vendors on the transition of the program and funds. More details regarding the UT Flex program will be provided during the upcoming Benefits & Human Resources Conference (BHRC).
The contract for the fully-insured Voluntary Group Term Life (VGTL) and the Accidental Death & Dismemberment (AD&D) plans was awarded to Dearborn National, our current insurance carrier. Dearborn National's proposal included outstanding pricing and enhanced benefits for our members. Effective September 1, 2016, our UT employees and retirees will notice the following benefits enhancements: 
EMPLOYEE ONLY
BASIC
Basic GTL at $40,000;
Basic AD&D at $40,000;
VOLUNTARY
No evidence of insurability (EOI) required during Annual Enrollment 2016 for up to 3X annual salary;
VGTL benefit maximum of 10X annual salary up to $2.0 million;
VAD&D benefit maximum of $2.0 million
RETIREE ONLY
VOLUNTARY
Additional information for both programs will be provided during the July 2016 Annual Enrollment period. If you should have any questions feel free to reach out to OEB at benefits@utsystem.edu.
---

DID YOU KNOW? 
Total Rewards Statement
Did you know the Eligibility Team, a division of the Information Services unit at the Office of Employee Benefits (OEB), has the capability to generate electronic Total Rewards Statements for your institution? Search no further campus partners! Enhance your HR/Benefits office toolkit with this comprehensive resource that displays monetized benefits for your employees.
The electronic statement can be customized to meet your campus needs for retaining and attracting key talent. To view a sample Total Rewards Statement (PDF) click here.
Did we mention… other campuses have already implemented the Total Rewards Statements into their business practices? Hear best practices and gain additional ideas from other campus partners. The implementation process is fairly simply. Here is a quick snapshot of the process: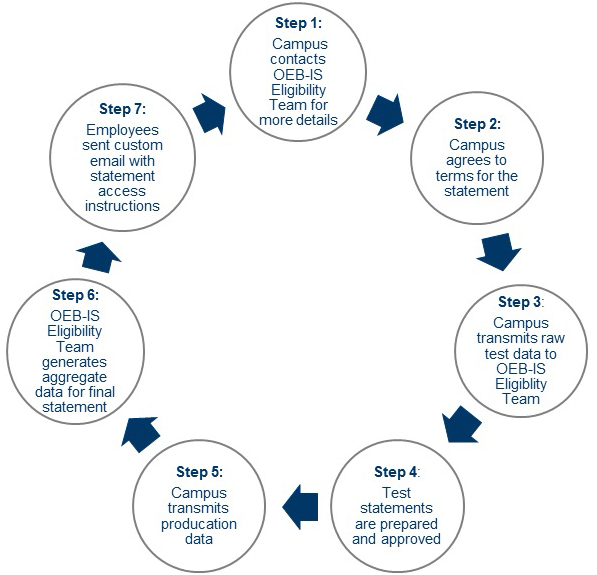 To learn more about the Total Rewards Statement feel free to contact the following OEB-IS Eligibility team members by email: June Nichols at jnichols@utsystem.edu and Marc Parrish at mparrish@utsystem.edu.
---
UT System Proton Therapy Pilot Program
The Office of Employee Benefits (OEB) is pleased to announce the launch of the proton therapy pilot program at the MD Anderson Cancer Center. This newly approved pilot program is effective immediately and available to all UT Select Medical participants who qualify. 
What is proton therapy?
Proton therapy releases cancer-fighting energy to tumors with extreme precision. This procedure avoids damage to healthy tissue near the treated area and reduces the amount of stray radiation.
What are the benefits of proton therapy?
Patients who utilize proton therapy experience fewer side effects as compared to standard radiation. In addition, patients have an improved quality of life during and after treatment.
Over the next 12 months MD Anderson and OEB will work closely to assess the proton therapy program by tracking treatment-related outcomes and toxicities, patient satisfaction, and total cost of care. The information collected will help define procedures for future proton therapy care.
To learn more about proton therapy feel free to visit the Proton Therapy Center site. If you should have any questions regarding this program feel free to reach out our office by phone at (512) 499-4616 or email at benefits@utsystem.edu.
---

NEW
Enrollment Guide for New Retirees  
Hooray! The 2015-2016 Enrollment Guide for New Retirees is now available! This new guide is geared toward prospective retirees. Access to this resource is now available through the OEB Getting Ready to Retire  and Forms and Publications webpages. Due to the current date and short time until the start of the new 2016-2017 benefit plan year, a limited supply of printed guides for plan year 2015-2016 will be disbursed to each institution. Also, in the days ahead, the OEB Communications team will send an email regarding the Benefits Publication Order Form for 2016 to designated campus partners. Upon receipt of the email, please complete and return the document at your earliest opportunity to avoid delays in receiving your publication supplies. 
As a friendly reminder, last year the "UT Benefits Handbook for Retired Employees" was replaced as part of the new communications plan. A more in-depth newsletter titled A Matter of Health: Annual Enrollment and Resource Guide was distributed to retired employees during July.
For Annual Enrollment 2016, all retired employees will receive a printed copy of A Matter of Health: Annual Enrollment & Resource Guide for 2016-2017 by U.S. mail. In addition, the guide will be available electronically on the Retired Employee Insurance page of the OEB website, by July 15.  
If you have any questions regarding publications, please feel free to contact us at benefits@utsystem.edu.
---

UPDATE    
Vendor Contact Information
Below you will find a list of recent updates to the contact information for some of our insurance vendors. To download a copy of the updated internal Insurance Vendors Contact Information for Plan Year 2016 (PDF), please visit the "Contacts" section of the  Systemwide HR Central SharePoint site .
PayFlex Systems (UT FLEX) 
Primary Contact: Tina Sullivan  
Important Note: Contact information for PayFlex Systems will remain active through August 31, 2016.  The contact information for Maestro Health will be accessible through the Contacts page in the System SharePoint site effective September 1, 2016. 
---

COMING SOON 
BHRC Program and Registration
We would be delighted to see each of you at our 19 th Annual Benefits & Human Resources Conference (BHRC) on June 8 through 10. The invitation for this event was emailed on May 9. Check your inbox and register soon!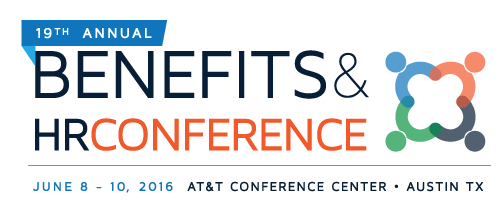 ---
Benefit Fairs and Presentations for Annual Enrollment
April, May, June…Annual Enrollment (AE) is coming soon! On April 21, our office sent correspondence to the designated AE contacts at each institution, so we could begin to coordinate staff and resources for this season's AE fairs and presentations. To ensure your needs are met please respond to the email promptly.
Keep in mind the upcoming important dates:
June 8 - 10: Benefits and Human Resources Conference (BHRC) at the AT&T Conference Center in Austin, TX
July 6: "A Matter of Health: Annual Enrollment" Newsletter will be delivered to employees by email or U.S. mail and retirees by U.S. mail
July 15 - 31:  Annual Enrollment 2016 period
July 15: UT Benefits Coverage Option/PIN Letter will be delivered to employees and retirees by email or U.S. mail
August 15: Deadline for submitting Evidence of Insurability (EOI) for the following elections: 
Short and Long Term Disability insurance; Employee Voluntary Group Term Life increases greater than 3X annual salary; Additional Spouse Voluntary Group Term Life at $15,000 and $40,000; Retired Employee Voluntary Group Term Life increases; Retired Employee Spouse Voluntary Group Term Life elections
September 1: Effective date of coverage elected and approved