When my seventh grade teacher assigned an essay on a "prominent individual," there was just one person I had in mind, a man whose work I had admired since my family's days living in France. The only problem: my teacher had never heard of him. Hard as it is to believe today, few Americans in the mid-1960s – not even my teachers – knew about the great scientist, author, and undersea explorer Jacques Cousteau.
But, long before television introduced the red-bonneted commander of The Calypso to America, Cousteau – whose life of adventure and discovery below the sea I hoped to emulate – was a hero to me. At 13, I took scuba diving lessons at our local YMCA. My first freshwater dive took place at Canyon Lake, just north of San Antonio. Shortly thereafter, off an oil rig some 18 miles from Port Aransas, I had my first ocean dive. It was there that I had my first run-in with a shark – a mako winding his way through the rig's pilings. And it was there that I decided what I wanted to be when I grew up: a marine biologist!
Obviously, somewhere along the line my life went astray. I did not become the American Jacques Cousteau. However, as a Navy frogman, I was able to spend more time exploring the undersea world than just about any other non-scientist. I am even more fascinated by it today than I was as a young boy.
So I was delighted and honored, earlier this month, to visit with the Advisory Council of UT Austin's Marine Science Institute in Port Aransas, and to participate in the christening of R/V Curt Johnson, the institute's new research vessel. The Council is a fabulous group of philanthropists and volunteers devoted to supporting the institute as it trains the next generation of marine scientists and helps keep our planet's waters healthy and productive. One of the absolute highlights of my day was meeting the council's founding member, Edith McAllister, who at 98 years young is still going strong.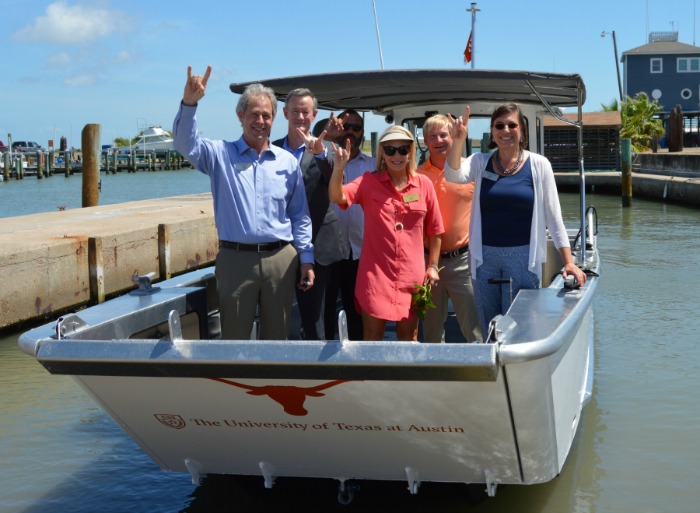 The importance of the work being done at UT's Marine Science Institute – under the leadership of Director Robert Dickey and Dean Linda Hicke of UT's College of Natural Sciences – cannot be overstated. Marine science is the tip of the spear when it comes to understanding issues that affect every person on this planet.
Oceans cover more than 70 percent of Earth's surface, so it should go without saying if we don't take care of the oceans we are not taking care of the planet. Moreover, in a multitude of ways, the oceans take care of us, providing half of the oxygen produced by plants and absorbing half the carbon dioxide produced by human activities. The oceans play a central role in our health, our economy, the food we eat, and our overall quality of life. In the United States and around the world, roughly 50% of the population lives within 100 kilometers of a coast and, like the seas, that percentage is rising. So it's more important than ever that we look hard at our collective impact on the world's oceans, and strive tirelessly to both understand and protect them.
Marine scientists are on the front lines of understanding climate change. While some continue to debate the issue, the professionals who understand it best don't have that luxury. They know our changing climate has profound moral, practical, economic, and even national security implications. When an iceberg the size of Delaware breaks free of Antarctica, as happened recently, it's pretty clear we have a problem. If we don't accept this reality and study the issue in as much depth, with as much urgency, as possible, then our grandchildren, and their grandchildren will suffer the consequences and history will hold us to account.
Understanding our oceans, gulfs, lakes, rivers, and estuaries better is a first step to being prepared for whatever the future brings. That's what Marine Science is all about, and I am beyond proud that – as in so many areas – the great students, faculty, researchers, staff and supporters of UT are leading the way.
I know Jacques Cousteau would be just as proud.
Thank you, as always, for reading. I'll write again soon.