UT System and Educate Texas to convene state's education and workforce leaders Nov. 1-2 in Dallas
DALLAS—The University of Texas System and Educate Texas are teaming up to improve Texas public education and will convene leaders and practitioners from the education, state government, industry and non-profit sectors at the Texas Prospect P16 Summit Nov. 1-2 in Dallas.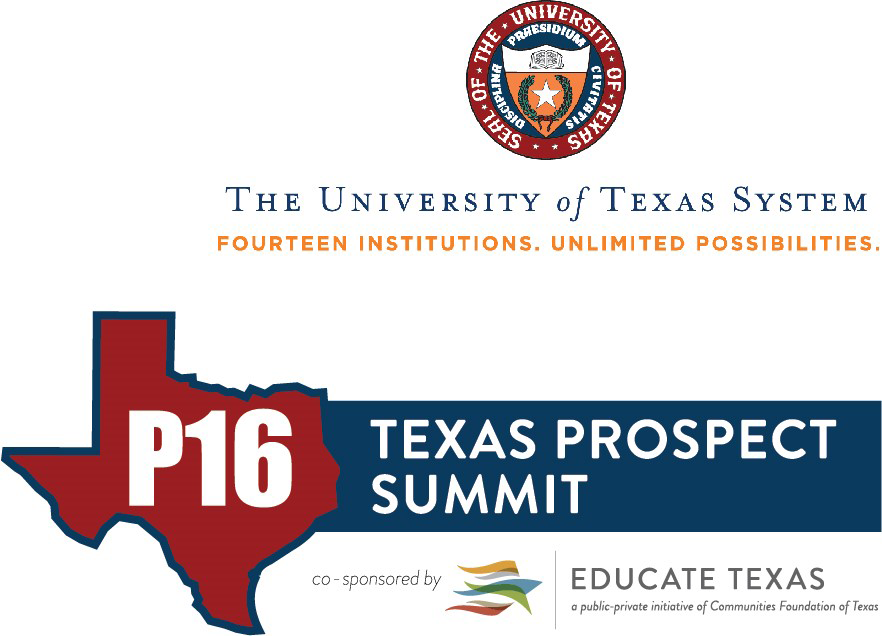 The goal of the summit is to strengthen the education pipeline to equip Texas students with the skills necessary to be successful from elementary through high school, college, and into the workforce.
In addition to the UT System and Educate Texas, other partners have joined forces to build engagement and develop the conference program, including E3 Alliance, Texas Reach Higher, Texas Workforce Commission, The Texas Higher Education Coordinating Board, Texas Education Agency, Texas Partnership for Out of School Time, and Texas State University.
"We know that educational transformation across sectors requires a holistic and collaborative approach," said Rebecca Karoff, UT System associate vice chancellor for academic affairs. "With its cradle-to-career focus, the summit is a model of collaboration and partnership, exactly what is needed to foster learning environments that position Texas students for success in school, college and beyond. The UT System is honored to work with Educate Texas and our other partners to strengthen the culture of education across the state."
The summit will be organized according to four key areas:
Cradle-to-Career Readiness

Pathways Alignment

Educator Preparation

Career Development
A primary focus of this work is breaking down the silos between sectors – whether K-12 and college, or college and the workforce – an area of expertise for Educate Texas.
"So many partners across the state play critical roles in improving outcomes and, ultimately, life trajectories for our students," said John Fitzpatrick, executive director of Educate Texas. "Bringing together this cross-sector of educational and workforce leaders is an opportunity to explore innovations across the state, and to discuss how communities and the state as a whole can continue to improve and ensure that all of our students are able to reach their full potential."
Keynote speakers will include Diana Natalicio, Ph.D., president of The University of Texas at El Paso, and Bennie Lambert, Ph.D., vice president for student services at Lone Star College.
The Texas Prospect P16 Summit is one of five projects tied to UT System's Texas Prospect Initiative, which aims to strengthen student achievement and improve college readiness through unprecedented collaboration with education, state agency, non-profit, business and other partners across the state. Other projects within the Texas Prospect Initiative portfolio are Strengthening Dual Credit, Reimagining Educator Preparation, Educational Learning and Analytics, and Conduits to College Readiness and Pathways.
The summit is open to all those interested in improving the educational pipeline in Texas. The summit will be held at the Hilton DFW Lakes Executive Conference Center, 1800 Highway 26E in Grapevine, TX. For more information, including registration information and the agenda, visit the Texas Prospect P16 Summit web page.
About The University of Texas System
Educating students, providing care for patients, conducting groundbreaking basic, applied and clinical research, and serving the needs of Texans and the nation for more than 130 years, The University of Texas System is one of the largest public university systems in the United States. With 14 institutions and an enrollment of more than 234,000 students, the UT System confers more than one-third of the state's undergraduate degrees, educates approximately two-thirds of the state's health care professionals annually and accounts for almost 70 percent of all research funds awarded to public institutions in Texas. The UT System's operating budget for FY 2018 is $18.3 billion, including $3.6 billion in sponsored programs funded by federal, state, local and private sources. With more than 20,000 faculty – including Nobel laureates and many members of the National Academies – and nearly 80,000 health care professionals, researchers, student advisors and support staff, the UT System is one of the largest employers in the state.
About Educate Texas
Educate Texas, an initiative of Communities Foundation of Texas, is a catalyst of large-scale educational systems change and has partnered with public and private entities for more than a decade to achieve the goal of improving the public and higher education system in Texas so that every student is prepared for and achieves success in school, in the workforce and in life.
News Contact Info
UT System – Karen Adler: kadler@utsystem.edu • 512-499-4360 (direct) • 210-912-8055 (cell)
Educate Texas – Becky Mayad: becky@mayadpr.com • 214-352-1881 (direct) • 214-697-7745 (cell)