UT in DC to showcase brain health, national security initiatives
WASHINGTON, D.C.—All 14 UT institutions were represented in Washington, D.C. this week for the UT System Office of Federal Relations' Research and Policy Conference, held annually to help institutions understand the political landscape and better position themselves for federal funding opportunities.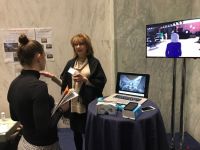 The highlight of the event was the Research Showcase, attended by representatives of the Texas Congressional delegation and numerous federal agencies. Each institution had the opportunity to discuss – and in many cases demonstrate – discoveries that are leading to better treatments for brain diseases and innovative tools to protect our country from national security threats. Brain health and national security are two of Chancellor William McRaven's nine Quantum Leaps to address some of the most significant challenges of our generation.
"We want to ensure decision-makers are exposed to the depth of intellect and talent in Texas on matters of national importance," said William Shute, UT System vice chancellor for federal relations. "We have an entire third coast of expertise that can help federal leaders solve grand challenges in every research arena."
Researchers from each institution gathered in the Rayburn House Office Building – named for Texas Congressman and Speaker Sam Rayburn – and talked one-on-one with attendees, sharing the impact of their ground-breaking work.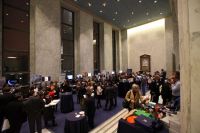 Michael Cho, Ph.D., chair of bioengineering at UT Arlington, recently received a $1.24 million grant from the Office of Naval Research to study how shockwaves from bomb blasts cause brain damage. Nearly 300,000 soldiers have returned from service in Iraq and Afghanistan with symptoms of traumatic brain injuries from blast shockwaves, but because their injuries can't be detected by an MRI or CT scan, they often go untreated.
"The soldiers are physically well-protected from shrapnel but not from shock waves, which travel through the body and brain," Cho explained. "We are working to validate that shock waves cause single cell damage, and if we can do that, then we want to figure out a way to prevent it or reverse it."
UT San Antonio, home of one of the nation's top cyber security programs, demonstrated a card game developed by its Center for Infrastructure Assurance and Security. The card game helps teach middle and high school students basic awareness of cyber security techniques and strategies and is part of UTSA's efforts to expand the pipeline of future cyber security experts.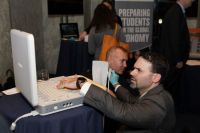 "We understand that at the federal level funding is tight and resources are limited," said Daniel Arriaga, program coordinator for UT San Antonio's Office of Research Support. "We want to make sure we are putting our best foot forward and making the connections we need to advance UTSA's portfolio in alignment with the Chancellor's Quantum Leaps."
Several attendees got on-site ultrasounds of their carotid arteries by Andrew Barreto, M.D. M.S., a stroke neurologist and director of the Neurosonology Laboratory at UTHealth in Houston. The diagnostic test can play an important role in preventing stroke for those who have risk factors, such as high blood pressure, smoking, or a family history of stroke or heart attack at a young age.
Barreto noted that stroke is the fifth leading cause of death but the No. 1 cause of disability in the U.S. Unfortunately, it's been more than 20 years since a new drug has been approved to treat an acute stroke.
"I think the most important thing is to bring home the message that we need more trials, we need more studies, and we need new, effective treatments," Barreto said.
About The University of Texas System
Educating students, providing care for patients, conducting groundbreaking basic, applied and clinical research, and serving the needs of Texans and the nation for more than 130 years, The University of Texas System is one of the largest public university systems in the United States. With 14 institutions and an enrollment of more than 228,000, the UT System confers more than one-third of the state's undergraduate degrees, educates almost two-thirds of the state's health care professionals annually and accounts for almost 70 percent of all research funds awarded to public institutions in Texas. The UT System's operating budget for FY 2017 is $17.9 billion, including $3 billion in sponsored programs funded by federal, state, local and private sources. With more than 20,000 faculty – including Nobel laureates and many members of the National Academies – and nearly 80,000 health care professionals, researchers, student advisors and support staff, the UT System is one of the largest employers in the state.