Main page content
Profile Photo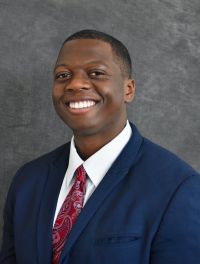 Appointed by
Governor Abbott
PATRICK O. OJEAGA, II, is a fourth-year medical student at the University of Texas Rio Grande Valley School of Medicine (UTRGV SOM), who is studying to become an orthopedic surgeon specializing in pediatrics and sports medicine. 
He previously served as the president for the UTRGV SOM's Texas Medical Association (TMA) and American Medical Association (AMA) chapter, is the current TMA medical student representative on the TEXPAC Executive Committee and is an Executive Board member of the Hidalgo-Starr County Medical Society. Mr. Ojeaga is a member of the UTRGV SOM's Admissions Committee, co-founded UTRGV SOM's Student Ambassador Program, and is a student academic peer tutor, peer mentor, and Big Sibling. 
As a medical student, Mr. Ojeaga is engaged in volunteering and community engagement. He enjoys volunteering at various events such as the Chevron Houston and McAllen Marathons as a member of the medical team and serves as a recurring judge at elementary school science fairs. He is dedicated to programs of empowerment for individuals with physical challenges and intellectual disability, as well as to members of underprivileged and disadvantaged communities. As a Student Ambassador, he has been able to coordinate and conduct tours of UTRGV SOM for student interviewees, potential faculty, donors, and other visitors, in addition to assisting with new student orientations. 
Mr. Ojeaga is heavily committed to research and scholarly activity. During his time in medical school, he has conducted research projects in fields of orthopedic trauma and musculoskeletal infection, created a patient database with over 3,400 non-operative orthopedic patients, and presented his work through poster and oral podium presentations at national conferences and symposiums. He is a published author in the Journal of Bone and Joint Surgery and has co-authored in numerous case reports.
Mr. Ojeaga is a graduate of The University of Texas at Austin, with a Bachelor of Science and Arts degree in Biology and certificate in Pre-Health Professions. He was a member of the Longhorn football team under head coach Charlie Strong.
He enjoys watching sports, cooking, and strength training. He is passionate about providing mentorship to students, health care advocacy, and mental health and wellness.
last updated June 23, 2020